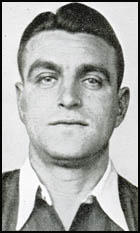 Edris (Eddie) Hapgood was born in Bristol on 27th September 1908. After leaving school he worked as a milkman. He also played football for St. Phillip's Adult School Juniors. He was spotted by a director of Bristol Rovers and given a trial in a reserve match against Taunton United on May 7, 1927. He was offered a contract of £8 a week but he turned it down. Instead he signed for Kettering Town, who only paid him £4 a week but allowed him to carry on work as a milkman.
Hapgood continued to improve and in October 1927, Herbert Chapman signed him for a fee of £750. He only weighed 9 stones 6 pounds at the time and as Tom Whittaker, the Arsenal trainer, pointed out: "Hapgood used to cause a lot of worry by frequently being knocked out when heading the ball." Whittaker later recalled: "All sorts of reasons were propounded as to why this should happen, but eventually I spotted the cause. Eddie was too light, and we had to build him up. At that time he was a vegetarian, but I decided he should eat meat."
At this time the leather ball used in football got very heavy in wet weather. Headers had to be from the forehead. Anywhere else on the head, and even the strongest player could be knocked unconscious. One of the greatest headers of all time, Stan Cullis, suffered severe concussion on several occasions. Cullis, eventually was forced to retire after he was warned by a doctor that because of his previous head injuries, even heading a heavy leather football could prove fatal.
Hapgood joined a talented team that included players such as Alex James, David Jack, Jimmy Brain, Joe Hulme, Jack Lambert, Bob John, Jack Butler, Andy Neil, Jimmy Ramsey, Billy Blyth, Cliff Bastin, Herbert Roberts, Alf Baker and Tom Parker.
Hapgood made his debut against Birmingham City on 19th November 1927. It was not long before he was the club's regular left-back. As Jeff Harris pointed out in his book, Arsenal Who's Who: "Hapgood's many splendid attributes included, being technically exceptional, he showed shrewd anticipation and he was elegant, polished, unruffled and calm." Tom Whittaker added that: "Hapgood was an extraordinary youngster. Confident beyond his years, some people found him insufferable at times. But it was the supreme confidence in his own ability which made him such a great player."
In the 1929-30 season Arsenal finished in 14th place in the First Division. They did much better in the FA Cup. Arsenal beat Birmingham City (1-0), Middlesbrough (2-0), West Ham United (3-0) and Hull City (1-0) to reach the final against Chapman's old club, Huddersfield Town. Arsenal won the game 2-0 with goals from Alex James and Jack Lambert and Hapgood had his first cup winners' medal.
The following season Arsenal won their first ever First Division Championship with a record 66 points. The Gunners only lost four games that season. Jack Lambert was top-scorer with 38 goals.
Alex James was injured for a large part of the 1931-32 season and this was a major factor in Arsenal losing the title by two points to Everton. Arsenal won the First Division by four points in the 1932-33 season. Cliff Bastin was the club's top scorer with 33 goals. This was the highest total ever scored by a winger in a league season.
Hapgood won his first international cap for England against Italy on 13th May 1933. The game ended in a 1-1 draw but Hapgood was to remain a regular member of the team for the next six years. The England team at that time included Cliff Bastin, Wilf Copping, Albert Geldard, Eric Brook, Willie Hall, Sammy Crooks, Raich Carter, Frank Moss, Joe Hulme, Jackie Bray, George Camsell, Tom Cooper, Stanley Matthews, Fred Tilson, Cliff Britton, Ray Westwood, George Male, Frank Broome, Stan Cullis, Ted Drake, Len Goulden, Bert Sproston, Vic Woodley, Tommy Lawton and Alf Young.
When Tom Parker left Arsenal in 1933 Herbert Chapman appointed Hapgood as club captain. The following year he became captain of England. This included the match against Italy on 14th November 1934 where Hapgood suffered a broken nose.
Bob Wall, Arsenal's assistant manager, wrote in his autobiography, Arsenal from the Heart: "He (Hapgood) played his football in a calm, authoritative way and he would analyse a game in the same quiet, clear-cut manner. Eddie set Arsenal players the highest possible example in technical skill and personal behaviour."
Sunderland were the main challengers to Arsenal in the 1933-34 season thanks to a forward line that included Raich Carter, Patsy Gallacher, Bob Gurney and Jimmy Connor. In March 1934 Sunderland went a point ahead. However, the Gunners had games in hand and they clinched the league title with a 2-0 victory over Everton.
The following season Arsenal only finished in 6th place behind Sunderland. Arsenal did much better in the FA Cup that season. Arsenal beat Liverpool (2-0), Newcastle United (3-0), Barnsley (4-1) and Grimsby Town (1-0) to reach the final against Sheffield United. Ted Drake, who was not fully fit, scored the only goal of the final. Hapgood had won his second cup winners' medal.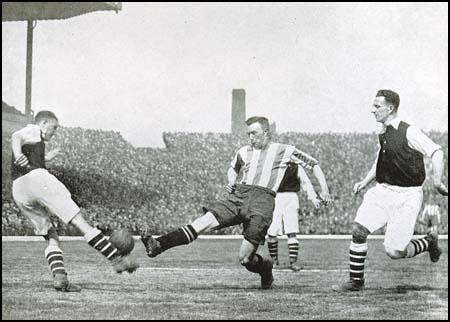 Some of Arsenal's key players such as Cliff Bastin, Alex James, Joe Hulme, Bob John and Herbert Roberts were past their best. Ted Drake and Ray Bowden continued to suffer from injuries, whereas Frank Moss was forced to retire from the game. Given these problems Arsenal did well to finish in 3rd place in the 1936-37 season.
Before the start of the 1937-38 season Herbert Roberts, Bob John and Alex James retired from football. Joe Hume was out with a long-term back injury and Ray Bowden was sold to Newcastle United. However, a new group of younger players such as Bernard Joy, Alf Kirchen and Leslie Compton, became regulars in the side. George Hunt was also bought from Tottenham Hotspur to provide cover for Ted Drake who was still suffering from a knee injury. Eddie Hapgood, Cliff Bastin and George Male were now the only survivors of the team managed by Herbert Chapman.
Wolves were expected to be Arsenal's main rivals in the 1937-38 season. However, it was Brentford who led the table in February. They also beat Arsenal on 18th April, a game in which Ted Drake broke his wrist and suffered a bad head wound. However, it was the only two points they won during a eight game period and gradually dropped out of contention.
On the last day of the season Wolves were away to Sunderland. If Wolves won the game they would be champions, but they drew 1-1. Arsenal beat Bolton Wanderers at Highbury and won their fifth title in eight years. As a result of his many injuries, Ted Drake only played in 28 games but he still ended up the club's top scorer with 17 goals. This was Hapgood's 5th league championship medal.
In May 1938 Hapgood was selected for the England tour of Europe. The first match was against Germany in Berlin. Adolf Hitler wanted to make use of this game as propaganda for his Nazi government. While the England players were getting changed an Football Association official went into their dressing-room and told them that they had to give the raised arm Nazi salute during the playing of the German national anthem. As Stanley Matthews later recalled: "The dressing room erupted. There was bedlam. All the England players were livid and totally opposed to this, myself included. Everyone was shouting at once. Eddie Hapgood, normally a respectful and devoted captain, wagged his finger at the official and told him what he could do with the Nazi salute, which involved putting it where the sun doesn't shine."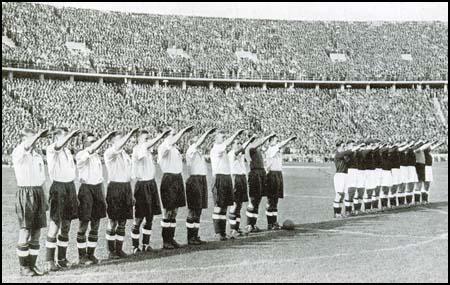 The FA official left only to return some minutes later saying he had a direct order from Sir Neville Henderson the British Ambassador in Berlin. The players were told that the political situation between Britain and Germany was now so sensitive that it needed "only a spark to set Europe alight". As a result the England team reluctantly agreed to give the Nazi salute.
The game was watched by 110,000 people as well as senior government figures such as Herman Goering and Joseph Goebbels. England won the game 6-3. This included a goal scored by Len Goulden that Stanley Matthews described as "the greatest goal I ever saw in football".
On Friday, 1st September, 1939, Adolf Hitler ordered the invasion of Poland. On Sunday 3rd September Neville Chamberlain declared war on Germany. The government immediately imposed a ban on the assembly of crowds and as a result the Football League competition was brought to an end.
During the Second World War Hapgood served in the Royal Air Force. However, he did manage to play in over hundred friendly games between 1939 and 1945.
Hapgood returned to Arsenal after the war but he retired from playing in December 1945. During his time at the club he played in 434 league and cup games. He also made 30 appearances for England, most of these as captain. According to Tom Whittaker, the Arsenal trainer, during his career: "Hapgood got concussion three times, broke both ankles and broke his nose on three occasions."
In 1945 Hapgood published his autobiography, Football Ambassador. He also became manager of Blackburn Rovers but after the club finished in 17th place in the 1946-47 season he resigned. Hapgood then managed Watford in the Third Division South. After two unsuccessful seasons he left in 1950. He also took charge of Bath City between 1950 and 1956.
After losing his job at Bath he had some financial difficulties. Hapgood wrote to the Arsenal asking if he could have the testimonial match he did not have as a player. The club refused but did send him a cheque for £30. Hapgood also ran a YMCA at Harwell and Weymouth.
Eddie Hapgood died in Leamington Spa, Warwickshire, on 20th April 1973. He was 64 years old.