Stanley Matthews, the son of a barber and professional boxer, Jack Matthews, was born in Hanley on 1st February, 1915. Jack Matthews took out his son training from an early age. His initial intention was for Stanley to become a boxer. However, Stanley had no interest in this sport. As he pointed out in his autobiography: "I had only one thing on my mind - to be a footballer."
Jack Matthews told his son that he could become a professional footballer "If you can make yourself good enough to be a schoolboy international before you leave school". Matthews achieved this when he played for England schoolboys against Wales when he was only 13 years old. England won the game 4-1.
In 1932 he signed for local club, Stoke City in the Second Division. The club got promoted to the First Division in the 1932-33 season. Matthews, who was only 18 years old at the time, won his first international cap for England against Wales on 29th September, 1934. The England team that day also included Eddie Hapgood, Ray Westwood, Cliff Britton and Eric Brook. Matthews scored one of the goals in England's 4-0 victory. He retained his place in the game against Italy on 14th November, 1934. A game that England won 3-2.
Stoke City struggled in the First Division and for a time he lost his place in the England side. On 17th April, 1937, he won his fourth international cap against Scotland. His wing partner that day was Raich Carter. However, the two men did not play well together and as a result Carter was dropped from the side. Tommy Lawton found the dropping of Carter inexplicable. "Raich was the perfect team man. He would send through pinpoint passes or be there for the nod down."
Raich Carter later explained why he never played well with Matthews: "He was so much of the star individualist that, though he was one of the best players of all time, he was not really a good footballer. When Stan gets the ball on the wing you don't know when it's coming back. He's an extraordinary difficult winger to play alongside."
One national newspaper even claimed that the other players in the team were so upset with Matthews that they refused to pass to him. Tommy Lawton admitted that: "We all had moments when we've been exasperated with Stan because he'd taken the ball off down the wing as if he was playing on his own." However, he rejected the idea that the players starved him of the ball because eventually "he'd produce a moment of sheer genius that nobody else could hope to match."
On 1st December, 1937, Matthews scored a hat-trick in England's 5-4 victory over Czechoslovakia. The England team that day also included Vic Woodley, Wilf Copping, Stan Cullis, Len Goulden, Willie Hall, John Morton and Bert Sproston.
In the 1937-38 season Stoke City finished in 17th place in the First Division of the Football League. Matthews was desperate to win league or cup medals and asked for a transfer. More than 3,000 fans attended a protest meeting and a further 1,000 marched outside the ground with placards. Matthews eventually agreed to stay.
In May 1938 Matthews was selected for the England tour of Europe. The first match was against Germany in Berlin. Adolf Hitler wanted to make use of this game as propaganda for his Nazi government. While the England players were getting changed an Football Association official went into their dressing-room and told them that they had to give the raised arm Nazi salute during the playing of the German national anthem. As Matthews later recalled: "The dressing room erupted. There was bedlam. All the England players were livid and totally opposed to this, myself included. Everyone was shouting at once. Eddie Hapgood, normally a respectful and devoted captain, wagged his finger at the official and told him what he could do with the Nazi salute, which involved putting it where the sun doesn't shine."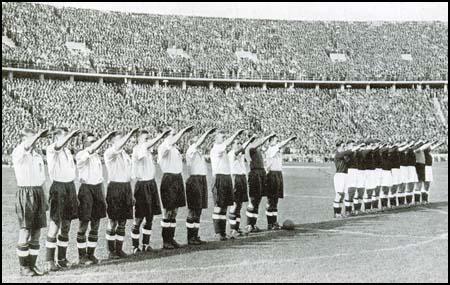 The FA official left only to return some minutes later saying he had a direct order from Sir Neville Henderson the British Ambassador in Berlin. The players were told that the political situation between Britain and Germany was now so sensitive that it needed "only a spark to set Europe alight". As a result the England team reluctantly agreed to give the Nazi salute.
The game was watched by 110,000 people as well as senior government figures such as Herman Goering and Joseph Goebbels. England won the game 6-3. This included a goal scored by Len Goulden that Matthews described as "the greatest goal I ever saw in football". According to Matthews: "Len met the ball on the run; without surrendering any pace, his left leg cocked back like the trigger of a gun, snapped forward and he met the ball full face on the volley. To use modern parlance, his shot was like an Exocet missile. The German goalkeeper may well have seen it coming, but he could do absolutely nothing about it. From 25 yards the ball screamed into the roof of the net with such power that the netting was ripped from two of the pegs by which it was tied to the crossbar."
On Friday, 1st September, 1939, Adolf Hitler ordered the invasion of Poland. On Sunday 3rd September Neville Chamberlain declared war on Germany. The government immediately imposed a ban on the assembly of crowds and as a result the Football League competition was brought to an end.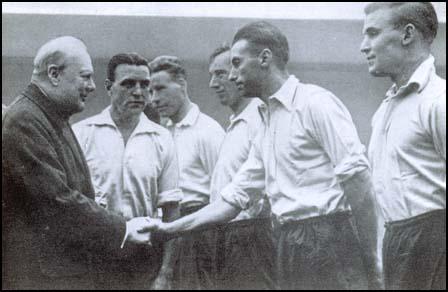 On 14th September, the government gave permission for football clubs to play friendly matches. In the interests of public safety, the number of spectators allowed to see these games was limited to 8,000. These arrangements were later revised, and clubs were allowed gates of 15,000 from tickets purchased on the day of the game through the turnstiles. The government imposed a fifty mile travelling limit and the Football League divided all the clubs into seven regional areas where games could take place.
During the Second World War Matthews served in the Royal Air Force. Like most top footballers, Matthews was stationed in England and was allowed to play in friendly games. This included guesting for Blackpool, Manchester United and Arsenal.
Neil Franklin was made captain of Stoke City in the 1946-47 season. Stories circulated that Matthews was dropped from the team by Bob McGrory and replaced by George Mountford because he was "unpopular" in the dressing-room. As his friend, Tom Finney, later explained: "Neil called a meeting of the players, sought their collective view, informed Stanley by letter of his intentions and strode off to see the board to quash the rumours and pay handsome tribute to his illustrious team-mate." Matthews later wrote: "The problem was not resolved, but knowing that I had the support of my team-mates, including George Mountford who had replaced me, made me feel a whole lot better about the whole sorry affair."
Matthews now lost his place in the England team. He now decided he must play for a club that had the possibility of winning the FA Cup or the league championship. On 10th May, 1947, Matthews was transferred to Blackpool for £11,500. This was a large sum of money to pay for someone aged 32 and considered past his best. However, Blackpool manager, Joe Smith, was extremely pleased with his signing. He joined a team that included Hughie Kelly, Stan Mortensen, Harry Johnson and Bill Perry.
In the 1947-48 season Blackpool beat Chester (4-0), Colchester United (5-0), Fulham (2-0), Tottenham Hotspur (3-1) to reach the final of the FA Cup. However, Blackpool lost the game 4-2 to Manchester United. Matthews played well that season and the Football Writers' Association (FWA) awarded him the first Footballer of the Year Award.
Matthews also regained his place in the England team and was a member of the team that had victories against Scotland (2-0), Italy (4-0), Northern Ireland (6-2), Wales (1-0) and Switzerland (6-0).
In the 1950-51 season Blackpool finished in 3rd place in the First Division of the Football League. Blackpool beat Stockport County (2-1), Mansfield Town (2-0), Fulham (1-0) and Birmingham City (2-1) to reach the final of the FA Cup. Once again Matthews only received a losing medal as Newcastle United won the game 2-0.
Stanley Matthews described Ernie Taylor as the "architect of our cup final defeat" urged the club manager, Joe Smith, to buy the man who was nicknamed "Tom Thumb". Matthews later recalled: "Ernie was a cheeky, confident player who on his day verged on the brilliant. Despite his slight build, he could ride even the most brusque of tackles with aplomb and he could crack open even the most challenging and organised of defences." Smith took the advice and in October 1951, paid £25,000 for Taylor.
In the 1952-53 season beat Huddersfield Town (1-0), Southampton (2-1), Arsenal (2-1) and Tottenham Hotspur (2-1) to reach the FA Cup final for the third time in five years. Cyril Robinson claimed that Joe Smith, the Blackpool manager "was never very tactical, he was very blunt with his instructions". According to Stanley Matthews he said: "Go out and enjoy yourselves. Be the players I know you are and we'll be all right."
Cyril Robinson was later interviewed about the match: "We kicked off and within a couple of minutes we had a goal scored against us. That's about the worst thing that could happen. Gradually we got some passes together, got Stan Matthews on the ball and Mortensen got the equaliser, but they went back ahead straight away."
Stanley Matthews wrote in his autobiography that: "At half-time we sipped our tea and listened to Joe. He wasn't panicking. He didn't rant and rave and he didn't berate anyone. He simply told us to keep playing our normal game." Harry Johnson, the captain, told the defence to "be more compact and tighter as a unit." He also added: "Eddie (Shinwell), Tommy (Garrett), Cyril (Robinson) and me, we will deal with the rough and tumble and win the ball. You lot who can play, do your bit."
Despite the team-talk Bolton Wanderers took a 3-1 lead early in the second-half. Robinson commented: "It looked hopeless then, I was thinking to myself at least I've been to Wembley." Then Stan Mortensen scored from a Stanley Matthews cross. According to Matthews: "although under pressure from two Bolton defenders who contrived to whack him from either side as he slid in, his determination was total and he managed to toe poke the ball off the inside of the post and into the net."
In the 88th minute a Bolton defender conceded a free kick some 20 yards from goal. Stan Mortensen took the kick and according to Robinson: "I've never seen one taken as well. It flew, you couldn't see the ball on the way to the net." Matthews added that "such was the power and accuracy behind Morty's effort, Hanson in the Bolton goal hardly moved a muscle."
The score was now 3-3 and the game was expected to go into extra-time. In his autobiography, Stanley Matthews described what happened next: "A minute of injury time remained... Ernie Taylor, who had not stopped running throughout the match, picked up a long throw from George Farm, rounded Langton and, as he had done like clockwork through the second half, found me wide on the right. I took off for what I knew would be one final run to the byline. Three Bolton players closed in, I jinked past Ralph Banks and out of the corner of my eye noticed Barrass coming in quick for the kill. They had forced me to the line and it was pure instinct that I pulled the ball back to where experience told me Morty would be. In making the cross I slipped on the greasy turf and, as I fell, my heart and hopes fell also. I looked across and saw that Morty, far from being where I expected him to be, had peeled away to the far post. We could read each other like books. For five years we'd had this understanding. He knew exactly where I d put the ball. Now, in this game of all games, he wasn't there. This was our last chance, what on earth was he doing? Racing up from deep into the space was Bill Perry."
Stanley Matthews added that Perry "coolly and calmly stroked the ball wide of Hanson and Johnny Ball on the goalline and into the corner of the net." Bill Perry admitted: "I had to hook it a bit. Morty said he left it to me, but that's not true, it was out of his reach." Blackpool had beaten Bolton Wanderers 4-3. Matthews, now aged 38, had won his first cup-winners medal.
Jimmy Armfield later pointed out: "We were standing at the end where the Blackpool goals went in on the way to that 4-3 victory in what will always be remembered as the Matthews final. Amazing that, when you think that Stan Mortensen became the only player to score a hat-trick in a Wembley FA Cup final.Morty had been suffering from cartilage trouble and he had an operation a few weeks before the game. He had hardly trained, yet he came out and scored a hat-trick." Interestingly, Stanley Matthews always insisted that he was overpraised for his performance that day and in his autobiography, The Way It Was, he called it the "Mortensen Final".
In the 1955-56 season Blackpool finished 2nd in the First Division of the Football League. That year Matthews was the winner of the first European Footballer of the Year award.
Matthews won his last international cap against Denmark on 15th May 1957. He was 42 years old. England won the game 4-1. Matthews had scored 11 goals in 53 appearances for England. Later that year he was awarded the OBE.
Matthews continued to play for Blackpool in the First Division of the Football League. However, in 1961 he rejoined Stoke City. Although he was now 46 years old he hoped he could help the club win promotion . The following season, the club won the Second Division Championship. He was also voted Footballer of the Year for the second time in his career.
Stanley Matthews played his final game for Stoke City on 6th February, 1965. He was 50 years old. During his career he had scored 71 goals in 701 league and cup games.
In 1965, he became the first football player to be knighted for services to sport. After retiring he was appointed as manager of Port Vale. He resigned in 1968 after it was alleged that illegal payments had been made to players. Port Vale were expelled, but subsequently re-instated to the Football League.
Matthews, who claimed that he had retired "too early" now moved to Malta where he joined Hibernians. He played his last game for them aged 55. He also played local football in his sixties. Matthews also coached in South Africa and Canada.
Stanley Matthews died on 23rd February 2000.