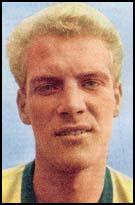 Ronald (Ron) Flowers was born in Edlington on 28th July, 1934. His father was a coalminer and his uncle, George Flowers, had played professional football for Doncaster Rovers.
Like most boys in this mining village, Flowers took a keen interest in playing football. A career in professional football was seen as the best way to avoid working in the local colliery.
In his autobiography, For Wolves and England (1962) Flowers explains that: "To buy me my first pair of football boots my parents, for some time before Christmas, put a little aside each week so that the boots they presented to me should be a really good pair. Then came one of the proudest moments of my life. On Christmas Day, 1939, my parents gave me my present. Father tied the laces of the boots for me, and, bright and early, immediately after breakfast, I was out with the other youngsters -most of whom seemed to have been given new soccer boots - for a really good kickabout; the perfect appetizer for my Christmas dinner."
Ron Flowers joined Wath Wanderers who played in the Northern Intermediate League. The club was run by Mark Crook, who formerly played for Wolverhampton Wanderers. Over the previous few years Crook, who ran a fish-and-chip shop near Barnsley, had already discovered George Robledo and Roy Swinbourne. Flowers later admitted that "Mark Crook, as my first manager, left a lasting impression upon me... He encouraged me to think about the game... He was a wonderful talker on soccer, and we would sit rooted to our chairs as he discussed the great players he had played with and against in his youth."
On Mark Crook's recommendation, Flowers joined Wolves in August 1951. The manager, Stan Cullis, gave him his debut against Blackpool on 20th September, 1952. Flowers was told to mark Ernie Taylor. He later recalled: "Ernie Taylor, with his gift for controlling the ball closely, and using his body to protect it, was easily the most difficult opponent I had ever met. Before I faced him someone had suggested that the best method of putting the handcuffs upon the wily little forward was to tackle him quickly. What they forgot to tell me was how to locate Taylor when he lost me, as he frequently did."
Blackpool, with Stanley Matthews in great form, quickly took a three goal lead. However, just before half-time Flowers scored following a corner taken by Johnny Hancocks. "Every footballer remembers his first goal in League football, and for me it was one I'll always recall because Johnny Hancocks cracked over a hard corner-kick, I met the ball with my forehead from the edge of the penalty area, and it went past George Farm with the speed of a bullet."
Although Wolves lost the game 5-2 Flowers retained his place in a team that included Peter Broadbent, Johnny Hancocks, Sammy Smyth, Jesse Pye, Jimmy Dunn, Jimmy Mullen, Billy Crook, Bill Slater, Roy Swinbourne, Roy Pritchard, Billy Wright, Bert Williams, Bill Shorthouse and Terry Springthorpe. That season Wolves finished in 3rd place and Flowers played in 20 games.
Wolves won the First Division championship in the 1953-54 season with four more points than their nearest challenger, West Bromwich Albion. They scored an impressive 96 goals. The top goalscorers were Dennis Wilshaw (26), Johnny Hancocks (25), Roy Swinbourne (24) and Peter Broadbent (12).
In the 1954-55 season Wolves lost the services of Roy Swinbourne who was injured for some of the season. Despite the goals of Johnny Hancocks (26) and Dennis Wilshaw (20), Wolves could only finish second to Chelsea. Flowers, who was a member of a half-back line that included Billy Wright and Bill Slater, scored 5 goals in 37 games that season.
Flowers won his first international cap for England against France on 15th May 1955. He joined a team that included Nat Lofthouse, Stanley Matthews, Dennis Wilshaw, Billy Wright, and Bert Williams. England lost the game 1-0. However, Flowers was disappointed with his own performance: "At Wolverhampton I had always been encouraged to hit the ball in front of wingers, but this is very much against Stanley Matthews' way of playing football. He wants you to put the ball at his feet. Then he starts work. In cold, hard print this may sound a simple thing to do, but in front of 60,000 shouting spectators, and having to make split-second decisions, it can be quite a frightening experience for a young player to have to completely change his approach to the game. In France, I'm afraid, Stanley Matthews did not receive from me the same kind of service he accepted at Blackpool as normal when Harry Johnston was behind him to send forward the passes which Matthews takes for granted."
Wolves won the League Championship in 1957-58 by 5 points from Preston North End. The club scored an amazing 103 league goals that season. Jimmy Murray was the club's leading scorer with 32 goals in 45 games. Flowers played in 28 league games that season.
Flowers regained his place in the England team against Wales on 26th November 1958. The game ended in a 2-2 draw. He was to retain his place in the team for the next five years.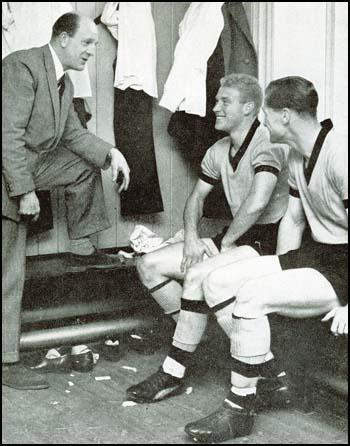 Wolves also won the title in the 1958-59 season with 28 wins in 42 games. Once again the forwards were in great form scoring 110 goals. This was seven more than Manchester United and 22 more than third placed Arsenal. Jimmy Murray was the club's leading scorer with 21 goals in 28 games. He was followed by Peter Broadbent (20), Norman Deeley (17) and Bobby Mason (13). Flowers played in 31 league games that season.
In the 1959-60 season the club was beaten into second placed by Burnley. Once again Wolves were the top scorers in the league with 106 goals. They did even better in the FA Cup that season with Norman Deeley scoring two of the goals in the 3-0 victory over Blackburn Rovers.
Flowers won his last international cap for England against Norway on 29th June 1966. He had scored 10 goals in 49 games for his country.
In September 1967 Flowers joined Northampton Town. He had scored 37 goals in 515 games for Wolves. He also played for Wellington Town before running a sports shop in Wolverhampton. The shop is currently being managed by his sons.