William (Billy) Wright was born in Ironbridge on 6th February 1924. A talented footballer he was signed by Major Frank Buckley, the manager of Wolves in 1934.
Wright made his first team debut for the club aged just 15 in a 2-1 win at Notts County during the 1938-39 season. He joined a team that included Stan Cullis, Bill Morris, Dennis Westcott, Alex Scott, Tom Galley, Dicky Dorsett, Bill Parker, Joe Gardiner, Joe Rooney, and Teddy Maguire.
In the 1938-39 season Wolves finished second to Everton. The centre-forward Dennis Westcott scored 43 goals in 43 appearances. His fellow striker, Dicky Dorsett managed 26 goals that season. The captain of the side, Stan Cullis, was generally acknowledged as the best centre-half in the Football League.
Wright joined the British Army and like many professional footballers, he became a Physical Training Instructor, and did not see any action during the war. He continued to play for Wolves and made over 100 appearances in wartime football.
Major Frank Buckley resigned as manager of Wolves on 8th February 1944. After receiving over a hundred applications the board appointed Ted Vizard as the new manager. Vizard appointed Wright as captain of Wolves when Stan Cullis was forced to retire from football in 1946.
Wright won his first international cap for England against Northern Ireland on 28th September 1946. England won the game 7-2. The England team included Raich Carter, Tom Finney, Neil Franklin, George Hardwick, Tommy Lawton, Wilf Mannion, Laurie Scott and Frank Swift. He also played against the Republic of Ireland (1-0), Wales (3-0), Holland (8-2), Scotland (1-1), France (3-0), Switzerland (0-1) and Portugal (10-0).
Despite taking the club to third place in the 1946-47 season Ted Vizard was replaced by his assistant Stan Cullis in June 1948. That season Wright was made captain of England.
In 1949 Wright led Wolves to the FA Cup final against Leicester City. The team for the final included Johnny Hancocks, Sammy Smythe, Jesse Pye, Jimmy Dunn, Jimmy Mullen, Billy Crook, Roy Pritchard, Billy Wright, Bert Williams, Bill Shorthouse and Terry Springthorpe. Wolves won the game 3-1 with Pye scoring two goals in the first-half and Smythe netting a third in the 68th minute.
In May 1950, Stan Cullis signed Peter Broadbent from Brentford for a fee of £10,000. As Cullis later pointed out: "The club paid a big fee to Brentford for the transfer of Peter Broadbent, a 17-year-old inside-forward from Dover, who, I thought, could well develop into one of the outstanding inside-forwards of his day. Broadbent, in addition to the normal qualities of an inside-forward, also had considerable pace, and a flair for going past a defender in the fashion of a winger."
Peter Broadbent made his debut against Portsmouth in March 1951. He joined a team that included Billy Wright, Johnny Hancocks, Sammy Smyth, Jesse Pye, Jimmy Dunn, Dennis Wilshaw, Jimmy Mullen, Billy Crook, Roy Swinbourne, Roy Pritchard, Bert Williams, Bill Shorthouse and Terry Springthorpe. Wolves only finished in 14th place in the First Division in the 1950-51. The top goalscorers were Swinbourne (20) and Hancocks (19).
In the 1952-53 season Wolves finished in 3rd place in the First Division. Peter Broadbent formed a great partnership with Johnny Hancocks. As the manager, Stan Cullis, pointed out in his autobiography, All For the Wolves (1960): "We often used him (Broadbent) as an advanced winger lying on the touchline twenty yards or more ahead of Hancocks. When the ball came out of defence to Hancocks, he was able to chip it accurately to Broadbent who was frequently clear on his own. This stratagem, designed to make the fullest use of the best qualities of both players, was also extremely successful, for the full-back marking Hancocks was caught between two men and played out of the game." That season the top goalscorers were Roy Swinbourne (21), Dennis Wilshaw (17), Jimmy Mullen (11) and Johnny Hancocks (10).
Wolves won the First Division championship in the 1953-54 season with four more points than their nearest challenger, West Bromwich Albion. They scored an impressive 96 goals. The top goalscorers were Johnny Hancocks (25), Dennis Wilshaw (25), Roy Swinbourne (24), Jimmy Mullen (17) and Peter Broadbent (12). Wilshaw did not enjoy a good relationship with Stan Cullis. However, he claimed that the club's team spirit was good "because we all hated his guts".
In the 1954-55 season lost the services of Roy Swinbourne who was injured early in the season. Despite the goals of Johnny Hancocks (26) and Dennis Wilshaw (20) Wolves could only finish second to Chelsea. Swinbourne also struggled with injuries the following season and once again could only play in 14 league games. Wolves finished in 3rd place that season.
In March 1956 Stan Cullis signed Harry Hooper from West Ham United for a club record fee of £25,000. Cullis wanted him as a replacement for Johnny Hancocks. Cullis later commented that: "Like Hancocks, Hooper was fast, direct, able to play on either wing and was both accurate and powerful in his use of the ball with either foot. In short, he was an ideal winger."
Harry Hooper joined a team that included Billy Wright, Peter Broadbent, Eddie Clamp, Ron Flowers, Johnny Hancocks, Jimmy Mullen, Roy Pritchard, Bill Shorthouse, Bill Slater, Roy Swinbourne, Dennis Wilshaw, Bert Williams, Eddie Clamp, Norman Deeley, Eddie Stuart, Jimmy Murray and Bobby Mason.
In the opening game of the 1956-57 season, Jimmy Murray scored 4 goals in a 5-1 defeat of Manchester City and ended the season with 17 goals in 33 games. However, it was Harry Hooper who ended up as top scorer with 19 goals in 39 games.
Wolves won the League Championship in 1957-58 by 5 points from Preston North End. The club scored an amazing 103 league goals that season. Jimmy Murray was the club's leading scorer with 32 goals in 45 games. This included hat-tricks against Birmingham City (5-1) Nottingham Forest (4-1) and Darlington in the FA Cup ( 6-1). Norman Deeley scored 23 goals in 41 appearances that season. This included a spell of 13 in 15 outings during the autumn. Other scorers included Peter Broadbent (17), Eddie Clamp (10), Bobby Mason (7), Dennis Wilshaw (4), Jimmy Mullen (4), Des Horne (3) and Ron Flowers (3).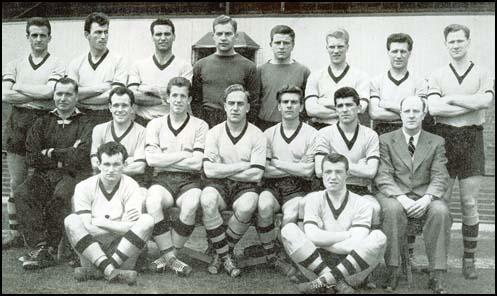 Wolves also won the title in the 1958-59 season with 28 wins in 42 games. Once again the forwards were in great form scoring 110 goals. This was seven more than Manchester United and 22 more than third placed Arsenal. Jimmy Murray was the club's leading scorer with 21 goals in 28 games. He was followed by Peter Broadbent (20), Norman Deeley (17) and Bobby Mason (13).
In the 1959-60 season the club was beaten into second placed by Burnley. Once again Wolves were the top scorers in the league with 106 goals. This was 21 more than the champions who won the title by only one point. Top scorers were Jimmy Murray (29), Peter Broadbent (14), Norman Deeley (14), Bobby Mason (13), Des Horne (9), Eddie Clamp (8) and Ron Flowers (4).
Wright won his 100th international cap against Scotland on 11th April 1959. He won his 105 and last cap against the USA later that year on 28th May 1959. Wright retired at the end of the 1958-59 season. He had made 541 cup and league appearances for Wolves. That year he was awarded the CBE.
In 1960 Wright was appointed as manager of England's youth team. Two years later he replaced George Swindin as manager of Arsenal. In his first season he finished in 7th place in the First Division. The form of the team gradually declined finishing 8th (1963-64), 13th (1964-65) and 14th (1965-66). Wright was sacked before the start of the 1966-67 season.
Wright, who married Joy Beverley, became Head of Sport for ATV and Central Television, before retiring in 1989. The following year, he joined the Board of Directors at Wolves.
Billy Wright died from stomach cancer on 3 September 1994, aged 70.
Billy Wright was a shining example. Although even then established as England's captain, and one of the great names in world football, Billy was always full of enthusiasm. When you trained or played with him - as I did from the age of seventeen-it was to feel that here was a man upon whom you wanted to model yourself. Because of his own efforts Billy made all of us young players appreciate that there is no short cut to success on the football field.