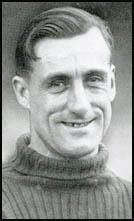 George Swindin was born in Campsall, Yorkshire on 4th December 1914. A talented goalkeeper, he played for New Stubbin Colliery before joining Rotherham United as an amateur in 1932.
Swindin joined Bradford City in 1934 and played only 26 games for the club before being signed by George Allison, the Arsenal manager, for £4,000 in April, 1936. He made his league debut the following season against Brentford on 3rd September 1936, replacing the injured Frank Moss.
In his first season Swindin played in 19 games. According to Jeff Harris, the author of Arsenal Who's Who: "At this early stage of his career he was inconsistent and excitable, nervous and highly strung. George was also hesitant and lacked confidence and his kicking was poor."
After the retirement of Frank Moss Swindin became the first-choice goalkeeper. He joined a team that included Cliff Bastin, Eddie Hapgood, George Male, Ted Drake, Leslie Jones, George Hunt, Bernard Joy, Alf Kirchen, Leslie Compton and Dennis Compton.
Wolves were expected to be Arsenal's main rivals in the 1937-38 season. However, it was Brentford who led the table in February. They also beat Arsenal on 18th April, a game in which Ted Drake broke his wrist and suffered a bad head wound. However, it was the only two points they won during a eight game period and gradually dropped out of contention.
On the last day of the season Wolves were away to Sunderland. If Wolves won the game they would be champions, but they drew 1-1. Arsenal beat Bolton Wanderers at Highbury and won their fifth title in eight years. As a result of his many injuries, Ted Drake only played in 28 games but he still ended up the club's top scorer with 17 goals. Swindin was in good form that year only letting in 13 goals in 17 games.
Most of Arsenal playing staff joined the Royal Air Force on the outbreak of the Second World War. This included Swindin, Ted Drake, Jack Crayston, Eddie Hapgood, Leslie Jones, Bernard Joy, Alf Kirchen and Laurie Scott. Swindin worked as a Physical Training instructor and did not see action.
After the war Swindin returned to Arsenal and played in the FA Cup tie in January 1946 when West Ham United scored six against him. Swindin was expected to be dropped but Tom Whittaker, the manager, who had been in the RAF with Swindin commented: "When a pilot crashes, you don't keep him on the ground for a time; you send him up again at once, so that he regains his confidence. That's what we are doing with George Swindin."
Swindin played in all 42 league games in Arsenal's championship winning team in the 1947-48 season. Swindin conceded only 32 league goals that season (at the time a new First Division defensive record). The following season he was a member of the Arsenal team that beat Liverpool to win the 1950 FA Cup Final.
In the 1950-51 season Swindin was replaced by Ted Platt. However, the following season he was ever-present and was a member of the team that played Newcastle United in the 1952 FA Cup Final.
Swindin played 14 games in the 1952-53 season and therefore qualified for a third league championship medal. By the time he joined Peterborough United as player/manager in February 1954 he had played in 294 games for Arsenal.
Swindin was appointed manager of Arsenal in August 1958. He only had moderate success with Arsenal finishing 3rd (1958-59), 13th (1959-60), 11th (1960-61) and 10th (1961-62). Swindin resigned in May 1962. He also managed Norwich City (1962), Cardiff City (1962-64), Kettering Town (1965) and Corby Town (1969-70).
George Swindin died on 26th October, 2003.
In his first season he played in nineteen league games. At this early stage of his career he was inconsistent and excitable, nervous and highly strung. George was also hesitant and lacked confidence and his kicking was poor.... On the resumption of League Football, in 1946-47, he became the club's first choice goalkeeper... In the League Championship season of 1947-48 George was ever present when conceding only thirty-two league goals (at this time a new Division One defensive record). George now developed into an excellent keeper and undoubtedly he would have been capped but for the brilliance of Frank Swift and then Bert Williams.
When league football restarted the following season, Arsenal had every reason to be grateful for Swindin's brave and expert goalkeeping. They made an appalling start, beaten 6-1 at Wolves against whom, in the return at Highbury the following December, Swindin had one of his finest and most acrobatic games, the result being a much more acceptable 1-1 draw. The following January, again at Highbury, he excelled in a thrilling FA Cup third round replay at Chelsea, another 1-1 draw.

Under Whittaker, the following season, a revitalised Arsenal strode to the championship. Swindin, who had missed just four league matches in 1946-47, now played all 42, a tribute to his condition and powers of recovery, since his courage was enormous, and his speciality the blocking of a shot, at full pelt, which obviated the need to make a save on the line. One of his team-mates said: "George has a card-index mind on angles. He is quick to make up his mind and as soon as he has, he acts! Ninety-nine times out of a hundred, he is right!"

Perhaps the finest and most spectacular save he ever made was during that season, and from Tommy Lawton, at Chelsea, where he hurtled through the air to deflect a seemingly irresistible header for a corner, via the outside of a post. The only blemish came in the sixth league game, and the sixth Arsenal win. Rushing out in typically decisive style to capture the ball, Swindin collided with the stand-in Arsenal centre-half, Alf Fields, who was covering for Leslie Compton. Fields's knee was badly injured and he did not play again that season.
During Arsenal's title-winning season of 1947-48, Swindin conceded a mere 32 goals. In today's climate of goal-mouth austerity in England's top flight, this feat may not seem particularly impressive, but in Swindin's time, when strikers invariably scored prolifically, this established a First Division record - and served to cement Arsenal's now long-borne reputation as having one of the meanest defences in the land. Swindin was, in the opinion of many Gunners fans, the best goalie never to have played for his country....

In 1954 Swindin left Arsenal to become player-manager of then non-league Peterborough United and after one season became full-time manager. There he showed promise at the helm, and although he could not lift the side into the football league, he is widely credited with laying the foundations for that eventual achievement in 1960.

Thus in 1958, with Arsenal's fortunes now in worrying decline, he returned to North London, this time recalled to take charge of the side. As manager, he initially displayed great acumen; he made many changes to the side and by February of the 1958-59 season the Gunners were top of the table.

However, his side were plagued by injuries and ended the season in a disappointing third place; Swindin and Arsenal had not developed the kind of youth policies that had proved so profitable for Manchester United and the eventual champions Wolves. Further underachievement followed, made all the more unpalatable by local rivals Tottenham Hotspur securing the "double" in 1961. In March 1962, in a decision that came as a shock to most Gunners players and fans who were endeared to him, Swindin was replaced by Billy Wright, who had no managerial experience (and who subsequently did not stop Arsenal's slide into mediocrity in the 1960s).

Swindin next became manager of Norwich City, before moving to Cardiff City, but he retired in 1964. He went on to run a service station in Corby, Northamptonshire. He was an enthusiastic golfer but in recent years he had to give up his favourite pastime when he developed Alzheimer's disease.