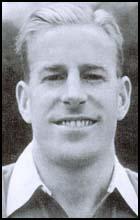 Bernard Joy was born in Fulham on 29th October 1911. While a student at London University he played amateur football for Corinthian Casuals. After leaving university he represented Football League sides Southend United and Fulham. During this period he won ten England Amateur caps.
Joy signed for Arsenal in May 1935 and made his league debut against Bolton Wanderers on 1st April 1936, replacing the injured Herbie Roberts.
Joy's form was so good that he won an international cap for England against Belgium on 9th May 1936. England won the game 3-2. Also in the England team that day was Sam Barkas, Wilf Copping, George Camsell, Eddie Hapgood and George Male.
Joy was the last amateur to win a full England cap. He also captained the England amateur team in the 1936 Olympic Games. Despite two goals from Joy the England team lost 5-2 in the quarter-finals to Poland.
In the 1936-37 season Joy deputised six times for Herbie Roberts. The following season he played in 26 games in helping Arsenal win the league championship. In the 1938-39 season he missed only three games in the league campaign.
On the outbreak of the Second World War Joy, like most of his Arsenal teammates, joined the Royal Air Force. This included Ted Drake, Jack Crayston, Eddie Hapgood, Leslie Jones, Alf Kirchen, Laurie Scott and George Swindon.
In the 1946-47 season Joy played in 13 league games before retiring from football. Overall, he had played in 92 league and cup games.
Joy worked as a school teacher in Hounslow before becoming a journalist with the Evening Standard and the Sunday Express. He was also the author of Forward Arsenal (1952).
Bernard Joy died on 18th July 1984.