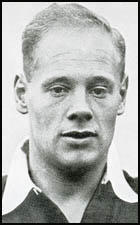 George Male was born in West Ham on 8th May 1910. He played football as an amateur for Clapton before joining Arsenal in November 1929. He made his debut as left-half against Blackpool on 27th December 1930. Arsenal won the game 7-1. That season he only played in three games when he deputised for either Eddie Hapgood or Bob John.
Male only played in nine games the following season and it was only after he took over from right-back from Tom Parker that he became a first-team regular. Male later commented that Herbert Chapman called him into his office to tell him that he was going to become the team's right-back: "By the time I got out of that room, I wasn't only convinced I was a full-blown right back, I knew without doubt that I was the best right-back in the country."
Sunderland were the main challengers to Arsenal in the 1933-34 season thanks to a forward line that included Raich Carter, Patsy Gallacher, Bob Gurney and Jimmy Connor. In March 1934 Sunderland went a point ahead. However, the Gunners had games in hand and they clinched the league title with a 2-0 victory over Everton. George Male played in 35 games that season.
Male won his first international cap for England against Italy on 14th November 1934. England won the game 3-2. The England team that day included Cliff Bastin, Wilf Copping, Ray Bowden, Cliff Britton, Eric Brook, Ted Drake, Eddie Hapgood, Stanley Matthews and Frank Moss.
The following season Arsenal only finished in 6th place behind Sunderland. Arsenal did much better in the FA Cup that season. Arsenal beat Liverpool (2-0), Newcastle United (3-0), Barnsley (4-1) and Grimsby Town (1-0) to reach the final against Sheffield United. Ted Drake, who was not fully fit, scored the only goal of the final. Male had won his first cup winners' medal.
Some of Arsenal's key players such as Cliff Bastin, Alex James, Joe Hulme, Bob John and Herbert Roberts were past their best. Ted Drake and Ray Bowden continued to suffer from injuries, whereas Frank Moss was forced to retire from the game. Given these problems Arsenal did well to finish in 3rd place in the 1936-37 season.
Before the start of the 1937-38 season Herbert Roberts, Bob John and Alex James retired from football. Joe Hume was out with a long-term back injury and Ray Bowden was sold to Newcastle United. However, a new group of younger players such as Bernard Joy, Alf Kirchen and Leslie Compton, became regulars in the side. George Hunt was also bought from Tottenham Hotspur to provide cover for Ted Drake who was still suffering from a knee injury. George Male, Eddie Hapgood and Cliff Bastin were now the only survivors of the team managed by Herbert Chapman.
Wolves were expected to be Arsenal's main rivals in the 1937-38 season. However, it was Brentford who led the table in February. They also beat Arsenal on 18th April, a game in which Ted Drake broke his wrist and suffered a bad head wound. However, it was the only two points they won during a eight game period and gradually dropped out of contention.
On the last day of the season Wolves were away to Sunderland. If Wolves won the game they would be champions, but they drew 1-1. Arsenal beat Bolton Wanderers at Highbury and won their fifth title in eight years. As a result of his many injuries, Ted Drake only played in 28 games but he still ended up the club's top scorer with 17 goals. This was Male's 4th league championship medal.
Male won his 19th and last international cap for England against Romania on 24th May 1939. England won the game 2-0. The England team that day included Frank Broome, Wilf Copping, Stan Cullis, Len Goulden, Joe Mercer, Tommy Lawton and Vic Woodley.
During the Second World War Male served in the Royal Air Force in Palestine. However, he did manage to play in 180 friendly games between 1939 and 1945.
After the war Male returned to Arsenal and played in 15 more games before retiring in 1948. He remained at the club and worked as a coach, trainer and scout over the next 27 years.
George Male died in Canada 19th February 1998.