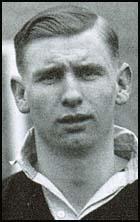 Clifford (Cliff) Bastin was born in Exeter, Devon on 14th March, 1912. At the age of 14 he played for England Schoolboys against Wales.
Bastin signed for Exeter City and at the age of 15 made his league debut. Bastin scored six goals in 17 games when Herbert Chapman persuaded him to sign for Arsenal in May 1929 for £2,000. This was considered to be a huge sum to pay for a teenager who had only played in seventeen league games.
Bastin joined a talented team that included players such as Alex James, David Jack, Jimmy Brain, Joe Hulme, Jack Lambert, Bob John, Eddie Hapgood, Herbert Roberts, Alf Baker and Tom Parker.
Bastin made his debut against Everton at Goodison Park on 5th October 1929. Initially he played at inside-right but was later switched to outside left. In his first season he scored seven goals in 21 games. That year Arsenal finished in 14th place in the First Division. They did much better in the FA Cup. Arsenal beat Birmingham City (1-0), Middlesbrough (2-0), West Ham United (3-0) and Hull City (1-0) to reach the final against Chapman's old club, Huddersfield Town. At the age of 18 years and 43 days, Bastin was the youngest player to appear in a FA Cup Final. Arsenal won the game 2-0 with goals from Alex James and Jack Lambert.
The following season Arsenal won their first ever First Division Championship with a record 66 points. The Gunners only lost four games that season. Jack Lambert was top-scorer with 38 goals. Bastin formed a great left flank partnership with Alex James. Bastin played in every league game and contributed 28 goals. This included a hat-trick against Derby County.
Bastin won his first international cap for England against Wales on 18th November 1931. England won the game 3-1. Therefore, at the age of 19 years and 249 days he became the youngest ever player to win an England cap, League Championship and FA Cup Winners Medal.
Alex James was injured for a large part of the 1931-32 season and this was a major factor in Arsenal losing the title by two points to Everton. Arsenal won the First Division by four points in the 1932-33 season. Bastin was the club's top scorer with 33 goals. This was the highest total ever scored by a winger in a league season.
Joe Hulme, the outside right, contributed 20 goals. This illustrates the effectiveness of Chapman's counter-attacking strategy. As the authors of The Official Illustrated History of Arsenal have pointed out: "In 1932-33 Bastin and Hulme scored 53 goals between them, perfect evidence that Arsenal did play the game very differently from their contemporaries, who tended to continue to rely on the wingers making goals for the centre-forward, rather than scoring themselves. By playing the wingers this way, Chapman was able to have one more man in midfield, and thus control the supply of the ball, primarily through Alex James."
Jeff Harris argues in his book, Arsenal Who's Who: "The reason that Bastin was so deadly was that unlike any other winger, he stood at least ten yards in from the touch line so that his alert football brain could thrive on the brilliance of James threading through defence splitting passes with his lethal finishing completing the job."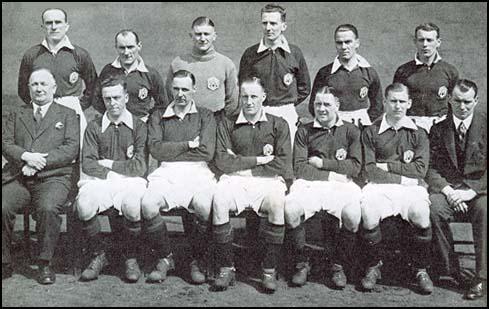 After a two year gap Bastin regained his England place against Italy on 13th May 1933. Bastin was very good that day and held his place in the side for the next six years. The England team at that time included Wilf Copping, Albert Geldard, Eddie Hapgood, Eric Brook, Willie Hall, Sammy Crooks, Raich Carter, Frank Moss, Tom Cooper, Stanley Matthews, Fred Tilson, Cliff Britton, Ray Westwood and George Male.
Sunderland was their main challengers to Arsenal in the 1933-34 season thanks to a forward line that included Raich Carter, Patsy Gallacher, Bob Gurney and Jimmy Connor. In March 1934 Sunderland went a point ahead. However, the Gunners had games in hand and they clinched the league title with a 2-0 victory over Everton. One of the goals was scored by goalkeeper Frank Moss who suffered a dislocated shoulder and was forced to play on the left-wing for the remainder of the game. Bastin ended the season as joint top-scorer with 13 goals.
The following season Arsenal only finished in 6th place behind Sunderland. Arsenal did much better in the FA Cup that season. Arsenal beat Liverpool (2-0), Newcastle United (3-0), Barnsley (4-1) and Grimsby Town (1-0) to reach the final against Sheffield United. Bastin scored six goals in these games. Ted Drake, who was not fully fit, scored the only goal of the final. Bastin had won his second cup winners' medal.
Some of Arsenal's key players such as Bastin, Alex James, Joe Hulme, Bob John and Herbert Roberts were past their best. Ted Drake and Ray Bowden continued to suffer from injuries, whereas Frank Moss was forced to retire from the game. Given these problems Arsenal did well to finish in 3rd place in the 1936-37 season.
Before the start of the 1937-38 season Herbert Roberts, Bob John and Alex James retired from football. Joe Hulme was out with a long-term back injury and Ray Bowden was sold to Newcastle United. However, a new group of younger players such as Bernard Joy, Alf Kirchen and Leslie Compton, became regulars in the side. George Hunt was also bought from Tottenham Hotspur to provide cover for Ted Drake who was still suffering from a knee injury. Bastin, Eddie Hapgood and George Male were now the only survivors of the team managed by Herbert Chapman.
Wolves were expected to be Arsenal's main rivals in the 1937-38 season. However, it was Brentford who led the table in February. They also beat Arsenal on 18th April, a game in which Ted Drake broke his wrist and suffered a bad head wound. However, it was the only two points they won during a eight game period and gradually dropped out of contention.
On the last day of the season Wolves were away to Sunderland. If Wolves won the game they would be champions, but they drew 1-1. Arsenal beat Bolton Wanderers at Highbury and won their fifth title in eight years. As a result of his many injuries, Ted Drake only played in 28 games but he still ended up the club's top scorer with 17 goals. That year Bastin scored 15 goals in 38 games.
Bastin won his last international cap for England against France on 26th May, 1938. The England team that day also included Frank Broome, Stan Cullis, Ted Drake, Len Goulden, Eddie Hapgood, Stanley Matthews, Bert Sproston, Vic Woodley and Alf Young. Bastin got one of the goals in England's 4-2 victory. Bastin had scored 12 goals in 21 games for his country.
For many years Bastin had suffered from hearing problems and by this stage of his career he was completely deaf. He was also suffering from a reoccurring problem with his right-leg. However, it did not stop him from scoring his 150th Football League goal on 4th February 1939.
During the Second World War Bastin's deafness meant he was exempt from active service and played in 250 friendly games during the conflict.
Bastin returned to the Arsenal team after the war but he only managed six more games before his leg injury forced him into retirement. During his time at the club he scored 176 goals in 392 league and cup games.
After retiring from the game Bastin ran a public house in Exeter.
Cliff Bastin died on 4th December 1991.
Only a few weeks before he was signed by Arsenal, Cliff Bastin, soon to be known as the "Boy Wonder," who was to gain every possible top-class honour in soccer before he was twenty-one, was an unknown in his native Devon.
In 1932-33 Bastin and Hulme scored 53 goals between them, perfect evidence that Arsenal did play the game very differently from their contemporaries, who tended to continue to rely on the wingers making goals for the centre-forward, rather than scoring themselves. By playing the wingers this way, Chapman was able to have one more man in midfield, and thus control the supply of the ball, primarily through Alex James.
When Allison finally resigned in 1947, Whittaker was a natural choice to take over and in his first managerial years he had much success, instantly winning the first division title, after a parlous 1946/47 season for the club in which at one time relegation loomed. In 1950 the Gunners won the FA Cup for the first time since 1936.

Yet there was another less positive side to Whittaker and I encountered it as a 19-year-old journalist in 1951. I'd written or rather "ghosted" my first book, Cliff Bastin Remembers, the autobiography of one of the foremost Arsenal stars, supreme goal-scorer and left-winger, of the inter-War years. Tom had supplied the foreword. To my surprise, since I had simply put down exactly what Bastin in his forthright way thought, the book proved controversial and had extensive newspaper and magazine coverage. Going to Highbury to interview Whittaker, I was surprised, when I asked him what he thought of the book, to be told that he had never seen it: "I believe Cliff brought a couple of copies to the ground."

When the publishers heard this they were incensed; they'd given Cliff, they told me, special early copies; and they wrote to rebuke him. In return they had a letter rebuking me for telling them things untrue. I myself wrote to Cliff fully accepting his explanation and got a letter, my last ever from him, saying he quite understood my good faith; but he had heard Whittaker had said he wished he had never written the foreword. His final sentence read: "But in future, watch your step at Highbury." Whittaker had lied.