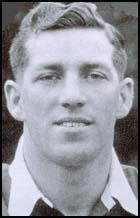 Alfred (Alf) Kirchen was born in Shouldham, Norfolk on 26th August, 1913. He played local football before Tom Parker, the manager of Norwich City, persuaded Kirchen to join the club in 1933.
An outside right, he scored 7 goals in 14 games before George Allison signed him for Arsenal in March 1935 for £6,000. He scored in his league debut in a 6-0 victory over Tottenham Hotspur. Kirchen replaced the injured Joe Hulme but he only played seven games that season and did not qualify for a championship medal.
Kirchen lost his place when Joe Hulme returned from injury and only played in six league games in the 1935-36 season. However, the following season he scored 18 goals in 33 games. This included a hat-trick against Grimsby Town.
Kirchen won his first international cap for England against Norway on 14th May 1937. Kirchen scored one of the goals in England's 6-0 victory. The England team that day also included Cliff Britton, Wilf Copping, George Male, Freddie Steele, Len Goulden, Vic Woodley and Alf Young. Kirchen also played against Sweden (4-0) and Finland (8-0) that season.
Before the start of the 1937-38 season Herbie Roberts, Bob John and Alex James retired from football. Joe Hulme was out with a long-term back injury and Ray Bowden was sold to Newcastle United. However, a new group of younger players such as Bernard Joy and Leslie Compton, became regulars in the side. George Hunt was also bought from Tottenham Hotspur to provide cover for Ted Drake who was still suffering from a knee injury. Cliff Bastin, Eddie Hapgood and George Male were now the only survivors of the team managed by Herbert Chapman.
Wolves were expected to be Arsenal's main rivals in the 1937-38 season. However, it was Brentford who led the table in February. They also beat Arsenal on 18th April, a game in which Ted Drake broke his wrist and suffered a bad head wound. However, it was the only two points they won during a eight game period and gradually dropped out of contention.
On the last day of the season Wolves were away to Sunderland. If Wolves won the game they would be champions, but they drew 1-1. Arsenal beat Bolton Wanderers at Highbury and won their fifth title in eight years. As a result of his many injuries, Ted Drake only played in 28 games but he still ended up the club's top scorer with 17 goals. Kirchen played in 19 games that season.
On the outbreak of the Second World War Kirchen, like most of his Arsenal teammates, joined the Royal Air Force. This included Ted Drake, Jack Crayston, Eddie Hapgood, Leslie Jones, Bernard Joy, Laurie Scott and George Swindon.
Kirchen was a RAF physical training instructor and was able to play in over a hundred friendly games. However, in a game against West Ham United in 1943 he suffered a serious leg injury that brought his football career to an end. While at Arsenal he scored 44 goals in 99 league and cup games.
After the war Kirchen worked as a coach at Norwich City. Eventually he became a director of the club. He also won England honours at clay pigeon shooting.
Alf Kirchen died on 18th August 1999.