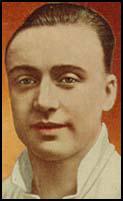 George Hunt was born in Barnsley on 22nd February 1910. A centre-forward, he joined Chesterfield in 1929. The 19 year-old had a sensational start, scoring 9 goals in 14 games. In June 1930 he was transferred to Tottenham Hotspur in the Second Division.
Hunt was leading scorer for his new club in the 1931-32 season. The following season he scored 32 goals in 41 appearances and helped Spurs win promotion to the First Division.
On 1st April 1933 Hunt won his first international cap when he played for England against Scotland. He scored in the 30th minute but could not stop Scotland winning the game 2-1. Hunt also played against Italy (1-1) and Switzerland (4-0). Other members of the team that day included Cliff Bastin, Eric Brook, Wilf Copping, Albert Geldard, Eddie Hapgood and Henry Hibbs.
Hunt was again top scorer for Tottenham Hotspur in the 1933-34 season. However, over the next two seasons he suffered from injuries and a loss of form. After scoring 125 goals in 185 league games, Hunt was sold to Arsenal in September 1937 as a replacement for the injured Ted Drake. He joined a team that included Cliff Bastin, Eddie Hapgood, Joe Hulme, Leslie Jones, Reg Lewis, George Swindin, Bernard Joy, Alf Kirchen, Leslie Compton, Dennis Compton and George Male. Hunt made his debut against Manchester City on 2nd October 1937.
Wolves were expected to be Arsenal's main rivals in the 1937-38 season. However, it was Brentford who led the table in February. They also beat Arsenal on 18th April, a game in which Ted Drake broke his wrist and suffered a bad head wound. However, it was the only two points they won during a eight game period and gradually dropped out of contention.
On the last day of the season Wolves were away to Sunderland. If Wolves won the game they would be champions, but they drew 1-1. Arsenal beat Bolton Wanderers at Highbury and won their fifth title in eight years. As a result of his many injuries, Ted Drake only played in 28 games but he still ended up the club's top scorer with 17 goals. Hunt was not in good form that year and only managed three goals in 18 games.
In March 1938 Hunt was sold to Bolton Wanderers. He joined a team that included Harry Goslin, Jackie Roberts, Harry Hubbick, Don Howe, Ray Westwood, Jack Atkinson, Tom Woodward and George Eastham. That season Hunt ended up as top scorer with 23 goals in 37 league games.
Bolton finished in 7th place in the 1938-39 season. Hunt ended up as top scorer with 23 goals in 37 league games. However, according to Nat Lofthouse, it was Ray Westwood who was the club's main star that season. "He was an idol of mine. A brilliant player, who knew he was a good player, but wasn't big-headed. Over ten, fifteen, twenty yards he was electric. He mesmerised me as a boy, and I wanted to be like him."
On 15th March, 1939, Adolf Hitler ordered the German Army to invade Czechoslovakia. It seemed that war was inevitable. On 8th April, Bolton Wanderers played a home game against Sunderland. Before the game started, Harry Goslin, the team captain, spoke to the crowd: "We are facing a national emergency. But this danger can be met, if everybody keeps a cool head, and knows what to do. This is something you can't leave to the other fellow, everybody has a share to do."
Of the 35 players on the staff of Bolton Wanderers, 32 joined the armed services and the other three went into the coal mines and munitions. This included Harry Hubbick, who resumed his career down the pits and George Hunt and Jack Atkinson served in the local police force. A total of 17 players, including Harry Goslin, Danny Winter, Billy Ithell, Albert Geldard, Tommy Sinclair, Don Howe, Ray Westwood, Ernie Forrest, Jackie Roberts, Jack Hurst and Stan Hanson, joined the 53rd (Bolton) Field Regiment.
Hunt was sold to Sheffield Wednesday after the Second World War. During the 1946-47 season Hunt scored 8 goals in 32 games. He retired the following year, having scored 170 goals in 297 league games during his career.
George Hunt, who worked as a coach at Bolton Wanderers for nearly 20 years, died in 1996.