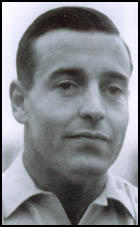 Reginald (Reg) Lewis was born in Bilston on 7th March 1920. He played local football for Nunhead and Dulwich Hamlet Juniors before joining Arsenal as a professional in March 1937.
Lewis scored on his debut against Everton on 1st January 1938. He joined a team that included Cliff Bastin, Eddie Hapgood, George Male, Ted Drake, Leslie Jones, George Swindin, George Hunt, Bernard Joy, Alf Kirchen, Leslie Compton and Dennis Compton.
However, as Lewis was only 18 and Ted Drake was the first-team centre-forward, and so he was only given four games in the 1937-38 season. The following season he created a club record by scoring 43 goals in 31 games for the reserves. He also scored 7 goals in 15 first-team appearances.
Lewis joined the British Army on the outbreak of the Second World War. He was stationed in England and scored 143 goals in 130 friendly games, including four goals in the 1943 Football League Cup Final against Charlton Athletic. In 1945 Lewis was a member of the British Army of the Rhine in Occupied Germany.
Lewis returned to Arsenal after the war and scored 29 goals in 28 games in the 1946-47 season. This included a hat-trick against Preston North End and four against Grimsby Town. Jeff Harris, the author of Arsenal Who's Who, argues: "His ability and knack of scoring goals were attributed to his fine positional sense when finding space in the box as well as being cool, calm and collected."
Arsenal won the First Division league championship in the 1947-48 season. However, Lewis suffered from a series of injuries that year but still scored 14 goals in 28 games. Despite only playing 25 games in the 1948-49 season he still ended up as top scorer with 16 goals.
In the 1949-50 season Lewis scored 19 goals in 31 games. He also scored both goals in Arsenal's 2-0 victory over Liverpool in the 1950 FA Cup Final. Injuries meant that he only played in 23 league games over the next two seasons. At the end of the 1952-1953 season Lewis was forced to retire from football. Lewis had the amazing record of scoring 116 goals in 175 league and cup games.
Reg Lewis died in 1997.