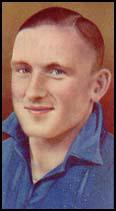 Albert Geldard was born in Bradford on 11th April 1914. He attended Whetley Lane School and at the age of 13 he played for England schoolboys against Scotland and Wales. The following year he won his third cap against Ireland.
In June 1928 Geldard joined Bradford Park Avenue. When he made his debut in September 1929 he was only 15 years, 156 days old, a record for the Football League. He scored 6 goals in 34 games for Bradford before joining Everton in November 1932.
Everton reached the 1933 FA Cup Final. The team that lined up against Manchester City included Geldard, Dixie Dean, Ted Sager and Cliff Britton. Everton won the game 3-0.
Geldard won his first international cap for England against Italy on 13th May, 1933. The England team that day also included: Cliff Bastin, Wilf Copping and Eddie Hapgood. The game ended in a 1-1 draw. The following week Geldard retained his place in the team against Switzerland. England won the game 4-0.
In December, 1936, Everton signed Tommy Lawton for a fee of £6,500. Geldard soon developed a good partnership with Lawton and supplied him with the crosses for many of his headed goals. Tony Matthews in Who's Who of Everton points out that Geldard "was a slippery customer who possessed an exceptional turn of speed, could shoot with both feet and enjoyed taking on opponents, either on the outside or inside."
Geldard won his fourth and last international cap for England against Northern Ireland on 23rd October, 1937. England won the game 5-1. Geldard had never let his country down but unfortunately he played in the same position as the great Stanley Matthews.
After scoring 38 goals in 180 games for Everton Geldard was transferred to Bolton Wanderers for £4,500 in July 1938. Tommy Lawton was very upset by the decision to sell Geldard: "He was the fastest thing on two legs over ten yards. We had other wingers like Torry Gillick, Wally Boyes and Jimmy Caskie, but Albert had played for England only the season before, when he'd kept Stan Matthews out of the team. I thought we'd miss him."
On 15th March, 1939, Adolf Hitler ordered the German Army to invade Czechoslovakia. It seemed that war was inevitable. On 8th April, Bolton Wanderers played a home game against Sunderland. Before the game started, Harry Goslin, the team captain, spoke to the crowd: "We are facing a national emergency. But this danger can be met, if everybody keeps a cool head, and knows what to do. This is something you can't leave to the other fellow, everybody has a share to do."
To show their committment to the cause, Albert Geldard, Harry Goslin, Jackie Roberts, Don Howe, Ray Westwood, Walter Sidebottom, Ernie Forrest, Jack Hurst, Stan Hanson, Billy Ithell, Danny Winter, George Caterall, Sid Jones, Charlie Hanks, Val Thompson and Tommy Sinclair decided to join the military or police service.
The outbreak of the Second World War brought a halt to the Football League. Geldard returned to Bolton Wanderers after the war but retired from the game in May 1947.
Albert Geldard died in 1989.