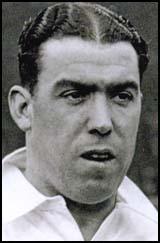 William (Dixie) Dean was born in Birkenhead on 22nd January 1907. He played football for Laird Street School, Moreton Bible Class, Heswell and Pensby United before joining Tranmere Rovers in November 1923.
Although the club was struggling at the bottom of the Third Division of the Football League, Dean managed to score 27 goals in 30 games. In March 1925 Dean joined Everton in the First Division for a transfer fee of £3,000. He made his first appearance against Arsenal at Highbury and scored on his home debut a week later against Aston Villa.
Dean was Everton's top scorer in his first full season with the club (1925-26). In Who's Who of Everton (2004) Tony Matthews described him as: "A football immortal, strong, dashing with a powerful right-foot shot and exceptional heading ability, Dixie Dean was, without doubt, one of the greatest centre-forwards of his era."
He suffered a serious motorcycle accident in Holywell in 1926, in which he suffered a fractured skull and jaw. He was told by doctors that he could not play football again. They were particularly concerned about the dangers posed by heading the ball.
Dean ignored that advice and was once again Everton's top scorer in the 1926-27 season. This included a large number of headed goals. In February 1927 Dean won his first international cap playing for England against Wales. Dean scored after 10 minutes and added a second before the end of the game. The following month he scored two more against Scotland. In May 1927, Dean scored hat-tricks against both Belgium and Luxembourg. In his first five games for England he scored an amazing twelve goals.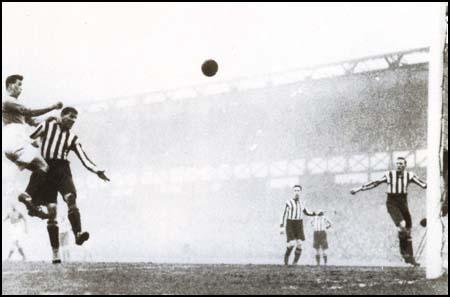 Dean was in sensational form in the 1927-28 season. He scored seven hat-tricks that season and ended up with a record-breaking 60 league goals in 39 games. Everton won the First Division title that season with 53 points, two more than their rivals Huddersfield Town.
Dean was also Everton's top scorer in the 1928-29 season. He repeated this feat in 1929-30 but could not save Everton from being relegated. Everton easily won the Second Division championship in the 1930-31 season. Dean scored in 12 consecutive league games and once again was the club's leading scorer.
Everton won the First Division championship in 1931-32. Dean scored eight hat-tricks that season and for the seventh successive season was Everton's top scorer. Dean was also recalled to the international side and scored against Spain in December 1931. All told, he scored 18 goals in 16 games for England.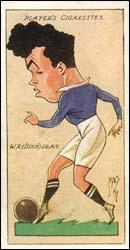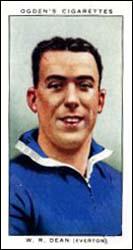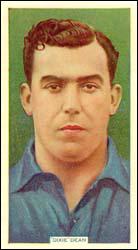 Dean also scored 28 FA Cup goals for Everton including one in the club's 3-0 victory over Manchester City in the 1933 FA Cup Final.
Dean's body took a terrible hammering during his career and he suffered several spells out of the side with injuries. He failed to be leading scorer for Everton in the 1933-34 season but regained his position as the best marksman at the club in 1934-35.
Matt Busby played against Dean several times. In his autobiography he pointed out: "To play against Dixie Dean was at once a delight and a nightmare. He was a perfect specimen of an athlete, beautifully proportioned, with immense strength, adept on the ground but with extraordinary skill in the air. However close you watched him, his timing in the air was such that he was coming down before you got anywhere near him, and he hit that ball with his head as hard and as accurate as most players could kick it. Defences were close to panic when corners came over. And though he scored a huge tally of goals with headers he was an incredibly unselfish and amazingly accurate layer-off of chances for others. He was resilient in face of the big, tough centre-halves of his clay - and I cannot think of one centre-half today to match up with that lot, though it was often the unstoppable force against the immovable object - and he was a thorough sportsman."
Eddie Hapgood, the Arsenal full-back agreed: "Dixie Dean, a wizard with his feet, but just as deadly with his head, as strong as a house, and just as hard to knock off the ball, as clean in his play as a new pin, a great sportsman, and a trier to the end. Dixie was always a tough handful, not only because he was so big and fast, but because he used to roam out on to the wings, taking the centre-half with him, and, frequently, slipping him, making it extremely hard for the rest of the defence to keep some sort of order."
In December, 1936, Everton signed Tommy Lawton for a fee of £6,500. It was a record fee for a teenager. ne of the attractions of the deal was that Lawton now had the opportunity to play with Dean. When they met for the first-time, Dean put his arm round Lawton and said: "I know you've come here to take my place. Anything I can do to help you I will. I promise, anything at all." Dean was thirty years old and after suffering several serious injuries, he knew that there was not much time left for him at the top. Dean kept his promise and spent a lot of time with Lawton on the training field. Gordon Watson, who played at inside-left for Everton, later recalled: "Lawton and Dean used to work together under the main stand, Dean throwing up a large cased ball, stuffed with wet paper to make it as heavy as a medicine ball".
Six weeks after joining the club, Tommy Lawton was brought into the first team for an away match against Wolverhampton Wanderers, as Dean was rested prior to a fifth round FA Cup tie with Tottenham Hotspur. Lawton found it difficult playing against the England centre-half, Stan Cullis, however, he did score a goal 15 minutes from the end.
Everton drew the FA Cup tie with Tottenham Hotspur 1-1 and it was decided to play Tommy Lawton alongside Dixie Dean in the replay. In the second minute Lawton scored with a tremendous shot from outside the penalty area. Dean turned to Joe Mercer and said: "Well, that's it then. That's the swan song. That's the end of it." Dean realised that it would not be long before this talented player took his place in the side.
After twenty minutes Albert Geldard provided the centre for Dean to put 2-0 up. Dean later added a third but Tottenham Hotspur scored four to go through to the next round.
In the next game Everton beat Leeds United 7-0 with Dean and Lawton both scoring good goals. At the end of the 1936-37 season Dean had scored 24 goals in his 36 league games whereas Lawton had three in ten.
John Jones, Everton's young full-back, later argued that it was Dixie Dean who was the main coach at the club: "Dixie was the boss. Young players at Everton had to keep in order otherwise they were pretty soon stepped on... It was Dixie, along with a couple of England centre-halves, Charlie Gee and Tommy White who ran the show. Occasionally they'd call a meeting and they'd be telling the youngsters what to do. It was the best method of coaching I ever experienced." Lawton agreed but claimed that: "All they ever said was make sure you pass it to a man in the same shirt."
At the beginning of the 1937-38 season Tommy Lawton played at inside-right and Dixie Dean at centre-forward. The pairing did not work and Everton failed to win a game when they two men played together. On 8th September 1937, Dean was dropped and Lawton replaced him as centre-forward to play against Manchester City.
During his career he was known as Dixie Dean. This was a reference to his dark complexion and curly black hair. Dean hated being called "Dixie" and insisted that his friends and acquaintances used his real name. His biographer, Nick Walsh, argues in Dixie Dean: The Official Biography of a Goalscoring Legend (1977) that Dean felt that the term "had connections with colour problems connected with the Southern states of America, and therefore contained an inference that he was of that origin, or half-caste."
Dean was leaving the pitch after a game in 1938 when a spectator called out: "We will get you yet, you black bastard." Dean went over to him and punched him in the face. A policeman came running over but instead of arresting him, shook him by the hand.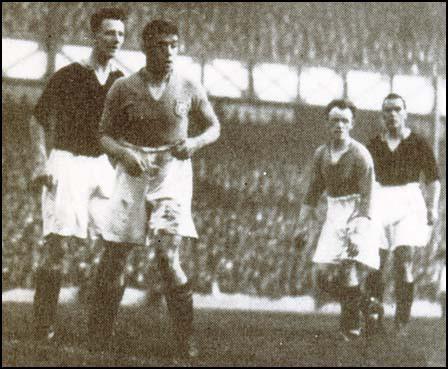 At the end of the 1937-38 season Dean was transferred to Notts County in the Third Division. While at Everton he had scored 349 goals in 399 games. This included 19 against local rivals Liverpool. He only played nine games for his new club before moving to Ireland to play for Sligo Rovers.
After retiring from football in April 1941, Dixie Dean ran a pub in Chester. He had his right-leg amputated in 1976 and eventually died of a heart-attack on 1st March 1980 while watching Everton play Liverpool at Goodison Park.