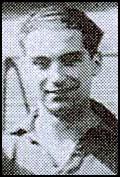 John Edward Jones was born in Bromborough on 3rd July 1913. He played football for Ellesmere Port before joining Everton in March 1932.
Jones made his debut in April 1934. The team at that time included Dixie Dean, Cliff Britton, Ted Sager, Albert Geldard and Joe Mercer.
Jones later argued that it was Dixie Dean who was the main coach at the club: "Dixie was the boss. Young players at Everton had to keep in order otherwise they were pretty soon stepped on... It was Dixie, along with a couple of England centre-halves, Charlie Gee and Tommy White who ran the show. Occasionally they'd call a meeting and they'd be telling the youngsters what to do. It was the best method of coaching I ever experienced."
At the beginning of the 1937-38 season Tommy Lawton played at inside-right and Dixie Dean at centre-forward. The pairing did not work and Everton failed to win a game when they two men played together. On 8th September 1937, Dean was dropped and Lawton replaced him as centre-forward to play against Manchester City. Lawton scored in the 4-1 victory and Dean only played in two more games for Everton before leaving the club.
Everton finished in 14th place in the 1937-38 season with Tommy Lawton ending up as the club's top marksman with 28 goals in 39 league games. He was also the top scorer in the whole of the First Division. This was an amazing achievement for someone who was only 18 years old.
In the 1938-39 season Everton won the First Division league title, by beating Wolverhampton Wanderers by four points. Tommy Lawton was the club's top marksmen with 34 goals in 38 games.
The outbreak of the Second World War brought a halt to the Football League. Jones continued to play for Everton in friendly games.
Jones played in 98 games for Everton before joining Sunderland in December 1945. He appeared in 24 games before retiring in May 1947.
John Jones died in 1995.