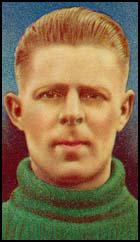 Edward (Ted) Sager was born in Moorends on 7th February 1910. After leaving school he worked as a coalminer at Thorne Colliery. A talented goalkeeper he joined Everton in March 1929.
Sager made his debut for the club against Derby County in January 1930. That season the club was relegated to the Second Division. The star of the team at the time was Dixie Dean.
Everton easily won the Second Division championship in the 1930-31 season. Dixie Dean scored in 12 consecutive league games and once again was the club's leading scorer.
Everton won the First Division championship in 1931-32. Sager only missed one game that season. Tony Matthews in Who's Who of Everton points out that Sager "became famous for his headlong dives towards the ball, regardless of how many players were blocking his path." Matthews added: "He was a fine shot-stopper and had the uncanny ability to pluck high, looping balls out of the air with timely precision."
Everton also reached the 1933 FA Cup Final. The team that lined up against Manchester City included Sager, Dixie Dean, Cliff Britton and Albert Geldard. Everton won the game 3-0.
In December, 1936, Everton signed Tommy Lawton for a fee of £6,500. The team at this time included Joe Mercer, Dixie Dean, Cliff Britton, Albert Geldard, Alex Stevenson and Jack Jones. In the 1938-39 season Everton won the First Division league title, by beating Wolverhampton Wanderers by four points.
Sager's football career was interupted by the Second World War. He joined the British Army and served in Denmark, Italy and Iraq.
After the war Sager returned to Everton. In September 1948 Cliff Britton, Sager's former teammate, was appointed manager of the club. Sager retained his place in the side but unfortunately the club was relegated in the 1950-51 season.
Sager played his final game for Everton in November 1952. He was 42 years, 281 days old, and was the oldest player ever to appear in a first-class game for the club. Over a 23 year period, Sager played 497 games for Everton.
Edward Sager, who became a Liverpool licensee, died on 16th October 1986.