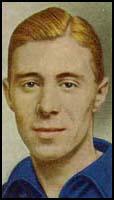 Clifford Britton was born in Hanham, Bristol, on 27th August 1909. He played local football before signing as a professional for Bristol Rovers in August 1928. An elegant right-half, Britton joined Everton in June 1930.
The club had just been relegated to the Second Division. Britton made his debut in October 1930 in a game against Tottenham Hotspur. The star of the team at the time was Dixie Dean. Everton easily won the Second Division championship in the 1930-31 season. Dean scored in 12 consecutive league games and once again was the club's leading scorer.
Everton won the First Division championship in 1931-32. Dixie Dean scored eight hat-tricks that season and for the seventh successive season was Everton's top scorer. Britton had now established himself as the club's first-choice right-half. Tony Matthews in Who's Who of Everton points out that Britton was "a right-half of great style and efficiency, polish and poise, he always wanted the ball and loved to drive forward, assisting his front men whenever possible."
Everton also reached the 1933 FA Cup Final. The team that lined up against Manchester City included Britton, Dixie Dean, Ted Sager and Albert Geldard. Everton won the game 3-0.
Cliff Britton won his first international cap for England against Wales on 29th September, 1934. The England team that day also included: Stanley Matthews, Edwin Bowden, Eric Brook, Eddie Hapgood and Ray Westwood. England won 4-0. Over the next year Britton won caps against Italy (3-2), Northern Ireland (2-1) and Scotland (0-2).
In December, 1936, Everton signed Tommy Lawton for a fee of £6,500. The team at this time included Joe Mercer, Dixie Dean, Ted Sager, Albert Geldard, Alex Stevenson and Jack Jones.
Britton continued to play for England where he formed a great middle-line with Joe Mercer and Stan Cullis. He also developed a good partnership with the England right-winger, Stanley Matthews. In the 1936-37 season he played against Northern Ireland (3-1), Hungary (6-2), Scotland (1-3), Norway (6-0) and Sweden (4-0).
At the beginning of the 1937-38 season Tommy Lawton played at inside-right and Dixie Dean at centre-forward. The pairing did not work and Everton failed to win a game when they two men played together. On 8th September 1937, Dean was dropped and Lawton replaced him as centre-forward to play against Manchester City. Lawton scored in the 4-1 victory and Dean only played in two more games for Everton before leaving the club.
Everton finished in 14th place in the 1937-38 season with Tommy Lawton ending up as the club's top marksman with 28 goals in 39 league games. He was also the top scorer in the whole of the First Division. This was an amazing achievement for someone who was only 18 years old.
In the 1938-39 season Everton won the First Division league title, by beating Wolverhampton Wanderers by four points. However, Britton had lost his place in the side and only made one appearance that season.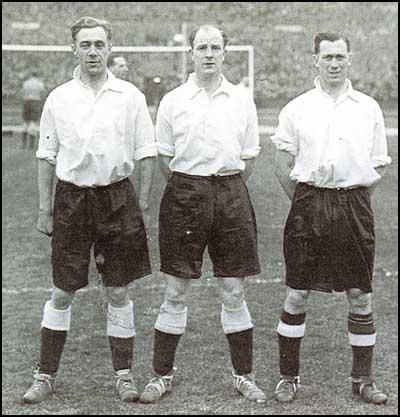 Britton did play in several friendly games during the Second World War but retired from professional football in October 1945. He had scored 3 goals in 242 games for Everton.
Britton was appointed manager of Second Division side Burnley in October 1945. The following season Burnley was promoted to the First Division and reached the 1947 FA Cup Final where they were beaten by Charlton Athletic 1-0.
In September 1948 Britton was appointed manager of Everton. Britton was a disciplinarian and it was said that his ideal team would be eleven teetotallers. Britton did not buy well in the transfer market and the club was relegated in the 1950-51 season. Everton remained in the Second Division until being promoted as runners-up in the 1953-54 season.
Britton had several disagreements with the Everton board and he resigned in February 1956 complaining about the way he was being treated saying that "I want all managers to have the freedom to do the job for which they were appointed."
In August 1956 Britton became manager of Preston North End. One of his first decisions was to play the 34 year old Tom Finney as centre-forward. Finney scored 23 goals the 1956-57 season and Preston finished third in the First Division. The following season they finished runners-up to Wolverhampton Wanderers. However, Preston were relegated after the 1960/61 season and so Britton resigned.
In July 1961 Britton became manager of Hull City. After a couple of moderate seasons Hull won the Third Division championship in the 1965-66 season. He became general manager of the club in November 1969.
Cliff Britton died on 1st December 1975.