Burnley Football Club 1882-1900
On 18th May 1882, the Burnley Rovers Rugby Club decided to form an Association Football team. At first Burnley did very badly and lost heavily against clubs such as Astley Bridge and Burnley Wanderers. The following year the club moved to a ground at Turf Moor. Their first visitors, Rawtenstall, won 6-3.
With the introduction of professionalism in 1885, the Burnley club began signing top players from Scotland. This included Alec Brady who was signed from Renton Thistle. Another great player in the team was Jack Yates. That season Burnley lost only 13 of 58 games they played and developed a reputation as being one of the best football teams in England.
On 2nd March, 1888, William McGregor circulated a letter to Aston Villa, Blackburn Rovers, Bolton Wanderers, Preston North End, and West Bromwich Albion suggesting that "ten or twelve of the most prominent clubs in England combine to arrange home and away fixtures each season."
J. J. Bentley of Bolton Wanderers and Tom Mitchell of Blackburn Rovers responded very positively to the suggestion. They suggested that other clubs should be invited to the meeting being held on 23rd March, 1888. This included Burnley, Accrington, Derby County, Notts County, Stoke, Wolverhampton Wanderers, Old Carthusians, and Everton should be invited to the meeting.
The following month the Football League was formed. It consisted of six clubs from Lancashire (Preston North End, Accrington, Blackburn Rovers, Burnley, Bolton Wanderers and Everton) and six from the Midlands (Aston Villa, Derby County, Notts County, Stoke, West Bromwich Albion and Wolverhampton Wanderers). The main reason Sunderland was excluded was because the other clubs in the league objected to the costs of travelling to the North-East. McGregor also wanted to restrict the league to twelve clubs. Therefore, the applications of Sheffield Wednesday, Nottingham Forest, Darwen and Bootle were rejected.
The first season of the Football League began in September, 1888. Preston North End won the first championship that year without losing a single match and acquired the name the "Invincibles". Eighteen wins and four draws gave them a 11 point lead at the top of the table. Aston Villa finished in second place with 29 points. Burnley finished in 9th place with only 17 points. Alec Brady was top scorer with seven goals.
In March 1889, Jack Yates became Burnley's first international when he was selected to play for England against Ireland. He scored three goals in a 6-1 victory but amazingly was never chosen for his country again.
In August 1889, Jimmy Crabtree, joined Burnley. A talented wing-half, Crabtree soon established himself as Burnley's best player. Jack Hillman, joined the club the following year. He made his debut in 1891. Hillman was a great success and the goalkeeper only missed six league games over the next four years. As Mike Jackman pointed out in The Legends of Burnley, Hillman was "one of the great exponents of goalkeeping during the Victorian period."
With the help of Jimmy Crabtree and Jack Hillman, Burnley made gradual improvement in the Football League: 1889-90 (11th), 1890-91 (8th), 1891-92 (7th), 1892-93 (6th) and 1893-94 (5th). On 3rd March 1894, Crabtree won his first international cap for England against Ireland. However, Crabtree's great form made him a target of England's top clubs and in August 1895, Crabtree was transferred to Aston Villa for a fee of £250. That season the club won the First Division title. Crabtree played in 25 league games and was a great success. Tony Matthews described Crabtree in his book, Who's Who of Aston Villa as: "A hard tackler, clever at close quarters and equally reliable in open play, he was cool, resourceful and brainy. He excelled in the finer points of the game and was one of the most versatile players in the country, being unrivalled in the left-half position for many years."
In February 1895, Jack Hillman was transferred to Everton for £200. He only missed one game that season and helped his new club to finish in 3rd place in the First Division of the Football League. As a result of losing their best two players, Burnley went into decline: 1894-95 (9th), 1895-96 (10th) and 1896-97 (16th). Burnley were now relegated to the Second Division. In the 1897-98 season Burnley won the Second Division championship.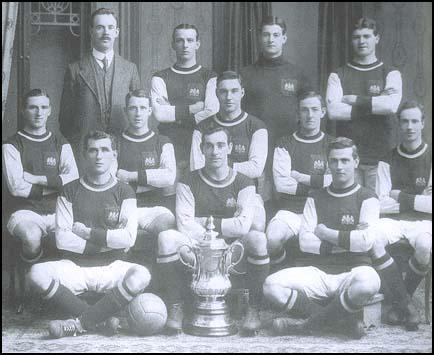 Bert Freeman joined Burnley in 1910. He was a great success with his new club and was the league's top goalscorer in 1911-12 (32) and 1912-13 (31). Freeman also scored the winning goal in the 1914 FA Cup Final. The First World War disrupted Freeman's football career. By the time he left Burnley in 1920 he had scored 103 goals in 166 games.
Like many teams in the north of England, Sunderland's early origins owed much to a Scottish influence when, during 1877, James Allan arrived in the area from Glasgow University to take up a teaching position. He introduced the Association game to his school colleagues, which eventually led to the formation of the Sunderland and District Teachers Association with their home ground based at Blue House Field, Hendon.