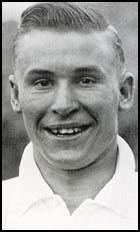 Wilfred (Wilf) Mannion was born in South Bank, Middlesbrough on 16th May 1918. His father, Thomas Mannion, was an Irish immigrant who worked at the Bolckow Vaughan blast furnace. Wilf was one of five brothers and five sisters.
Mannion loved playing football on the wasteground (puddling) in South Bank. He later recalled: "We played all the ruddy time - morning, noon and night. You might see the police inspector coming in the distance and that might make you stop but not much else did. We'd play with anything: cans, rag balls, we'd even get a pig's bladder from the butchers and if you could control that, you were a ruddy genius. And we'd play on anything, the puddling most, though, because it was playable all year round. It was bumpy, but that did not bother us."
Wilf Mannion was a talented inside-forward and at the age of 13 he travelled to Durham for a North versus the Midlands trial for England Schoolboys. His teammates included Johnny Spuhler and Jimmy Hagan. Mannion, who was only 4ft 2in tall, was told afterwards: "You were marvellous, but I'm sorry to say that they won't pick you because you're too small and they're afraid you might get hurt."
Harold Shepherdson, who later became a professional footballer with Middlesbrough, remembers playing against Mannion in the North Riding Junior Cup. "First time there was a challenge I whacked him, accidentally on purpose if you know what I mean. We knew full well that the only player we had to stop was Wilf. After that my team went on to win and Wilf was very quiet. I was pleased my team won but as I went up to get my medal I got hit on the back of my head by this big umbrella and the woman with it was calling me an animal."
At the age of 14 Mannion left school and became an apprentice welder at Smith's Dock. As he later explained: "I only worked there for a short period and left not long after I got my first pay of six bob and four pence. I thought I'm not having that." His next job was in a rolling mill.
Mannion played football for South Bank until signing for Middlesbrough on 17th September 1936. He received £3 10s a week, with a £2 bonus for playing in a first-team win. The local paper reported that Mannion "is on the stocky side and is already well-known for his ball control." Others at the club at the time included George Hardwick, George Camsell, Dave Cumming, Benny Yorston, Micky Fenton, Ralph Birkett and Harold Shepherdson.
Mannion did well in the reserves and on 2nd January 1937, he was selected to play against Portsmouth when the regular inside-right, Micky Fenton, was injured. The game ended up in a 2-2 draw. Ralph Birkett, who played in the match, later commented: "Wilf played well... you could see he had it all: control, skill, ability - and temperament." Despite his good performance, Mannion returned to the reserves when Fenton had recovered his fitness. The North-Eastern Weekly News reported: "For size he has his limitations, though his figure is compact, and he can grow a little yet. But he has craft. He gets quick control; he goes up well to a ball, and he passes accurately and with discrimination."
Micky Fenton was fit enough to play in the next round and Mannion returned to the reserves. He only played one more game for the first-team that season was against Preston North End, the FA Cup semi-finalists. Middlesbrough lost the game and Eddie Rose of the Middlesbrough Evening Gazette wrote: "There have been many advocates of young Mannion for early inclusion in the senior side. The player certainly has skill but the occasion appeared completely to overawe him."
The following season he became a regular member of the Middlesbrough first-team. He linked up with Jackie Milne, a winger who had recently been signed from Arsenal. After scoring goals in his first two games of the season, the Middlesbrough Evening Gazette reported that "Mannion was again a success and scored a good goal - a feat he accomplished in the Leeds match. I think Sunderland folk, officials, players and supporters got a surprise when the boy began to trouble - and penetrate - their defence."
Mannion came in for some rough treatment from defenders because of his small stature. Benny Yorston, the hard man of the side, protected Mannion. As Nick Varley points out in Golden Boy (1997): "He (Yorston) protected his fellow inside-forward, shielding him but also encouraging him and pushing him on; master and pupil." According to Tom Finney, who later played with him in the England team, Mannion was able to deal with tough-tackling: "Small in stature but surprisingly strong, Wilf was a footballing artist and a great entertainer."
Jimmy Seed, the manager of Charlton Athletic, remarked: "Mannion is a marvel. I've never seen a boy take the ball away from experienced players in such tantalising fashion as this one." Bryn Jones, one of the best players in the Football League at the time asked the Middlesbrough manager, Wilf Gallow: "Where on earth did you dig this little chap up? He's a wonder." In a match against Liverpool, Mannion played against the international wing-half, Matt Busby. He later admitted that Mannion gave him a "run around" and described him as "Wonder Boy".
In a game against Blackpool on 10th December 1938, Mannion scored four goals and made several more as the club won the game 9-2. A local newspaper reported: "Standing out in this Brough victory, whirlwind-like, and leaving us almost breathless, was four goals Wilfred Mannion... He shared in the movements which led to most of the goal scoring, especially in the first-half. The lad gave a positively dazzling exhibition." That season Middlesbrough scored 93 goals and finished in 4th place in the First Division.
At the end of the season Wilf Gallow told Mannion: "You've been picked for England. They're going to South Africa for a three-week tour. You're not. I've already written to the FA telling them you've got to have complete rest from a ball."
Mannion's football career was halted by the outbreak of the Second World War. In January 1940 he was conscripted into the British Army. He was sent to France and took part in the battle to stop the advance of the German Army during the Western Offensive. A local newspaper reported that Mannion had been killed but he was one of the soldiers who was evacuated from Dunkirk.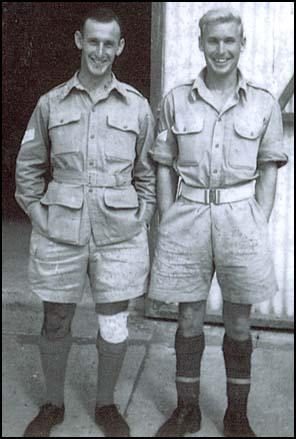 On his return to England he was selected to play for his country in an unofficial international against Scotland in January 1942. Soon afterwards he was sent to South Africa. On 10th July 1943 he was a member of the force that invaded Sicily in an attempt to overthrow Benito Mussolini. His commanding officer was Hedley Verity, the England cricketer. Mannion later recalled: "I remember we lost half the company that day. We were pinned down all day by the enemy. Hedley was caught in the crossfire and hit in the chest. He was a wonderful man and I was his company runner for a number of years. We served together all over the place."
Mannion also took part in the battles around Anzio on the way to take Rome. Such was the losses that Mannion's battalion was eventually withdrawn so it could be reorganized and reinforced. Bertie Mee, who served with Mannion, later reported that: "He'd had such a rough time that medically he was downgraded, withdrawn from active service and sent to our convalescence depot. He had gone from an A1 to a B1 - the lowest grade still considered rehabitable. But when you're in the line and someone gets killed next to you, I can understand you losing it." He was sent to Cairo to recover but soon after arriving he developed malaria.
Mannion had made a full recovery by the start of the 1946-47 season. His form was so good he won his won his first international cap for England against Northern Ireland on 28th September, 1946. Mannion scored a hat-trick in England's 7-2 victory. The News Chronicle reported: "Even allowing for the glaring weakness in the Irish side, England gave a remarkable display of skilled footwork, clever distribution and balanced team work. Mannion fitted in perfectly with Carter and Lawton and took his chances with the ease of a master."
Mannion retained his place and that season played against Republic of Ireland (1-0), Wales (3-0), Holland (8-2), Scotland (1-1), France (3-0), Switzerland (0-1) and Portugal (10-0). He managed to score eight goals in eight games that year. The England team that season included players such as Raich Carter, Tommy Lawton, Neil Franklin, Harry Johnston, Laurie Scott, George Hardwick, Tom Finney, Stanley Matthews, Stan Mortensen, Billy Wright and Frank Swift.
Billy Steel, the Scottish inside-forward, watched the game against Portugal and later remarked: "Wilf had a field day. He certainly caused chaos. That is typically Mannion, always plotting and scheming to get results the easy way and what is easier than two short passes leaving a player free to shoot at goal." Billy Wright added: "Our 10-0 victory over Portugal in Lisbon was the nearest thing I've seen to absolute perfection on a football pitch. I doubt if there has ever been a greater performance by an England attack. They were all outstanding individual players but blended together so well as a unit it was a pleasure to play behind them." Stanley Matthews agreed: "In that game, it was the best forward line I played in. They were all so skilful - wonderful players." Matthews added that Mannion "was the Mozart of football - stylish, graceful, courtly, showing exquisite workmanship with the ball."
Tommy Lawton, who played at centre-forward in the game against Portugal, later wrote: "There is no question about it - Wilf was a genius. He had a football player's brain to start with - one which didn't need to be coached. He was quicksilver in his thought. every time he passed you knew you had bags of time to play the ball... The ability was there, the desire was there and the confidence was there. He used to give you the ball at the right time and would always be in the right place to get it back again." Roy Peskett of the Daily Mail compared Mannion to Raich Carter, Charlie Buchan, David Jack and Alex James:. He argued that these players had the "ability to alter the course of a match with one quick pass."
Tom Finney was another member of the England team that played in the Portugal game. He later commented: "Wilf Mannion was a class-act, the inside-forward I rated as my perfect partner on the left-flank. He could have taught telepathy and had the uncanny knack of getting the ball to you at just the right angle and with just the right place."
Len Shackleton supported this view and explained why other players enjoyed being in the same team as Mannion: "I did not play with Mannion very often, but on the few occasions we did get together, I was impressed, more than anything else, by his positional skill. In other words Wilf is an easy player to get along with: he knows instinctively where to find the open space and wastes no time running into it; he sees in a second whether to get a quick pass or hold the ball, and spends so much time doing the academically correct thing that colleagues around him can hardly fail to fall into the scheme of things, thus elevating their own games on Mannion's prompting."
Mannion was not impressed with the coaching of Walter Winterbottom while in the England squad. As he pointed out: "All that happened pre-war was they took a trainer to games, basically to look after the kit. The captain used to gather the players together and decided on how to play, but there weren't really tactics." He disliked the idea of Winterbottom working on set routines like free-kicks and throw-ins. "He (Winterbottom) thought it was all going to be dead smooth, the way we were practising on the training pitch. But in a game it's all about the opposition and where they're going to be situated and what they're doing. That's why you need a footballing brain, to adapt to the situation."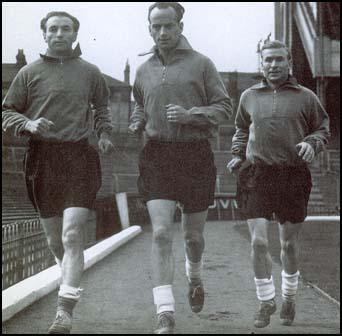 At the beginning of the 1948-49 season Mannion refused to sign his yearly contract with Middlesbrough and made a formal transfer request. David Jack, the club manager, responded by saying: "Even if a club came to us with a cheque for £50,000 we would not transfer Mannion. Why should we let the best player in Britain go?"
Mannion, like all top professionals at the time, earned £12 per week in the season and £10 per week in the summer. There was also a £2 win and £1 draw bonus, the £750 benefit every five years. He also received £20 every time he played for England. Other clubs would be unable to pay more because of the maximum wage rule. If he managed to get a transfer to another club he would only be paid a £10 signing on fee. However, while on international duty he heard that some clubs offered illegal cash inducements and jobs that did not really exist as an attempt to fool the authorities. Other legal methods of persuading players to join or stay with a club included setting them up in a business or finding them lucrative part-time jobs. Middlesbrough did not do any of these things and Mannion wanted to go to another club that did.
The problem for Mannion was that at this time players were owned by their clubs. At the start of each season players had to sign a new one-year contract. If the club offered the maximum terms, the player was bound to accept. If, like Mannion, they rejected the contract, the club retained the player's registration and they were not allowed to play for anyone else. When David Jack refused to sell Mannion, he decided to go on strike. In return, Middlesbrough refused to pay him. As a result of this action he was dropped from the England team that played Northern Ireland on 9th October 1948.
This upset England supporters. John Macadam of the Daily Express argued that "all the fatuities about football being a team game and the team being greater that the individual were exploded sky-high by the performance of the England team at Belfast; exploded by the absence of one man - Wilfred Mannion." Roy Peskett of the Daily Mail added: "By his temporary departure from football, Wilf Mannion has taken something from the England team that will be difficult to replace... In the two fixtures this season the England team has not shown the form which took them to the top of the international tree last season."
Alan Hoby of the Sunday People wrote: "Now personal liberty is a precious thing. It is one of the things we went to war about. David Jack, giving the club's side, told me recently: 'If Mannion won't play for us, he will never play in League football again.' Frankly this seems to me to savour of dictatorship." Mannion replied: "The club can put me right out of the game if it wants to. Why, in the name of fairness, must I, or any of my colleagues, be treated like cattle at an auction and be forced to go only where the club desires? I do not hold Middlesbrough entirely responsible. I blame the system which allows such treatment."
Frank Armitage, a businessman who supported Oldham Athletic in the Third Division, offered Mannion a job with his company. Mannion accepted the post and later admitted: "I think he wanted me to join Oldham, but he never said anything specific." Middlesbrough suggested they would be willing to accept a £30,000 fee for Mannion. This was clearly much higher that Oldham could afford. Mannion then announced in a statement that: "I will not stand for this rocketing of transfer values. I have considered the matter from all angles and with all its implications and I am stating without reserve that I shall absolutely decline to sign for any club that pays, or even offers to pay, Middlesbrough over £12,000 for me."
Jimmy Guthrie, chairman of the Players' Union, added his support of Mannion: "The transfer system as it is at present was evolved in the days of Alf Common. It just will not do today. We want a free market and none of this present restriction."
Oldham eventually offered £15,000 for Mannion. Middlesbrough rejected the bid and refused to negotiate with the club over the matter. Aston Villa offered £25,000 for Mannion. The Everton manager, Cliff Britton, announced he was willing to pay £27,000 for the England international. Tom Whittaker of Arsenal, announced he was willing to offer a player-exchange deal.
David Jack was determined to hold on to Mannion and after a meeting with Boro director, Tommy Thomas, the club and Mannion issued a statement: "Middlesbrough Football Club and Wilf Mannion have agreed to sink their differences. It is agreed that there have been faults on both sides. Middlesbrough are delighted to have the player back and he is delighted to return to the scene of his formal triumphs."
The dispute had cost Mannion £400 in lost earnings from football. He was also still stuck on the maximum wage of £12 a week but it was assumed that the club had unofficially paid Mannion a large sum of money in order to persuade him to end his strike. David Jack later remarked: "Mannion now knows that he need have no worry when his playing days are over... The club has already made arrangements to look after him when his playing days are over."
Without their star player, Middlesbrough had slipped to 4th from bottom in the league. However, with Mannion back in the first-team the club was able to avoid relegation that season. Micky Fenton, who managed to score 13 goals in 25 games, also played an important role in the escape.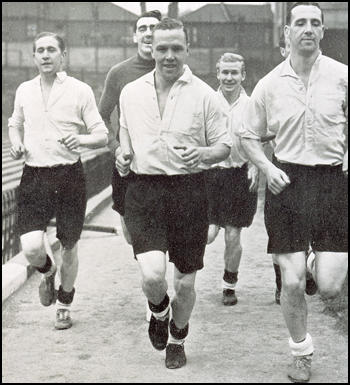 Mannion also won his place back in the England side playing against Norway (4-1), France (3-1), Republic of Ireland (0-2), Scotland (1-0), Portugal (5-3) and Belgium (4-1) in the 1949-50 season. His last game for England was against France on 3rd October 1951. He had scored 11 goals in 26 games for his country.
Middlesbrough was only a moderate side during this period and despite Mannion's good form, the club failed to win any league and cup honours over the next few seasons. At the end of the 1953-54 season the club was relegated to the Second Division. Mannion refused to sign a new contract with his club and announced his retirement from football. He had scored 110 goals in 368 games for Middlesbrough. Mannion issued a statement saying that "I have had enough of it and have seen enough to make me realize that now is the time to get out and find myself another job."
Mannion was attacked by some newspapers for disloyalty. Jack Peart wrote in the Sunday Pictorial that: "Mannion refused to resign for Middlesbrough... after eighteen years with the club that helped to make him. The directors and the ever faithful fans begged him to reconsider his decision - even for one season to help the club start the fight back to the first division... Mannion was a great player - one of the greatest inside-forwards of our time. But, like a few more I could mention, he never seems to know when he's well off."
Mannion replied he was 36 years old and was past his best: "I'd rather finish now, while I am still somewhere near the top than linger on to fade out gradually." Mannion began work as a journalist with the Sunday People where he wrote a series of articles exposing corruption in football. He claimed that a Football League club had illegally offered him £3,000 to sign for the club. He also added that he was offered extra money for "a job in name only as a salesman". He also told of being offered £15,000 to join Juventus. In another article he attacked the incompetence of the England selectors and the coaching of Walter Winterbottom.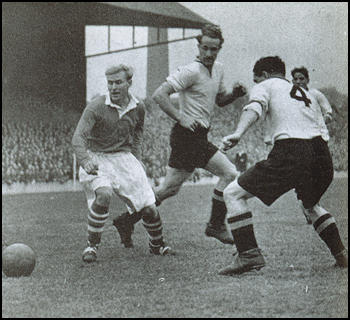 In December 1954, Mannion joined Second Division Hull City for a fee of £4,500. Mannion remarked "I'm happy to be back in the game again. My urge to play again was so great that I happened to be in the mood when approached by Hull." He also admitted that he wanted to join up again with his great friend and fellow rebel, Neil Franklin.
Mannion was now once more under the authority of the Football League and in February 1955 they demanded he reveal the name of the English club that attempted to bribe him to leave Middlesbrough. When he refused he was banned from playing football for life. (Much later Mannion confessed that the club was Aston Villa). The Football League also ordered Middlesbrough not to pay Mannion his accrued benefit money. Mannion had only played 18 games for Hull City when he was banned from playing in the Football League.
J. L. Manning, the sports editor of the Sunday Dispatch, argued: "It is the directors of the clubs and not this player who should be called to give information under penalty of suspension... The Sunday Dispatch does not want Mannion alone to bear the burden of proof. That is why we made our offer, and repeat it today, that if the League will grant an amnesty to those concerned we will provide them with far more proof than Mannion can. In this way the League could get evidence of the full extent of the racket instead of merely pursuing a single case."
In 1956 Mannion was paid £15 to play for Cambridge United in the Eastern Counties League. He retired from playing in May 1958 and was appointed manager of non-league King's Lynn. However, after one season he left the club to run a pub in Stevenage. This was not a success and in 1959 he made it clear he wanted to get back into football: "If a really good league club came to me with a businesslike offer to become the manager, I would seriously consider it. I promise you this: if I did manage a league club I would not employ any coaches. Trainers, of course - a footballer's fitness is of paramount importance - but no coaches. No one coached me. No one coached Raich Carter. No one coached Stanley Matthews. If a lad can't play at eighteen or twenty, he'll never play."
No Football League club made an attempt to recruit Mannion as a manager and in February 1960 he joined the production line of the Vauxhall car plant in Luton. Nine months later he became manager of non-league club, Earlestown. In October 1962 the club went bankrupt and Mannion was sacked.
Mannion returned to live in Teesside. In April 1964 Mannion enrolled on an Football Association coaching course in Durham. This did not help him find a job in football and the following year it was revealled that he had sold his English caps and was living on unemployment benefit.
In 1976 the Daily Mail recruited Mannion as a football journalist. In an article on a match between Middlesbrough and Birmingham City, Mannion wrote: "There's so little natural skill and so many manufactured robots out there nowadays. This match was like watching a third division match in the thirties. Why do they keep passing back? They don't seem able to use both feet anymore. Why do they have to stop it every time, instead of keeping the ball running? Why so much bunching? They seem afraid to move into gaps and no one is playing off the ball."
Mike McCullagh became the chairman of Middlesbrough in 1982. He later claimed that his first decision was to grant a testimonial to Mannion and George Hardwick. "I knew of the many requests for it and could never understand why it hadn't been the first on the list of games to be held. Wilf and George were two of the most famous players Middlesbrough had ever seen and two of the most loved players."
On 17th May 1983, Bobby Robson brought an England XI to play Middlesbrough. A crowd of 13,710, 3,000 more than the average home gate that season, saw the match. Testimonial committee vice-chairman Terry Jackson said: "When Wilf and George finally went out before the match I had tears rolling down my cheeks. It was the biggest treat of my life and every member of the committee feels the same way."
Wilf Mannion died on 14th April 2004.