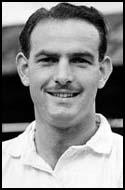 George Hardwick was born in Saltburn on 2nd February, 1920. He played at left-back for South Bank. The Arsenal manager, George Allison, saw him play but told him: "You have a lot of skill and tremendous strength but I think you are too big in the backside ever to make the grade as a footballer."
Despite these comments he signed for Middlesbrough in 1936. He received £3 10s a week, with a £2 bonus for playing in a first-team win. Others at the club at the time included Wilf Mannion, George Camsell, Dave Cumming, Benny Yorston, Micky Fenton, Ralph Birkett and Harold Shepherdson.
Hardwick made his debut in the 1937-38 season. In the first minute of the match, Hardwick, the youngest full-back in the first division, managed to score an own goal with his first kick in the first-team. Despite this terrible start he retained his place in the team until his career was interrupted by the Second World War.
Hardwick won his won his first international cap for England against Northern Ireland on 28th September, 1946. Franklin retained his place and that season played against Republic of Ireland (1-0), Wales (3-0), Holland (8-2), Scotland (1-1), France (3-0), Switzerland (0-1) and Portugal (10-0). The England team that season included players such as Raich Carter, Tommy Lawton, Wilf Mannion, Harry Johnston, Neil Franklin, Laurie Scott, Tom Finney, Stanley Matthews, Stan Mortensen, Billy Wright and Frank Swift.
Hardwick retained his place in the England team and in the 1947-48 season he played against Belgium (5-2), Wales (3-0), Northern Ireland (2-2), Sweden (4-2) and Scotland (2-0). However, a serious knee injury brought his international career to an end. However, Hardwick did manage to recover his place in the Middlesbrough team.
In 1950 Hardwick joined Oldham Athletic as player-manager. He had scored 5 goals in 143 games for Middlesbrough. In his first season the club finished 15th in the Third Division. Oldham was promoted to the Second Division after winning the league title in the 1952-53 season. However, the following season Oldham finished in 22nd place and were relegated. Hardwick retired in 1955 after scoring 14 goals in 190 games for Oldham.
Hardwick became manager of PSV Eindhoven in 1957. Later he was put in charge of the Netherlands national football team. He also coached Middlesbrough and managed Sunderland and Gateshead.
Mike McCullagh became the chairman of Middlesbrough in 1982. He later claimed that his first decision was to grant a testimonial to Hardwick and Wilf Mannion. "I knew of the many requests for it and could never understand why it hadn't been the first on the list of games to be held. Wilf and George were two of the most famous players Middlesbrough had ever seen and two of the most loved players."
On 17th May 1983, Bobby Robson brought an England XI to play Middlesbrough. A crowd of 13,710, 3,000 more than the average home gate that season, saw the match. Testimonial committee vice-chairman Terry Jackson said: "When Wilf and George finally went out before the match I had tears rolling down my cheeks. It was the biggest treat of my life and every member of the committee feels the same way."
George Hardwick died on 19th April 2004.
I feel that George Hardwick's reputation slumped more quickly than he deserved after the England versus Scotland match at Hampden Park in April 1948. Up to that time he had been automatic choice for his country, and captain, too, but an injury then cost him his place on the Football Association tour, and he could not come back to the international grade.

George is a grand fellow, with the happy knack of being able to make a suggestion to a player, even to criticise, without leaving behind any wounded feelings. Perhaps his tackling was not always as deadly as one or two other full-backs of his time, but all round he was, and is, a first-class footballer. Both on and off the field he has been a credit to the sport.

Gentleman George

Who's Who of Middlesbrough