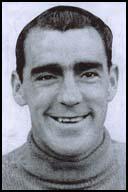 Frank Swift was born in Blackpool on 26th December 1913. A talented goalkeeper he played for Fleetwood City before joining Manchester City in 1932. He made his debut for the club against Derby County on 26th December 1933. City won 2-0 and Swift kept his place in the team.
Swift had a huge finger span of nearly 12 inches which meant he could easily grasp a ball in one hand. He also introduced the long throw out to start an attack rather than the more conventional kick into the opponents half.
In the 1933-34 season Manchester City finished 5th in the First Division of the Football League. The club also enjoyed a good FA Cup run beating Blackburn Rovers (3-1), Hull City (4-1), Sheffield Wednesday (2-0), Stoke City (1-0), Aston Villa (6-1) to reach the final against Portsmouth. On the way to Wembley the goals had been scored by Fred Tilson (7), Alec Herd (4) and Eric Brook (3). The defence, that included players such as Frank Swift, Jackie Bray, Sam Cowan and Matt Busby also performed well.
Manchester City played Portsmouth in the final at Wembley. Fred Tilson had such a terrible injury record that when Sam Cowan introduced him to George VI before the game, he said: "This is Tilson, your Majesty. He's playing today with two broken legs." It was a good job that Tilson did play as he scored both of the goals in the 2-1 victory to increase his total to nine in eight cup games that season. Swift, was so overcome by the achievement that he fainted at the final whistle.
In 1936 Wilf Wild purchased Peter Doherty from Blackpool for a club record fee of £10,000. By the end of 1936 Manchester City had obtained 23 points out of a possible 44. As Gary James points out in Manchester City: The Complete Record: "It was still not Championship form, but enough to give them a foundation to build on.
The New Year saw City climb up the table and, by the time of their meeting with the usual dominant Arsenal in April 1937, the two sides occupied the top two positions." A crowd of 74,918 watched Peter Doherty and Ernie Toseland score the goals that gave City a 2-0 victory.
Over the next three weeks Manchester City went on to beat Sunderland (3-1), Preston North End (5-2) and Sheffield Wednesday (4-1). City could only draw their last game 2-2 but by this time had been crowned champions. City scored 107 goals in the 1936-37 season, the main contributors being Peter Doherty (30), Eric Brook (20), Alec Herd (17), Fred Tilson (15) and Ernie Toseland (7). The defence, that included Frank Swift, Jackie Bray, Billy Dale and Sam Barkas, also did well that season, only letting in 61 goals in 42 games. Swift played in all 42 games that season.
It was the first time that Manchester City had won the First Division league title. The club celebrated by going on a tour of Nazi Germany. Over 70,000 turned up to the Berlin Olympic Stadium to watch City play a team made up of Germany's best players. Adolf Hitler wanted to make use of this game as propaganda for his Nazi government and the City players were asked to to give the raised arm Nazi salute during the playing of the German national anthem. Peter Doherty later recalled: "We were expected to give the Nazi salute at the line-up before the match started; but we decided merely to stand to attention. When the German national anthem was played, only 11 arms went up instead of the expected 22!" City lost the game 3-2 after a uncharacteristic mistake by Frank Swift.
In the 1937-38 season Manchester City once again scored more goals than any other club in the First Division. Once again Peter Doherty (23), Eric Brook (16) and Alec Herd (12) were the leading scorers. However the defence, performed badly letting in 77 goals. The club finished in 21st position and was relegated to the Second Division.
Stan Mortensen argued: "Number one goalkeeper during my time, almost number one player in some respects, is Frank Swift. He has over-topped them all, a giant in build and a giant in skill. But there is more to Frank than mere goal keeping - he exudes personality, or whatever it is that lifts a man above his fellows. Fairly heavily built, Frank is as active as a cat. To see him dive across the goal-mouth, so that the whole of his body seems to float horizontally through the air, is to give the suggestion that gravity is being defied. He has huge hands, 'frying pans' we call them, and he has the curious knack of making himself look bigger than he really is. When he has gathered the ball among a crowd of players, defenders and attackers all mixed up, he seems to expand himself like a telescope being pulled out to its maximum length. His dark head seems to rise above them all, up come his arms like two huge windmill sails, the ball held aloft beyond reach of everybody else, and he carries it clear of all trouble before sending it up-field."
Stanley Matthews agreed: "Of all the goalkeepers of that era, Frank Swift was my favourite. A large man with an even larger character, Swifty and I became great friends in the immediate post-war years when he made the England goalkeeper's jersey his own.... Frank was so spectacular he bordered on the acrobatic. He had hands like shovels, fingers like bananas and his gorilla-like reach and spring-heeled take-off meant he could reach many shots other goalkeepers would give up on. When he left his line he'd swoop on the ball rather than bend and gather it. So enormous were his hands, he'd stand holding the ball in one hand, fingers encompassing it as if it were a grapefruit. For all his enormous size he was Swift by name and swift by nature - in midflight diving to save, Frank cut a figure as graceful as the bird. He was very much a daredevil. His indifference at meeting a rampaging forward full-on spoke volumes for his courage."
Nat Lofthouse complained about the number of the number of certain goals that Swift saved: "The best goalkeeper I have ever faced is Frank Swift. The jovial giant of Manchester City and England literally filled the goal when he took possession. When Frank caught the ball in one hand as nonchalantly as if it were an orange, the crowd was always amused.... I've never seen any other 'keeper save so many 'certainties' from finishing in the back of the net. What made Frank Swift the hardest of all goalkeepers to beat? I think the secret of his success was a combination of extraordinary height and reach, great courage and a positional sense which could be appreciated best by forwards who played against him."
Swift's football career was interrupted by the Second World War. During the conflict he became a special constable. By the time the Football League started again after the war he was 33 years old and past his best. However, he retained his place in the team and was a member of the side that won the Second Division championship under manager Sam Cowan in the 1946-47 season.
Swift won his first international cap for England against Northern Ireland on 28th September 1946. England won the game 7-2 and held his place for the next three years. On 16th May 1948, Swift was chosen to captain England against Italy. Swift therefore became the first goalkeeper since 1873 to captain the national team.
After winning 14 caps Swift decided to retire from professional football in order to take up a career in journalism by joining the staff of the News of the World.
Frank Swift died on 6th February 1958 in the Munich Air Disaster after reporting on Manchester United's European Cup match against Red Star Belgrade.