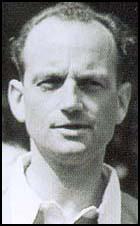 Henry (Harry) Johnston was born in Manchester on 26th September 1919. A talented footballer, the 15 year-old was signed by Joe Smith, the manager of Blackpool, in 1934.
Johnston made his first-team debut against Preston North End on 20th November, 1937. The following season he had established himself as the club's centre-half.
During the Second World War Johnson served in the Middle-East. On his return Joe Smith appointed Johnston club captain.
Johnston won his first international cap for England against Holland on 27th November, 1946. England won the game 8-2. The England team that day included Raich Carter, Tom Finney, Tommy Lawton, Wilf Mannion, Laurie Scott and Frank Swift. He retained his place for the game against Scotland (1-1).
In the 1947-48 season Blackpool beat Chester (4-0), Colchester United (5-0), Fulham (2-0), Tottenham Hotspur (3-1) to reach the final of the FA Cup. However, Blackpool lost the game 4-2 to Manchester United.
In the 1950-51 season Blackpool finished in 3rd place in the First Division of the Football League. Blackpool beat Stockport County (2-1), Mansfield Town (2-0), Fulham (1-0) and Birmingham City (2-1) to reach the final of the FA Cup at Wembley. Newcastle United won the game 2-0. Johnston played well that season and the Football Writers' Association (FWA) awarded him the Footballer of the Year Award.
In the 1952-53 season beat Huddersfield Town (1-0), Southampton (2-1), Arsenal (2-1) and Tottenham Hotspur (2-1) to reach the FA Cup final for the third time in five years. Cyril Robinson claimed that Joe Smith "was never very tactical, he was very blunt with his instructions". According to Stanley Matthews he said: "Go out and enjoy yourselves. Be the players I know you are and we'll be all right."
Cyril Robinson was later interviewed about the match: "We kicked off and within a couple of minutes we had a goal scored against us. That's about the worst thing that could happen. Gradually we got some passes together, got Stan Matthews on the ball and Mortensen got the equaliser, but they went back ahead straight away."
Stanley Matthews wrote in his autobiography that: "At half-time we sipped our tea and listened to Joe. He wasn't panicking. He didn't rant and rave and he didn't berate anyone. He simply told us to keep playing our normal game." Harry Johnson, the captain, told the defence to "be more compact and tighter as a unit." He also added: "Eddie (Shinwell), Tommy (Garrett), Cyril (Robinson) and me, we will deal with the rough and tumble and win the ball. You lot who can play, do your bit."
Despite the team-talk Bolton Wanderers took a 3-1 lead early in the second-half. Robinson commented: "It looked hopeless then, I was thinking to myself at least I've been to Wembley." Then Stan Mortensen scored from a Stanley Matthews cross. According to Matthews: "although under pressure from two Bolton defenders who contrived to whack him from either side as he slid in, his determination was total and he managed to toe poke the ball off the inside of the post and into the net."
In the 88th minute a Bolton defender conceded a free kick some 20 yards from goal. Stan Mortensen took the kick and according to Robinson: "I've never seen one taken as well. It flew, you couldn't see the ball on the way to the net." Matthews added that "such was the power and accuracy behind Morty's effort, Hanson in the Bolton goal hardly moved a muscle."
(If you find this article useful, please feel free to share. You can follow John Simkin on Twitter, Google+ & Facebook or subscribe to our monthly newsletter)
The score was now 3-3 and the game was expected to go into extra-time. In his autobiography, Stanley Matthews described what happened next: "A minute of injury time remained... Ernie Taylor, who had not stopped running throughout the match, picked up a long throw from George Farm, rounded Langton and, as he had done like clockwork through the second half, found me wide on the right. I took off for what I knew would be one final run to the byline. Three Bolton players closed in, I jinked past Ralph Banks and out of the corner of my eye noticed Barrass coming in quick for the kill. They had forced me to the line and it was pure instinct that I pulled the ball back to where experience told me Morty would be. In making the cross I slipped on the greasy turf and, as I fell, my heart and hopes fell also. I looked across and saw that Morty, far from being where I expected him to be, had peeled away to the far post. We could read each other like books. For five years we'd had this understanding. He knew exactly where I d put the ball. Now, in this game of all games, he wasn't there. This was our last chance, what on earth was he doing? Racing up from deep into the space was Bill Perry."
Stanley Matthews added that Perry "coolly and calmly stroked the ball wide of Hanson and Johnny Ball on the goalline and into the corner of the net." Bill Perry admitted: "I had to hook it a bit. Morty said he left it to me, but that's not true, it was out of his reach." Blackpool had beaten Bolton Wanderers 4-3. Johnson, now aged 34, had won his first cup-winners medal.
Johnston won his last international cap for England against Hungary on 25th November, 1953. England lost the game 6-3. The England team that day included Stanley Matthews, Stan Mortensen and Billy Wright.
Johnston played his last game for Blackpool against Newcastle United on 25th April, 1955. He had scored 11 goals in 398 appearances. Later that year he was appointed as manager of Reading in the Third Division. In his first season the club finished in 17th place. He followed this with 13th (1956-57), 5th (1957-58), 6th (1958-59), 11th (1959-60), 18th (1960-61) and 7th (1961-62). Johnston later worked as chief scout for Blackpool.
Harry Johnston died in Manchester on 12th October 1973.