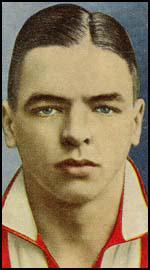 Horatio (Raich) Carter was born in Sunderland on 21st December 1913. He was the son of Robert Carter, who played for Port Vale, Fulham and Southampton before he suffered a serious head injury and was forced to retire in 1910 at the age of 29.
As a young boy Carter was a fan of Sunderland and was a regular visitor to Roker Park. Carter's hero was Charlie Buchan, Sunderland's elegant inside-forward. Buchan also paid occasional visits to the Ocean Queen, the public house run by his father.
Raich Carter was a talented sportsman and played football and cricket for his school in Hendon in Sunderland. In one match for his school he scored 111 runs in 25 minutes.
Carter was even a better footballer and on 23rd April 1927, he played for England schoolboys against Wales. Carter, the smallest boy on the pitch, was only 13 years and four months old at the time. Also in the England team that day was Alf Young. Carter was a great success and he retained his place in the team the following year.
Robert Carter, who had never fully recovered from his head injury, died on 14th March 1928. His wife, Clara Carter took over the running of the Ocean Queen. Ten days after the death of his father, Raich Carter played for England against Scotland. The Sunderland Echo reported that: "Young Carter, the Hendon schoolboy was, I am told, the best forward on the field in the match against Scotland on Saturday at Leicester which England won five to one."
Carter's schoolboy international career was completed when he captained England against Wales at Swansea. He scored two goals in England's 3-2 victory. The Sunderland Echo reported: "This young Hendon product is one of the best all-round athletes Sunderland has produced for many a day, and his future career will be watched with interest."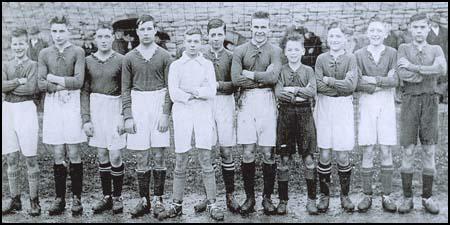 Carter left school at the age of fourteen. Johnny Cochrane, the manager of Sunderland, proposed that Raich should sign for the club as an amateur until he could sign professional at 17. Meantime he would be given a job in the club office. His uncle, Ted Carter, a detective sergeant in the local police force, instructed him to reject the offer and instead arranged for him to be apprenticed as an electrician with the Sunderland Forge and Electrical Company.
When he reached the age of 17 a friend arranged for Carter to have a trial with Leicester City. On 27th December, 1930, Carter played at outside left for Leicester reserves against Watford. He had a poor game and Willie Orr, the Leicester manager, told him: "Son, you're too small to play football. You want to go home and build yourself up physically. Get some brawn and weight on you."
Carter joined Esh Winning, who played in the Northern Amateur League. During the summer of 1931 he was invited by Clem Stephenson to join Huddersfield Town. However, he decided to accept the offer made by Johnny Cochrane, the manager of Sunderland. This included a £10 signing on fee, £3 per week plus £1 for a reserve team appearance. This was far better than the 9 shillings (45p) he was earning as an electrician.
Sunderland's regular inside-left, Patsy Gallacher, was injured and could not play in the game against Blackburn Rovers on 21st October 1932. His place was given to local boy, Bob Gurney, but he developed influenza and Carter got his first game in the First Division of the Football League. Carter immediately struck up a promising partnership with left-winger Jimmy Connor.
Carter retained his place in the side and he scored his first goal in the club's 7-4 victory over Bolton Wanderers. One reporter wrote: "Carter showed all the skill of a veteran and placed the ball with a deftness of a player twice his age to pave the way for practically every successful Sunderland move. He used the cross pass to find the opposite wing regularly and this lightening moving of the point of attack accounted for the early Bolton reverses."
However, the Sunderland Echo argued that as Carter was only 18 years old he should not play in every game: "Carter is improving every time he turns out with the seniors. I think he should be brought on slowly and he should not be overworked. It is many years since I saw a more promising pure footballer." Despite this warning, Carter retained his place in the first-team. In December, 1932, Charlie Buchan, who was now a journalist, predicted that Carter would soon be playing for England.
In the 1932-33 season Raich Carter made 29 cup and league appearances for Sunderland. As a regular member of the first-team his wages were increased to £8 a week. Club records show that the 19-year-old Raich was 5 feet 7 inches tall and weighed 9 stone 6 pounds.
Carter won his first international cap for England against Scotland on 14th April, 1934. The England team included Eric Brook, Sammy Crooks, Cliff Bastin, Eddie Hapgood, Wilf Copping and Frank Moss. England won the game 3-0. He then went on a tour of Europe and played in the game against Hungary that England lost 2-1.
In the 1934-35 season Sunderland finished as runners-up to Arsenal in the First Division of the Football League. The forward line included Carter, Patsy Gallacher, Bob Gurney and Jimmy Connor. According to Charlie Buchan Carter was the star of the Sunderland forward-line. He wrote: "His wonderful positional sense and beautifully timed passes made him the best forward of his generation."
Despite only being 23 years old, Carter was made captain of the Sunderland team as a result of an injury to Alex Hastings. In the 1935-36 season Carter was in great form that season scoring 24 goals in his first 22 games and Sunderland built up a good lead in the championship.
On 1st February 1936, Sunderland played Chelsea at Roker Park. According to newspaper reports it was a particularly ill-tempered game and Chelsea's Billy Mitchell, the Northern Ireland international wing-half, was sent off. The visiting forwards appeared to be targeting Jimmy Thorpe, the Sunderland goalkeeper, and he took a terrible battering during the match. After the game Thorpe was admitted to the local Monkwearmouth and Southwick Hospital suffering from broken ribs and a badly bruised head. James Thorpe died on 9th February, 1936.
Sunderland was devastated by the death of their 22 year-old goalkeeper. However, they continued their good form and by 13th April, 1936, the club only needed to draw at Birmingham City to clinch the title. The result was a 7-2 victory. That season Sunderland became the first club to score over 100 goals in a season. Carter was joint top scorer with Bob Gurney with 31 goals.
Carter's good form enabled him to regain his place in the England team. On 18th November, 1936, he won his fourth international cap against Northern Ireland. He also played in England's 6-0 victory over Hungary. The England team that day included Eric Brook, Sammy Crooks, Ted Drake, George Male and Alf Young.
The following year he played in the England side that played Scotland. His wing partner that day was Stanley Matthews. However, the two men did not play well together and as a result Carter was dropped from the side. Tommy Lawton found the dropping of Carter inexplicable. "Raich was the perfect team man. He would send through pinpoint passes or be there for the nod down."
Carter later explained why he never played well with Stanley Matthews: "He was so much of the star individualist that, though he was one of the best players of all time, he was not really a good footballer. When Stan gets the ball on the wing you don't know when it's coming back. He's an extraordinary difficult winger to play alongside."
However, Stanley Matthews insisted that he loved playing with Carter: " I was on the right wing and inside me was local hero Raich Carter, who I felt was the ideal partner for me... Carter was a supreme entertainer who dodged, dribbled, twisted and turned, sending bewildered left-halves madly along false trails. Inside the penalty box with the ball at his feet and two or three defenders snapping at his ankles, he'd find the space to get a shot in at goal... Bewilderingly clever, constructive, lethal in front of goal, yet unselfish. Time and again he'd play the ball out wide to me and with such service I was in my element."
In the 1936-37 season Sunderland could only finish 8th in the Football League. However, they had a great FA Cup run beating Luton Town (3-1), Swansea (3-0), Wolverhampton Wanderers (4-0) and Millwall (2-1) to reach the final against Preston North End.
The monday before the cup final Carter married Rose Marsh. Immediately after the reception, Carter, along with his best man, Bob Gurney, left the bride and other guests to join up with their teammates at the Bushey Hall Hotel.
The match took place on 1st May 1937. In the 38th minute, Hugh O'Donnellpassed to his brother, Frank O''Donnell, who scored the opening goal. Preston North End held the lead until early in the second-half. In the 52nd minute Eddie Burbanks took a corner. Carter headed the ball to Bob Gurney, who back-headed the ball into the net.
Frank Garrick, the author of Raich Carter: The Biography, described what happened next: "In the 72nd minute, Raich Carter was given a chance to atone for his missed chance. He was in the inside-left position when a bouncing pass came over from Gurney to his right. Carter beat the fullback, raced the goalkeeper to the ball and lobbed it out of his reach into the net. Both players finished in a heap on the ground and Sunderland were in the lead. Carter was mobbed by his teammates and the cheering lasted for several minutes."
Six minutes later, Patsy Gallacher created a third goal with a skilfully judged pass to Eddie Burbanks who shot home from a narrow angle. Carter had led Sunderland to its first FA Cup final victory.
Tommy Lawton later explained: "Raich was the master of the pass which sneaks its way through the seemingly impregnable defence, but Raich was also an opportunist of the highest order. Yes, I know everyone knows all about his tremendous shot, but Raich had something else. He could size up a chance in a flash, and he would be on it before anyone could move. For instance, the centre forward has only to leap for a ball and nod it downwards and backwards, and Raich will be tearing in to ram the ball into the net."
Stan Mortensen agreed: "Raich is a double-purpose inside-forward. He is clever and brainy enough to make openings for other players, and would be worth his place in any side for that alone. He also has the knack of cutting through for goals himself, and from the edge of the penalty area can hit a ball as hard as most."
On the outbreak of the Second World War Carter joined the Sunderland Fire Service. This was a reserved occupation and his action was interpreted as being a tactic to avoid military service. As a result, Carter was often booed by the crowd in friendly games he played during the conflict. This caused Carter a great deal of stress and on 2nd October 1941 he joined the RAF. Like most professional footballers, Carter became a Physical Training Instructor, and did not see any action during the war.
In 1945 Carter was transferred to Derby County. During his time at Sunderland he had scored 121 goals in 248 games. Carter formed an excellent partnership with Peter Doherty and in 1946 the club reached the final of the FA Cup. Doherty wrote: "He (Carter) was my twin, a brilliant schemer with a dangerous shot, with whom I was able to dovetail perfectly." Carter was also full of praise for his partner: "Peter Doherty was a perfect example of the true inside forward, combining the roles of both defender and attacker."
The Derby Daily Evening Telegraph praised the efforts of Peter Doherty but added that "I regard Carter as the most valuable of the home forwards. It was he who undertook the scheming, acting as a one-man support of the front-line troops and keeping the opposing defence at full stretch by his shrewdly placed through passes."
Derby County beat Charlton Athletic 4-1 in the final at Wembley. Carter therefore became the only man to have won winners' medals before and after the Second World War.
Carter's fine form meant that he was selected to play in England against Northern Ireland on 28th September, 1946. Carter scored a goal in the first minute and England went on to win 7-2. Frank Swift, who played in goal that day, later commented: "Our team clicked from the start and the forwards were in magnificent form. Lawton led the line like the genius he is; Raich Carter did practically everything it is possible to do with a football - even to standing, foot on ball, as if marshalling his forces".
Before the war Carter had played infrequently in the England team. Despite being in his thirties, Carter now established himself in what was considered by many to be an excellent England side and developed a fine partnership with Tom Finney. He played against the Republic of Ireland (1-0), Wales (3-0), Holland (8-2), Scotland (1-1) and France (3-0).
Carter's England career came to an end with the shock 1-0 defeat against Switzerland on 18th May 1947. Now approaching 35, Carter was considered to be too old for international football. He had scored 7 goals in 13 games for his country.
Carter continued to play well for Derby County and on 14th February, 1947, he scored four goals in the 5-1 victory over his old club, Sunderland. All told, Carter scored 34 goals in 63 games for Derby.
In April 1948, Carter was transferred to Hull City for a fee of £6,000. A couple of weeks later Major Frank Buckley resigned and Carter became the player-manager of the club. Carter was an immediate success and that season Hull won the 1948-49 Division Three (North) Championship.
Carter retired from playing football in 1951. During his time at Hull City he scored 57 goals in 136 games. He managed Cork Athletic before joining Leeds United in 1953. Leeds finished 2nd in the Second Division in the 1955-56 season but after two average seasons in the First Division, Carter resigned in 1958. Carter also managed Mansfield (1960-1963) and Middlesbrough (1963-1966).
Raich Carter died in hospital in Hull on 9th October, 1994.