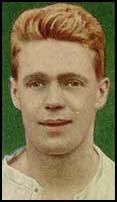 Samuel "Sammy" Crooks was born at Bearpark, County Durham on 16th January 1908. He was one of a family of 17 children and after leaving school, he worked underground at the Bearpark Colliery. A talented footballer, Crooks played for the works team and Tow Law Town.
Crooks signed for Derby County in April 1927 and made his debut in a 2-1 win over Leicester City on 10th September 1927. In his first season the club finished in 4th place in the Football League. In the 1928-29 season Derby finished in 6th and the following year came close to winning the title.
Crooks developed into one of the best outside-rights in the Football League and on 15th April 1930 he won his first international cap for England against Scotland. England won the game 5-2. He kept his place in the side and that season played against Germany (3-3), Austria (0-0), Northern Ireland (5-1), Wales (4-0), Scotland (0-2), France (2-5) and Belgium (4-1). Other players in the team that season included David Jack, Vic Watson, Sam Cowan, Gordon Hodgson, Tom Cooper, Jimmy Hampson and Dixie Dean.
The following season he scored two of England's goals in their 7-1 win over Spain. He also scored against Scotland (3-0) and Austria (4-3). He held his place in the team until the emergence of Stanley Matthews, who challenged him for the outside-right position.
Crooks developed a good partnership with Raich Carter in the Derby County and England teams. In 1935, George Allison, the Arsenal manager, attempted to sign Crooks and Tom Cooper in exchange for Alex James. That season Derby finished in 2nd place to Sunderland in the First Division.
Crooks played his last game for England against Hungary on 2nd December, 1936. He had scored seven goals in 26 games. His football career was interrupted by the Second World War. He played a few games in the 1946-47 season but now aged 39 a knee injury forced him into retirement. He had scored 101 goals in 408 games for Derby County.
In December 1949, Crooks was appointed manager of Retford Town. He also had spells with Shrewsbury Town (1950-1955), Gresley Rovers (1955-57), Burton Albion (1957-58) and Heanor Town (1959-60). He also worked as chief scout for Derby County and served for 14 years as Secretary of the Association Football Players Union.
Samuel "Sammy" Crooks died in Belper on 3rd February 1981.