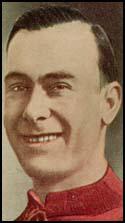 Gordon Hodgson was born in Johannesburg, South Africa on 16th April 1904. He played football for Benoni, Rustenberg, Pretoria and Transvaal. In 1924 he played against a touring Liverpool side. The centre-forward had a good game and soon afterwards he was persuaded to join the Football League side.
Hodgson made his debut against Manchester City in October 1928. He scored his first goal a fortnight later in a 3-3 draw against Manchester United at Old Trafford.
In his first season he scored 18 goals. He continued this fine form over the next few seasons: 1930-31 (36), 1931-32 (27), 1932-33 (24), 1934-35 (25) and 1934-35 (29).
Hodgson was also a talented cricketer and played in 56 games for Lancashire. He had a bowling average of 27.75 and his best wicket taking performance was 6-77.
Hodgson won his first international cap for England against Northern Ireland on 20th October 1930. Although he had been born in South Africa he qualified for this country because both his parents had been born in England). England won the game 5-1. Hodgson scored one of the goals in the 4-0 victory over Wales. He won his third and last cap against Scotland on 28th March, 1934.
Hodgson's international opportunities were restricted because he had the misfortune to be playing at the same time as centre-forwards of the quality of Dixie Dean, Jimmy Hampson, George Camsell, Tom Waring and Fred Tilson.
Hodgson scored 240 goals in 378 games for Liverpool before joining Aston Villa for a fee of £3,000 in January 1936. He only spent one season with the club (11 goals in 28 games) before moving to Leeds United in March 1937. After scoring 51 goals in 82 games for his new club he was appointed to the coaching staff.
In October 1946 Hodgson became manager of Port Vale in the Third Division. He held the post until his early death on 14th June, 1951.