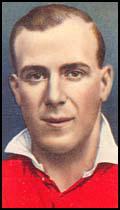 Thomas (Tom) Waring was born in High Tranmere on 12th October 1906. He joined Tranmere Rovers in the Third Division in 1927. He scored 23 goals in his first 24 games and later that season he was signed by Aston Villa for a fee of £4,700.
Waring developed a reputation for being a clown and was nicknamed Pongo after a famous cartoon of the time. Waring was also reluctant to train. His captain, Billy Walker, later wrote "There were no rules for Pongo. Nobody knew what time he would turn up for training - ten o'clock, eleven o'clock, twelve o'clock, it made no odds. Nobody on the staff could do anything with him although I think I can claim, as the captain in his days, to be the only person able to handle him."
Despite the lack of training Waring was an outstanding goalscorer. In the 1930-31 season he scored an amazing 49 league goals. Waring won his first international cap for England against France on 14th May 1931. He scored a goal but England lost the game 5-2. He retained his place against Belgium (4-1), Northern Ireland (6-2) and Wales (3-1). The England team that year included Tom Cooper, Sam Cowan, Sammy Crooks and Cliff Bastin.
Waring also played in the game against Scotland on 9th April 1932. Despite scoring four goals in five games for his country his international opportunities were restricted because he had the misfortune to be playing at the same time as centre-forwards of the quality of Dixie Dean, Jimmy Hampson, George Camsell, Gordon Hodgson and Fred Tilson.
After scoring 159 goals in 215 games (including 10 hat-tricks) for Aston Villa he moved to Barnsley in 1935. He also played for Wolverhampton Wanderers (3 in 10), Tranmere Rovers (42 in 74) and Accrington Stanley (10 in 22).
Waring retired from professional football in 1938 but continued to play non-league games for Bath City, Ellesmere Port Town, Graysons, Birkenhead Dockers and Harrowby.
After the Second World War Waring worked for The Hercules Motor and Cycle Company in Aston.
Tom Waring died on 20th December, 1980.