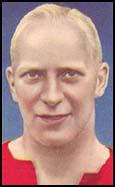 Thomas (Tom) Cooper was born in Fenton on 9th April 1904. He played for Trentham in the Cheshire League before signing for Port Vale in August 1924. After playing 32 games at right back he was transferred to Derby County for a fee of £2,000 in March 1926.
Cooper developed into one of the best full-backs in the Football League and 22nd October 1927 he won his first international cap for England against Northern Ireland. England lost the game 2-0.
Over the next few years Cooper was a regular in the England side and only missed games because of two serious knee injuries in 1930 and 1932 that resulted in him having both knee cartilages removed. Other players in the team at that time included Dixie Dean, Jimmy Ruffell, Jim Barrett, Stanley Earle, Edward Hufton, George Camsell, Cliff Bastin, Eric Brook, Wilf Copping, Raich Carter, Fred Tilson, Eddie Hapgood, Tom Waring and Sammy Crooks.
Cooper was appointed captain of England for the game against Czechoslovakia (1-2). He retained the post for the next game against Wales (4-0).
In December 1934, Cooper was transferred to Liverpool for a fee of £7,500. Considering his injury problems, this was an amazing fee to pay for a player who was over 30 years old. Cooper had played 248 games for Derby County.
Tony Matthews, the author of Who's Who of Liverpool, described Cooper as "skilfull, solid, sound in the tackle and an excellent passer of the ball (some said he fed his forwards better than the half-backs in his team)". Although his England career had come to an end he played 150 games for Liverpool before the outbreak of the Second World War.
Tom Cooper joined the British Army and was assigned to the Military Police. Promoted to the rank of sergeant he was killed on 25th June 1940 near Aldeburgh when his motor cycle was involved in a head on crash with a bus. As a result of his death the military issued an order that all servicemen were no longer allowed to ride their motorcycles without wearing a crash helmet.