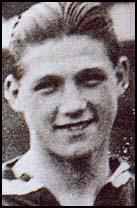 James (Jim) Barrett was born in West Ham on 19th January 1907. A talented centre-half he played for England Schoolboys. Barrett was also a member of the West Ham Boys team that played Liverpool Boys in the 1921 English Shield Final at Upton Park.
Syd King, the manager of West Ham United, signed the 16 year old Barrett in 1923. Despite his obvious talent he had to wait two years before he replaced the injured George Kay in the first-team. When Kay, the captain, returned to duty, Barrett played in a variety of different positions for the club. Barrett joined a team that included Jimmy Ruffell, Edward Hufton, Vic Watson, Jack Tresadern, Sid Bishop, Stanley Earle, Tommy Yews and Jack Young.
Barrett played in all 42 league games in the 1925-26 season. The 20 year old played in five different positions that year and managed to score five goals in three games at centre-forward. This included a hat-trick against Leeds United on on 30th January 1926.
Barrett was also ever present in the team that finished 6th place in the 1926-27 season. Top scorers that year were Vic Watson (34), Jimmy Ruffell (13), Stanley Earle (13) and Tommy Yews (8). However, West Ham struggled in the First Division in the 1927-28 season. Barrett's form remained good and he won his first international cap for England against Northern Ireland on 28th October, 1928. Also in the England team that day was Dixie Dean, Jimmy Ruffell, Joe Hulme and Tom Cooper. Barrett was carried off injured after only four minutes. He was never selected again and so it is the shortest recorded international career in history.
West Ham United finished in 7th place in the 1929-30 season. Vic Watson scored an amazing 50 league and cup games in only 44 games. Barrett played in 40 out of a possible 42 league games that year. The following season West Ham finished in a disappointing 18th place.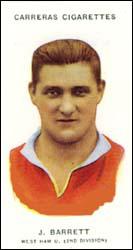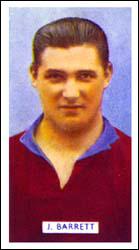 Despite the goals of Vic Watson (23) and Jimmy Ruffell (15) West Ham finished in 22nd place in the 1931-32 season and were relegated. Barrett remained in good form but his efforts were unable to get West Ham promoted back to the First Division.
Jim Barrett played for West Ham United until 1928. As the authors of The Essential History of West Ham United (2000) pointed out: "Jim Barrett's name looms large in the history of West Ham. One of the great characters of the inter-war period, anecdotes about his exploits are legion but, most importantly, he formed the solid bedrock of Hammers' defence throughout the 1920s and 30s. He filled every defensive position in his 20 years as a player including one wartime match in goal and was drafted into attack on occasions with some success.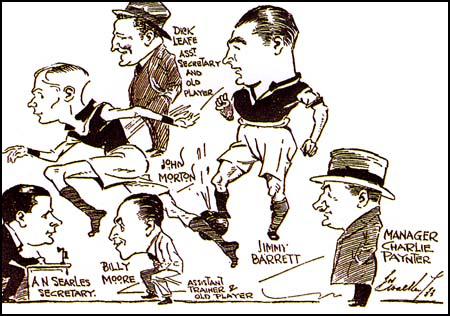 Barrett scored 53 goals in his 467 appearances for West Ham United. He retired from playing in 1938 but continued at the club as a coach.
Jim Barrett suffered from ill-health in his later years and he died aged 63 on 25th November, 1970.