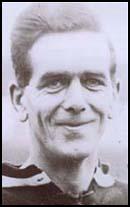 Stanley (Stan) Earle, the son of Harry Earle, who played professional football for Nottingham Forest, was born in Stratford on 6th September 1897. A talented inside-right he played England Scoolboys before signing as an amateur for Clapton Orient.
In March 1922 Earle signed as an amateur for Arsenal. He made his debut against Aston Villa on 18th March 1922. Later that year he played for the English amateur side against Ireland. Over the next two years he scored 3 goals in 4 games for Arsenal. His form was so good that he won his first international cap for England against France on 17th May 1924.
Earle signed for West Ham United in August 1924. He joined a team that included Alfred Earl, Edward Hufton, Jimmy Ruffell, Jim Barrett, Billy Moore, Vic Watson and Tommy Yews. In his first season he scored 6 goals 18 games.
In the 1925-26 season he played in 37 of the 42 league games. He developed a fine partnership with Jimmy Ruffell and Vic Watson, who scored 41 goals between them that season.
Earle won his second international cap for England against Northern Ireland on 22nd October 1927. Also in the team that day was Dixie Dean, Joe Hulme, Tom Cooper and Edward Hufton. England lost the game 2-0.
Stan Earle left West Ham United at the end of the 1931-32 season. He had scored 58 goals in 273 league and cup games. He ended his career playing for Clapton Orient. After retiring at the end of the 1931-32 season he coached top amateur club, Walthamstow Avenue.
Stan Earle died in Colchester in 26th September 1971.