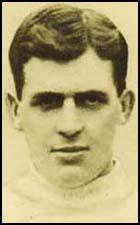 Edward (Ted) Hufton was born in Southwell, Nottinghamshire, in 1892. He played for Atlas & Norfolk before joining Sheffield United in 1912. After playing only 15 league games before joining the British Army on the outbreak of the First World War. Hufton served in France before being wounded in action on the Western Front.
After recovering from his wounds he had a trial for West Ham United in 1919. The regular goalkeeper, Joe Hughes, saw Hufton in a practice match and then asked Syd King to put him on the transfer list. King asked him why, and he answered: "He's a better goalie than I'll ever be." King agreed and purchased Hufton for £350 and sold Hughes to Bolton Wanderers.
Hufton joined a team that included Syd Puddefoot, Jimmy Ruffell, Richard Leafe, George Kay, Billy Moore, Jack Tresadern, Vic Watson, Sid Bishop, Billy Brown, Dick Richards, Jack Young and Billy Henderson. In his first two seasons Hufton saved 11 out of 18 penalty kicks and West Ham United finished in 7th place (1919-20) and 5th place (1920-21) in the Second Division. That season Hufton did not concede more than two goals in any of the 38 league matches he played in and obtained the best goals-against record in the Football League.
As Tony Hogg pointed out in Who's Who of West Ham United (2004): "The 1920-21 campaign also saw Ted scale new heights of excellence when he received the notable record of not conceding more than two goals in any of the 38 League matches he played - the best goals-against record in the country that year."
West Ham United enjoyed a good FA Cup run in the 1922-23 season beating Hull City (3-2), Brighton & Hove Albion (1-0), Plymouth Argyle (2-0), Southampton (1-0) and Derby County (5-2) to reach the final against Bolton Wanderers. The final took place at Wembley Stadium, only four days after the stadium had been completed.
The stadium had a capacity of 125,000 and so the Football Association did not consider making it an all-ticket match. After all, both teams only had an average attendance of around 20,000 for league games. However, it was rare for a club from London to make the final of the FA Cup and supporters of other clubs in the city saw it as a North v South game. It is estimated that 300,000 people attempted to get into the ground. Over a thousand people were injured getting in and out of the stadium.
Jimmy Ruffell was later interviewed about the final: "Most of the people at Wembley seemed to be Londoners. Well, the ones I saw seemed to be. As we tried to make our way out onto the field everyone was slapping us on the back and grabbing our hands to shake them. By the time I got to the centre of the pitch my poor shoulder was aching... It was a hard game for West Ham to play as the field had been churned up so bad by horses and the crowd that had been on the pitch well before the game. West Ham made a lot of the wings and you just couldn't run them for the crowd that were right up close to the line. Bolton had to play on the same field of course, but they didn't play so wide as West Ham." When the game eventually got started, Joe Smith and David Jack scored in Bolton's 2-0 victory over West Ham United.
In their next game West Ham United beat Sheffield Wednesday 2-0 to ensure promotion to the First Division. Top scorers were Vic Watson (22) and Billy Moore (15). However, the defence did very well only letting in 38 goals that season.
Hufton won his first international cap for England against Belgium in 1924. The game ended in a 2-2 draw and he was dropped from the team.
West Ham United finished in 13th place in their first season in the First Division. However, Hufton only played in 15 games that season. He only became first choice again in the 1925-26 season. The club continued to struggle but Hufton did very well that season. In the 1926-27 season the Hammers finished in 6th place in the First Division. Hufton played in 40 of the 42 league games. Top scorers were Vic Watson (34), Jimmy Ruffell (13) and Stanley Earle (13).
Hufton's form was so good that he was recalled to the England team against Northern Ireland on 22nd October 1927. The team that day included Dixie Dean, Joe Hulme, Tom Cooper and Stanley Earle. England lost the game 2-0 and Hufton was dropped again.
On 9th May 1929, Hufton was recalled to play against France. England won the game 4-1 and later that month he played against Belgium (5-1) and Spain (3-4). This was the last of his six international games.
Hufton continued in good form for the next few seasons butWest Ham United finished in 22nd place in the 1931-32 season and were relegated. Hufton was dropped from the first team and was granted a free transfer in 1932. Hufton played 370 league games for the club in 13 years. He played two games for Watford before retiring from the game. Hufton played 370 league games for the club in 13 years.
Jim O'Halloran tells an interesting story about meeting Hufton: "When I was a kid in the fifties Ernie Gregory was my hero. I waited outside the stadium after a match to get Ernie's signature . He had an old man with him and he said "You don't want my autograph son, you want his." Who is he?" I asked. "Ted Hufton the greatest goalie ever" said Ernie. It meant nothing to me and I persisted after Ernie's signature but he refused. Having never seen Hufton, in my books Ernie was the bees knees."
Ted Hufton suffered from poor health over the next few years and died in Swansea on 2nd February, 1967.