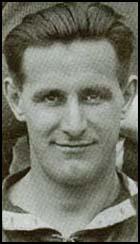 Victor (Vic) Watson was born in Girton on 10th November, 1897. A talented centre-forward, he played local football for the Brotherhood Engineering Works. He joined the British Army during the First World War and reached the rank of sergeant. After the war he joined Wellingborough Town in the Southern League.
Syd King, the manager of West Ham United, signed Vic Watson, for a transfer fee of £25 in March 1920, as a cover for local hero Syd Puddefoot. The following season Puddefoot scored 29 goals and Watson only got nine games, usually at outside-left.
In February 1922 Syd King decided to sell Syd Puddefoot to Falkirk in the Scottish League for the British record fee of £5,000. Watson now took his place as West Ham's centre-forward. He joined a team that included Jimmy Ruffell, Edward Hufton, George Kay, Billy Moore, Jack Tresadern, Sid Bishop, Billy Brown, Dick Richards, Jack Young and Billy Henderson.
According to The Stratford ExpressWatson's " chief worth in the position is in the clever way in which he holds the forward line together, and in the unselfish way in which he distributes the ball. A speedy and intelligent player, he is quick to sense an opening". Brian Belton claimed that Watson was "perhaps the finest centre-forward in West Ham's history."
Watson found himself in a very good team. As Jimmy Ruffell pointed out: "West Ham were a good passing team. Most of the time you had an idea where men were or men would make themselves ready to get the ball from another player. I think we were one of the few clubs to really practice that. Then, with their good forward line, Vic Watson, Bill Moore and I was okay too, West Ham always had a chance at getting a goal."
West Ham United enjoyed a good FA Cup run in the 1922-23 season beating Hull City (3-2), Brighton & Hove Albion (1-0), Plymouth Argyle (2-0), Southampton (1-0) and Derby County (5-2) to reach the final against Bolton Wanderers.
The Empire Stadium at Wembley had just been built by Robert McAlpine for the British Empire Exhibition of 1923. It was originally intended intended to be demolished at the end of the Exhibition. However, it was later decided to keep the building to host football matches. The first match at Wembley, the 1923 FA Cup Final between West Ham United and Bolton Wanderers, took place only four days after the stadium was completed.
The Empire Stadium had a capacity of 125,000 and so the Football Association did not consider making it an all-ticket match. After all, both teams only had an average attendance of around 20,000 for league games. However, it was rare for a club from London to make the final of the FA Cup and supporters of other clubs in the city saw it as a North v South game. It is estimated that 300,000 people attempted to get into the ground. Over a thousand people were injured getting in and out of the stadium.
Jimmy Ruffell was later interviewed about the final: "Most of the people at Wembley seemed to be Londoners. Well, the ones I saw seemed to be. As we tried to make our way out onto the field everyone was slapping us on the back and grabbing our hands to shake them. By the time I got to the centre of the pitch my poor shoulder was aching... It was a hard game for West Ham to play as the field had been churned up so bad by horses and the crowd that had been on the pitch well before the game. West Ham made a lot of the wings and you just couldn't run them for the crowd that were right up close to the line. Bolton had to play on the same field of course, but they didn't play so wide as West Ham."
When the game eventually got started, Joe Smith and David Jack scored in Bolton's 2-0 victory over West Ham United.
In their next game West Ham United beat Sheffield Wednesday 2-0 to ensure promotion to the First Division. Watson scored 27 league and cup goals that season. As Tony Hogg pointed out in Who's Who of West Ham United (2004) that his goals "were largely responsible for Hammers' promotion to the First Division, and five counters in the FA Cup contributing likewise to the club's appearance in the first Wembley Cup Final."
Watson won his first international cap for England on 5th March 1923 against Wales. He scored one of the goals in the 2-2 draw. The following month he played in the game against Scotland. Once again he was on the score-sheet.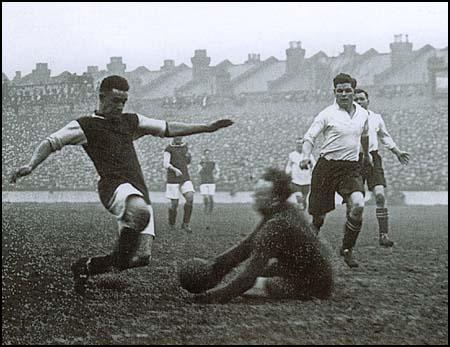 Syd King decided to only add Tommy Yews, a winger from Hartlepool United, and Norman Proctor, an inside-forward from Rotherham United, to strengthen his squad for the club's first season in the First Division. Some commentators were highly critical of King's decision not to bring in experienced First Division players. However, Scribbo, the football reporter of the East Ham Echo was more optimistic: "There is every reason why they (West Ham) should do well in first-class company. They revealed themselves an exceptional side last year."
West Ham's first game of the season was against Sunderland, one of the best teams in the country. The game ended in a 0-0 draw. However, the match was a disaster as Vic Watson broke a toe, an injury that would keep him out of the side until April 1924. Struggling for goals, Billy Moore was top scorer with nine, West Ham finished in 13th place. The club continued to struggle but Watson continued to do well and scored 22 goals in 41 games in the 1924-25 season.
In the 1926-27 season the Hammers finished in 6th place in the First Division. Once again Watson was top scorer with 34 goals with Jimmy Ruffell and Stanley Earle contributing 13 each. In the 1928-29 season Watson was again top scorer with 29 goals in 34 games. This included scoring six goals in West Ham's 8-2 victory over Leeds United on 9th February 1929.
Watson reached his peak in the 1929-30 season. He scored an amazing 50 league and cup games in only 44 games. This included hat-tricks in games against Aston Villa (home and away) and Leeds United. He also scored all four goals in West Ham's 4-1 FA Cup victory over Leeds. That season Watson was the First Division's top scorer.
Watson was now recalled to the England team and scored two goals in the 5-2 victory over Scotland. He had now scored four goals in three games for his country. The following month he played in the games against Germany (3-3) and Austria (0-0). After two games without scoring he was dropped from the team. Watson was unfortunate that he was playing at the same time as some great English centre-forwards such as Dixie Dean, Tom Waring, Jimmy Hampson, Fred Tilson and Ted Drake.
Despite the 23 goals of Watson, West Ham United finished in 22nd place in the 1931-32 season and was relegated. Watson continued to score goals for the Hammers in the Second Division: 23 (1932-33) and 26 (1933-34). He also scored 10 goals in 15 games in the 1934-35 season before being signed by George Kay, the manager of Southampton. During his time at West Ham he scored 326 goals in 505 games. In 13 of his 15 seasons he reached double figures and on 9 occasions managed to score more than 20.
Watson scored 14 goals in 37 league games for Southampton before running a fruit and vegetable small-holding in Cambridgeshire. He also served briefly as trainer-coach with Cambridge City.
Vic Watson died aged 91 in Girton on 3rd August, 1988.
(1) The Stratford Express (28th February, 1923)
Had West Ham United beaten Plymouth Argyle by a larger margin than 2-0 at Upton Park on Saturday in the third round of the FA Cup, it would have been no more than they deserved... The main desire of each player always seemed to be to part with the ball to the best advantage, and in this respect Watson, at centre-forward, stood out. He was opposed by a centre-half in Hill who, like himself, is a candidate for international honours. There were some fine duels between them, and Watson delighted his admirers by frequently beating his lengthy opponent in the matter of cleverness. The centre-forward opened out the game and distributed the ball in clever fashion and he was well supported by his colleagues.
(2) The Stratford Express (3rd March, 1923)
The choice of Victor Watson, West Ham United's centre-forward, to lead England's attack in the International match against Wales at Cardiff on Monday, has naturally given a good deal of pleasure and satisfaction to supporters of the club. It has for some time been anticipated that his claims to international honours would be recognised, and that he would follow in the footsteps of other West Ham United centre-forwards like G. Webb, H. Stapley and S. Puddefoot. Whereas the three players named, however, were "locals", Watson has not that distinction. He came to West Ham from Peterborough, where he was playing for a local works eleven in March, 1920, and after a trial in the reserve team was immediately signed on. West Ham, however, is his first professional club. He was quickly recognised as a young player of considerable promise and, although it was some time before he secured a regular place in the first team, he continued to improve. Puddefoot was at that time the team's centre-forward, so it was only occasionally in his absence that Watson had the opportunity of occupying the position in the first eleven. With Puddefoot's departure to Scotland, however, Watson became established as the leader of the attack, and he has filled the position with ability, even if not brilliantly. Centre-forwards of outstanding class are conspicuous by their absence to that, but Watson can take his place in the front rank of those who are playing. Without being a prolific scorer of goals, he obtains a fair number, but his chief worth in the position is in the clever way in which he holds the forward line together, and in the unselfish way in which he distributes the ball. A speedy and intelligent player, he is quick to sense an opening, and is a dangerous "raider". All "Hammers" will wish him success in his first international.
(3) The East Ham Echo (20th April 1923)
West Ham had the honour of providing two representatives for England in the international at Glasgow on Saturday, in Watson, their centre-forward, and Tresadern, their left half. The result of the match was a draw of 2-2. It is many years since England scored two goals in this representative match with Scotland, and Watson had the distinction of scoring one of them, jumping in the air to make a fine header into the net from a curling shot sent in by Tunstall, the brilliant Sheffield United wing forward.
Of all the great centre-forwards who have worn the number 9 shirt for West Ham United over the years, Vic Watson stands out as the finest.... Scoring on his first team debut from the inside left position versus Port Vale at Upton Park in September 1921... From then on, the goals and honours followed thick and fast, with his 22 League goals being largely responsible for Hammers' promotion to the First Division, and five counters in the FA Cup contributing likewise to the club's appearance in the first Wembley Cup Final.
The holder of all the club's scoring records, the broad shouldered number nine remains West Ham's most prolific goalscorer of all time.... Scored six against Leeds at Upton Park (9 February 1929) and the following season hit a bullseye of goals with 42 First Division tallies and eight in the FA Cup. The six goal blast v Leeds apart, Vic scored four goals in a match on three separate occasions and an amazing 13 hat-tricks during his Hammers career.