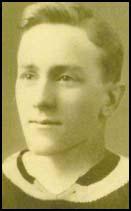 John (Jack) Tresadern was born in Leytonstone on 26th September 1890. After leaving school he worked as a cashier with a firm of ship repairers.
A talented amateur footballer he helped Barking win the London Senior Cup and the South East League in the 1911-1912 season. Syd King, the manager of West Ham United signed Tresadern in 1913.
Tresadern made his debut against Watford on 1st April 1914. The team at that time included George Hilsdon, Syd Puddefoot, Richard Leafe, Herbert Ashton, Tommy Randall, Tommy Brandon, Tom Lonsdale, Albert Denyer and Arthur Stallard. Tresadern only played four games that season.
On the outbreak of the First World War Tresadern joined the Royal Garrison Artillery where he served with future team-mate George Kay. An intelligent man, he reached the rank of Lieutenant during the war.
Tresadern made his first-team debut in 1919 and played in 35 games that season. Although he was fairly small for a defender he developed a reputation for hard-tackling. Charlie Paynter, the West Ham United trainer, was probably thinking of Tresaden's challenges when he claimed: "The bigger they are the harder they fall."
Jimmy Ruffell pointed out: "Jack Tresadern had a great football brain. He thought his way through games. He wasn't big, we called him the mighty atom, but he was naturally bright and seemed to see the game a few passes ahead of where it was. He was quiet but had a very dry sense of humour. He could talk his way in anywhere." One newspaper commented that Tresadern was "undoubtedly one of the cleverest halves the West Ham Club has ever had."
In the 1921-22 season West Ham United finished in 4th place in the Second Division. It was a talented team that included Tresaden, Syd Puddefoot, Jimmy Ruffell, George Kay, Edward Hufton, Vic Watson, Sid Bishop, Billy Brown, Jack Young and Billy Henderson. As Ruffell later commented: "West Ham were a good passing team. Most of the time you had an idea where men were or men would make themselves ready to get the ball from another player. I think we were one of the few clubs to really practice that."
West Ham United enjoyed a good FA Cup run in the 1922-23 season beating Hull City (3-2), Brighton & Hove Albion (1-0), Plymouth Argyle (2-0), Southampton (1-0) and Derby County (5-2) to reach the final against Bolton Wanderers. The final took place at Wembley Stadium, only four days after the stadium had been completed.
The stadium had a capacity of 125,000 and so the Football Association did not consider making it an all-ticket match. After all, both teams only had an average attendance of around 20,000 for league games. However, it was rare for a club from London to make the final of the FA Cup and supporters of other clubs in the city saw it as a North v South game. It is estimated that 300,000 people attempted to get into the ground. Over a thousand people were injured getting in and out of the stadium. When the game eventually got started, Joe Smith and David Jack scored in Bolton's 2-0 victory over West Ham United.
In their next game West Ham United beat Sheffield Wednesday 2-0 to ensure promotion to the First Division. Vic Watson was top scorer with 22 goals and Billy Moore added 15 more.
Tresadern won his first international cap for England against Scotland on 14th April 1923. The game ended in a 2-2 draw with team-mate Vic Watson getting one of the goals. Tresadern had a poor game and admitted: "I was the best player Scotland had on the field." The following month he played in the 4-2 victory over Sweden.
In October 1924 Tresadern was transferred to Burnley. He had scored 5 goals in 144 appearances for West Ham United. Tresadern failed the bring success to his new club finished in 19th place that year. The following season he moved to Northampton Town as player-manager in the Third Division South. He retired from playing after breaking his leg in December 1926. Northampton finished in 2nd place in 1927-1928, 3rd in 1928-1929 and 4th in 1929-1930.
In October 1930 Tresadern became manager of Crystal Palace. In his first season the club just missed promotion by finishing 2nd in the Third Division South. This was followed by 4th (1931-32), 5th (1932-33), 12th (1933-34) and 5th (1934-35).
In June 1935 he left Crystal Palace to join Tottenham Hotspur in the Second Division. In his first season the club finished in 5th place. He failed to improve on this and in April 1938 he left his post to join Plymouth Argyle. The city of Plymouth suffered from mass bombing during the Second World War and had tremendous problems getting the club ready for the 1946-47 season. He left the club in November 1947.
Jack Tresadern, who also managed Chelmsford City, Hastings United and Tonbridge, died on 25th December 1959.
Jack Tresadern had a great football brain. He thought his way through games. He wasn't big, we called him the mighty atom, but he was naturally bright and seemed to see the game a few passes ahead of where it was. He was quiet but had a very dry sense of humour. He could talk his way in anywhere.
However, Tresadern didn't get his first cap until 14 April when he appeared alongside his teammate Vic Watson and wartime Upton Park comrade Sam Chedgzoy. Unfortunately Jack didn't shine. It was the fiftieth official meeting between the most traditional of international rivals at Hampden Park and a sloppy back-pass by Tresadern led to the home side's first goal. Jack's mistake was picked up in a flash by Denis Lawson, and he crossed from the by-line. Ted Taylor, the English keeper handled the ball but fumbled and another wartime Hammer, Andy Cunningham, was quick to punish to make the score 1-1.

Before half-time England were in front again. Chambers found Tunstall out on the wing, and the Sheffield lad pelted down the flank before crossing for Vic Watson, the other Hammer on international duty that day, to score.

Shortly after the interval Andy Wilson fell on a loose ball gyrating towards left-back Wadsworth, who made the lethal error of wavering. Wilson grabbed his opportunity and ran on to score. Although England had taken the lead two times by the final whistle the southerners knew they had been lucky to share the honours with a superior Scottish side.