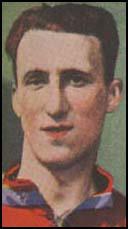 Alfred Earl was born in Earlsfield, London, on 19th March 1903. He played football for Summerstown before signing for West Ham United in 1925. He joined a team that included Stanley Earle, Edward Hufton, Jimmy Ruffell, Jim Barrett, Billy Moore, Vic Watson and Tommy Yews.
Earl made his debut against Aston Villa on 25th December 1925. That season he went onto play 9 league and cup games. Earl only became a regular member of the first team in the 1927-28 season.
West Ham United struggled in the First Division during this period. However, in the 1929-30 season the club finished in 7th place. Vic Watson scored an amazing 50 league and cup games in only 44 games that year.
Tony Hogg points out in Who's Who of West Ham United (2004) that Earl was "a tall, constructive defender who held the right-back position during his eight seasons at Upton Park". By the time Earl left in 1933 he had played in 196 league and cup games. Earl went on to play for Streatham Town and Souchaux in Paris.
Alfred Earl died on 17th August, 1951.
(1) Clara Zetkin, speech at the International Workers' Congress in Paris (19th July, 1889)
What made women's labour particularly attractive to the capitalists was not only its lower price but also the greater submissiveness of women. The capitalists speculate on the two following factors: the female worker must be paid as poorly as possible and the competition of female labour must be employed to lower the wages of male workers as much as possible. In the same manner the capitalists use child labour to depress women's wages and the work of machines to depress all human labour.