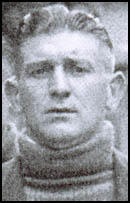 Frank Moss was born in Leyland on 5th November 1909. A goalkeeper, he played for Leyland Motors and Lostock Hall before joining Preston North End in February 1928. He played 24 league games for the club before being transferred to Oldham Athletic in the Second Division.
Moss mainly played in the reserves but Herbert Chapman, the Arsenal manager, saw his potential and bought him for £3,000. Chapman's assistant, Bob Wall, later commented: "What impressed Chapman even more than the sureness of his hands was Frank's physical courage."
He made his debut against Chelsea on 21st November 1931. Moss remained the first-team goalkeeper for the rest of the season. He joined a team that included Alex James, David Jack, Cliff Bastin, Joe Hulme, Eddie Hapgood, Bob John, Jimmy Brain, Tom Parker, Herbert Roberts, Alf Baker and George Male.
Arsenal won the First Division by four points in the 1932-33 season. Alex James was in fine form. So also was Cliff Bastin, the team's left-winger, was top scorer with 33 goals. Moss was also impressive and as Jeff Harris, the author of Arsenal Who's Who, pointed out: "Moss was brave, agile with an uncanny sense of anticipation and kicked well with both feet."
Frank Moss won his first international cap for England against Scotland on 14th April 1934. England won 3-0 and Moss was retained for the games against Hungary (1-2), Czechoslovakia (1-2) and Italy (3-2).
Sunderland was their main challengers to Arsenal in the 1933-34 season thanks to a forward line that included Raich Carter, Patsy Gallacher, Bob Gurney and Jimmy Connor. In March 1934 Sunderland went a point ahead. However, Arsenal had a game in hand and a win against Everton at Goodison Park would give the club the title. During the game Moss suffered a dislocated shoulder and was forced to play on the left-wing. Moss went on to score a goal in Arsenal's 2-0 victory.
Moss played in five games in the 1935-36 season but his dislocated shoulder continued to give him problems and he was replaced by George Swindin. Moss eventually retired from the game at the age of 27 as a result of his shoulder injury.
Frank Moss died on 7th February 1970.