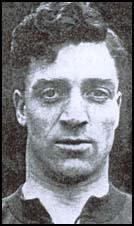 James (Jimmy) Brain was born in Bristol on 11th September 1900. He played in local football in Wales before joining Arsenal at the age of 23 in August 1923. He did not make his league debut until the following season against Tottenham Hotspur on 25th October 1924. That season he scored 12 goals in 28 games, including a hat-trick against Burnley and a four-timer in a game against Leeds United.
Henry Norris, the chairman of Arsenal, sacked Leslie Knighton at the end of the 1924-25 season. Herbert Chapman, the highly successful manager of Huddersfield Town, was persuaded to join Arsenal. Whereas Huddersfield had won the championship, Arsenal had narrowly escaped relegation by finishing in 20th position.
The first man that Herbert Chapman signed was Charlie Buchan, who had scored 209 goals in 380 games for Sunderland. Chapman also purchased Herbert Roberts, Joe Hume and Cliff Bastin. Chapman recognised Brain's talents and he played in 41 games that season.
In the 1925-26 season Arsenal finished in second-place to Chapman's old club, Huddersfield Town. Top scorer was Jimmy Brain who established a new club record with 33 goals. This included four hat-tricks against Everton (twice), Cardiff City and Bury. Brain's partner, Charlie Buchan, was also in great form and scored 21 goals.
Henry Norris refused to allow Herbert Chapman to spend much money to strengthen his team and in the 1926-27 season Arsenal finished in 11th position. Brain scored 31 goals that season which included a hat-trick against Cardiff City and scored a four-timer against Sheffield Wednesday and Burnley.
Arsenal enjoyed a good run in the FA Cup that year. They beat Port Vale (0-1), Liverpool (2-0), Wolverhampton Wanderers (1-0) and Southampton (2-1) to reach the final at Wembley against Cardiff City.
Charlie Buchan later admitted he had a terrible game in the 1927 FA Cup Final. So did the goalkeeper, Dan Lewis, who according to Buchan, with seventeen minutes to go; "He (Lewis) gathered the ball in his arms. as he rose, his knee hit the ball and sent it out of his grasp. In trying to retrieve it, Lewis only knocked it further towards the goal. The ball, with Len Davies following up, trickled slowly but inexorably over the goal-line with hardly enough strength to reach the net."
Soon afterwards, Arsenal had a great chance to draw level. As Charlie Buchan later explained: "Outside-left Sid Hoar sent across a long, high centre. Tom Farquharson, Cardiff goalkeeper, rushed out to meet the danger. The ball dropped just beside the penalty spot and bounced high above his outstretched fingers. Jimmy Brain and I rushed forward together to head the ball into the empty goal. At the last moment Jimmy left it to me. I unfortunately left it to him. Between us, we missed the golden opportunity of the game." Arsenal had no more chances after that and therefore Cardiff City won the game 1-0.
In the 1927-28 season Brain scored 25 goals in 39 league games. This included two hat-tricks against Derby County and Liverpool.
Herbert Chapman gradually adapted the "WM" formation that had originally been suggested by Charlie Buchan. Chapman used his full-backs to mark the wingers (that job had previously been done by the wing-halves). He also developed what became known as the counter-attacking game. This relied on the passing ability of Alex James and goalscoring forwards like Jimmy Brain, David Jack, Joe Hume, Cliff Bastin, and Jack Lambert. Chapman also built up a good defence that included players such as Bob John, Eddie Hapgood, Herbert Roberts, Alf Baker, Tom Parker and George Male.
Success was not immediate and Arsenal finished in 14th place in the 1929-30 season. That year Brain only played in six games and missed the FA Cup Final win over Huddersfield Town. Arsenal won the game 2-0 with goals from Alex James and Jack Lambert.
The following season Arsenalwon their first ever First Division Championship with a record 66 points. The Gunners only lost four games that season. Jack Lambert was top-scorer with 38 goals. Brain scored 4 goals in 16 league games and therefore qualified for a league championship medal.
In September 1931 Brain was transferred to Tottenham Hotspur. Over the nest three years he scored 10 goals in 45 games. He also played for Swansea Town (25 goals in 51 games) and Bristol City (9 goals in 32 games). Brain also managed King's Lynn and Cheltenham Town.
Jimmy Brain died in 1971.