Henry Norris was born into a working-class family in London on 23rd July, 1865. He left school at 14 to work at a solicitor's firm.
Several years later he began building houses in North London. A member of the Conservative Party he became a local councillor. Norris became extremely wealthy as a result of his property development company and invested in Fulham Football Club. He was also a prominent Freemason, rising to become Grand Deacon of the United Grand Lodge of England.
In 1893 Arsenal was elected to the Second Division of the Football League. It was decided that Arsenal needed to buy its own ground. The only way to raise enough money for this venture was to form a limited liability company. Most of the shareholders were manual workers who lived locally. However, Norris began buying shares in Arsenal and eventually became the chairman of the club.
Leslie Knighton who worked under Norris later commented: "I have never met his equal for logic, invective and ruthlessness against all who opposed him. When I disagreed with him at board meetings and had to stand up for what I knew was best for the club, he used to flay me with words until I was reduced to fuming, helpless silence."
In the 1912-13 season Arsenal finished bottom of the First Division and were relegated. Henry Norris believed that the club had to move to an area which was highly populated and had a good transport network. Eventually he paid £20,000 for a 21 year lease on land owned by the Church of England at Highbury.
One of the great advantages of the site was its proximity to Gillespie Road underground station. Tottenham Hotspur, Leyton Orient and Chelsea all complained to the League Management Committee about the proposed new stadium as they feared it would reduce the number of people attending their games. However, after a meeting in March 1913, the Football League announced "that under the rules and practice of the League we have no right to interfere."
It cost Henry Norris £80,000 to build
Highbury Stadium
. Norris desperately needed
Arsenal
to get back into the First Division if he was to get a profit out of his investment. However, in the 1913-14 season Arsenal finished in 3rd place and failed to go up because of a worse goal average than
Bradford Park Avenue
. The outbreak of the
First World War
made it impossible for Arsenal to win promotion over the next four years.
During the war Norris worked as a military recruitment officer for the British Army. In 1917 he was knighted and given the honorary rank of colonel for services to his country during the war.
In the 1918 General Election Henry Norris was elected to the House of Commons as the Conservative Party member for Fulham East.
At the end of the war it was decided to increase the First Division from 20 to 22 clubs. One solution to the problem was to allow the relegated clubs in the 1914-15 season, Chelsea and Tottenham Hotspur, to remain in the First Division. However, Henry Norris disputed this idea. He argued that a great deal of match-fixing had gone on in the 1914-15 season and that league positions should be disregarded. The reason for this was that Arsenal had finished in 5th place in the Second Division in the 1914-15 season and therefore had no grounds for being elected to the First Division.
It was decided to give Chelsea one of the vacant places in the First Division. However, Norris persuaded the league chairman to vote on the other club to join them. Arsenal won the ballot with 18 votes. Spurs only got 8 whereas Barnsley, who finished 3rd in the Second Division in the 1914-15 season, received 5 votes. Many people were of the opinion that Norris had bribed his fellow chairmen in order to win the election.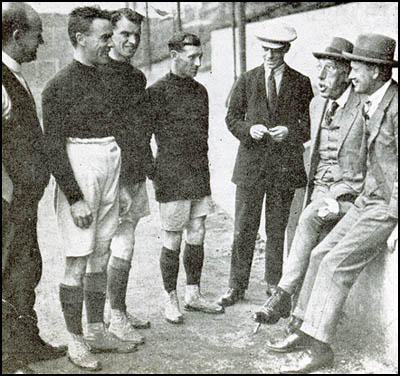 In June 1919 Henry Norris appointed Leslie Knighton as manager of Arsenal. However, Knighton was just a figurehead and Norris took all the major decisions. For example, he told Knighton he could not spend more than £1,000 on anyone player. Nor was he allowed to sign anyone under 5 foot 8 inches or 11 stone. Knighton was also ordered to abandon the Arsenal scouting system.
In his autobiography Leslie Knighton wrote in some detail about Henry Norris: "I have never met his equal for logic, invective and ruthlessness against all who opposed him. When I disagreed with him at board meetings and had to stand up for what I knew was best for the club, he used to flay me with words until I was reduced to fuming, helpless silence."
Understandably, the club enjoyed no success under Knighton's managership. Although he did manage to buy some excellent players such as Alf Baker, Ray John and Jimmy Brain. Arsenal's best league position was 9th in 1921. In the FA Cup Arsenal only got beyond the second round once, in 1922, when they lost to Preston North End in the quarter finals after a replay.
Henry Norris sacked Leslie Knighton at the end of the 1924-25 season. Norris advertised the job in the Athletic News on 11th May 1925. It read: "Arsenal Football Club is open to receive applications for the position of Team Manager. He must be experienced and possess the highest qualifications for the post, both as to the ability and personal character. gentlemen whose sole ability to build up a good side depends on the payment of heavy and exorbitant transfer fees need not apply."
In the summer of 1925 Herbert Chapman, the highly successful manager of Huddersfield Town, was persuaded to join Arsenal. Whereas Huddersfield had won the championship, Arsenal had narrowly escaped relegation by finishing in 20th position.
The first man that Chapman signed was Charlie Buchan, who had scored 209 goals in 380 games for Sunderland. Bob Kyle, the Sunderland manager, explained to Buchan the complex arrangements of the deal: "We pay Sunderland cash down £2,000, and then we hand over £100 to them for every goal you score during your first season with Arsenal."
In the 1925-26 season Arsenal finished in second-place to Chapman's old club, Huddersfield Town. Top scorer was Jimmy Brain who established a new club record with 33 goals. Charlie Buchan scored 21 goals that season which brought the amount paid by Arsenal to Sunderland to £4,100.
Henry Norris refused to allow Herbert Chapman to spend much money to strengthen his team and in the 1926-27 season Arsenal finished in 11th position.
In 1927 the Daily Mail reported that Henry Norris had made under-the-counter payments to Sunderland's Charlie Buchan as an incentive for him to join Arsenal in 1925. The Football Association began an investigation of Norris and discovered that he had used Arsenal's expense accounts for personal use, and had obtained the proceeds of £125 from the sale of the team bus. Norris sued the newspaper and the FA for libel, but in February 1929 he lost his case. The FA now banned Norris from football for life.
Sir Henry Norris died of a massive heart attack on 30th July 1934
In 1909-10 there was a grave financial crisis. At one time it looked like relegation to make matters worse, but a good spell in April saved that situation. Even then Arsenal finished only two points above Chelsea who went down with Bolton. Gates were as bad as the playing results and it looked as though Arsenal might go out of existence altogether.

The club was kept alive by the intervention of Mr. (later Sir) Henry Norris, the chairman of Fulham, and William Hall, one of his directors. Norris decided to take over Arsenal, amalgamate with Fulham and move, lock, stock, and barrel, to Craven Cottage. Alternatively, he wanted Arsenal to share Craven Cottage with Fulham.

The League turned down both proposals. It was one of the few major issues that Norris failed to win. He was one of the last soccer Czars, those men who found in the running of a famous club an outlet for their ambition and love of power. He poured money into the club although he knew there would be no financial return, because he saw in Arsenal, London's oldest club, the ideal medium for his ambitions. He foresaw its revival under his regime to become not merely the premier side in the South but also the leading one in the land.

Norris was nothing less than a dictator. Within the club his word was law and he would listen to nobody. His assurance was formidable, based on a powerful personality and substantial wealth. He was the Mayor of Fulham, a post he held for seven years; M.P. for Fulham East from 1918 to 1922 and as an estate agent he was responsible for building 2,000 houses in the Wimbledon and Fulham areas. He knew what he wanted and invariably got it, using any weapon that would serve his end and dealing ruthlessly with his opponents. His masterful eyes were accentuated by pince-nez, and an untidy walrus moustache instead of softening, only exaggerated, the leanness of his face.

Ruthless, logical and a master of invective, he established the foundations on which the modern Arsenal was erected. Inevitably his methods brought him into conflict with the authorities and eventually they forced him out of football. On the whole, however, and perhaps surprisingly, he did the game far more good than harm.