The Encylopedia of British Football
Leslie Knighton
Albert Leslie Knighton was born in Derbyshire on 15th March 15, 1884. He worked as an assistant manager at Huddersfield Town and Manchester City.
In June 1919 Henry Norris appointed Knighton as manager of Arsenal. However, Knighton was just a figurehead and Norris took all the major decisions. For example, he told Knighton he could not spend more than £1,000 on anyone player. Nor was he allowed to sign anyone under 5 foot 8 inches or 11 stone. Knighton was also ordered to abandon the Arsenal scouting system.
In his autobiography Knighton wrote in some detail about Henry Norris: "I have never met his equal for logic, invective and ruthlessness against all who opposed him. When I disagreed with him at board meetings and had to stand up for what I knew was best for the club, he used to flay me with words until I was reduced to fuming, helpless silence."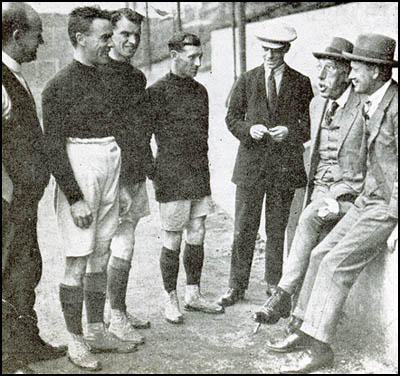 Understandably, the club enjoyed no success under Knighton's managership. Although he did manage to buy some excellent players such as Alf Baker, Bob John and Jimmy Brain. Arsenal's best league position was 9th in 1921. In the FA Cup Arsenal only got beyond the second round once, in 1922, when they lost to Preston North End in the quarter finals after a replay.
Henry Norris sacked Leslie Knighton at the end of the 1924-25 season. Norris advertised the job in the Athletic News on 11th May 1925. It read: "Arsenal Football Club is open to receive applications for the position of Team Manager. He must be experienced and possess the highest qualifications for the post, both as to the ability and personal character. gentlemen whose sole ability to build up a good side depends on the payment of heavy and exorbitant transfer fees need not apply."
After leaving Arsenal, Knighton went on to manage Bournemouth (1925-28), Birmingham City (1928-33), Chelsea (1933-39), and Shrewsbury Town (1945-48).
Knighton retired to Bournemouth where he wrote an excellent autobiography, Behind the Scenes in Big Football (1948).
Leslie Knighton died on 10th May 10, 1959.
Leslie Knighton, who has never really been given credit for the vast amount of good he did at Highbury immediately preceding the Chapman era.

When Knighton went to Highbury in June 1919 (shortly before I became a professional) the club had just come through a disastrous World War and were £60,000 in debt. Little more than six years later, when he was dismissed to make room for Herbert Chapman, the club was free of debt and had a number of fine players on the books.

Leslie then went to join the Bournemouth club, which was so poor financially that the wooden stand held only forty people! In that 1925-26 season Bournemouth reached the senior rounds of the Cup for the first time, were beaten by Bolton Wanderers, the eventual winners, and for the first time in the history of the club, made a profit at the end of the season.