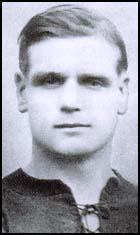 Alfred (Alf) Baker was born in Ilkeston on 27th April 1898. He played football for Eastwood Rangers before joining Woolwich Arsenal in May 1919. The manager, Leslie Knighton, gave Baker his debut on the first day of the following season against Newcastle United.
The club enjoyed little success under Knighton's managership. Arsenal's best league position was 9th in 1921. In the FA Cup Arsenal only got beyond the second round once, in 1922, when they lost to Preston North End in the quarter finals after a replay.
In 1924 Leslie Knighton appointed Baker as captain. That year he also represented the Football League in a game against the Scottish League.
Henry Norris, the chairman of Arsenal, sacked Leslie Knighton at the end of the 1924-25 season. Herbert Chapman, the highly successful manager of Huddersfield Town, was persuaded to join Arsenal. Whereas Huddersfield had won the championship, Arsenal had narrowly escaped relegation by finishing in 20th position.
The first man that Herbert Chapman signed was Charlie Buchan, who had scored 209 goals in 380 games for Sunderland. Chapman also purchased Herbert Roberts, Joe Hume and Cliff Bastin. Chapman normally employed Baker as a right-back but he also played at right-half.
In the 1925-26 season Arsenal finished in second-place to Chapman's old club, Huddersfield Town. Top scorer was Jimmy Brain who established a new club record with 33 goals. Baker scored six goals in 31 league games.
Henry Norris refused to allow Herbert Chapman to spend much money to strengthen his team and in the 1926-27 season Arsenal finished in 11th position. However, they did enjoy a good run in the FA Cup. They beat Port Vale (0-1), Liverpool (2-0), Wolverhampton Wanderers (1-0) and Southampton (2-1) to reach the final at Wembley against Cardiff City. However, they lost the game 1-0.
Baker won his first and only international cap for England against Wales on 28th November 1927. The England team that day also included his team mate Joe Hume. England lost the game 2-1.
Herbert Chapman gradually adapted the "WM" formation that had originally been suggested by Charlie Buchan. Chapman used his full-backs to mark the wingers (that job had previously been done by the wing-halves). He also developed what became known as the counter-attacking game. This relied on the passing ability of Alex James and goalscoring forwards like David Jack, Jimmy Brain, Joe Hume, Cliff Bastin, and Jack Lambert. Chapman also built up a good defence that included players such as Alf Baker, Bob John, Eddie Hapgood, Herbert Roberts, Tom Parker and George Male.
Success was not immediate and Arsenal finished in 14th place in the 1929-30 season. They did much better in the FA Cup. Arsenal beat Birmingham City (1-0), Middlesbrough (2-0), West Ham United (3-0) and Hull City (1-0) to reach the final against Chapman's old club, Huddersfield Town. Arsenal won the game 2-0 with goals from Alex James and Jack Lambert.
After scoring 23 goals in 310 league games for Arsenal, Baker decided to retire from football in May 1931. He later worked as a scout for the club.
Alf Baker died in April 1955.