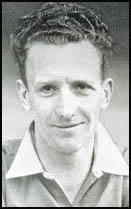 Herbert (Herbie) Roberts was born in Oswestry on 19th February 1905. Roberts became a gunsmith apprentice but also played football for Oswestry Town. In December 1926, Herbert Chapman persuaded Roberts to join Arsenal. Roberts, who only cost a transfer fee of £200, is considered to be one of Chapman's best ever buys.
Roberts made his debut against Aston Villa on 18th April 1927 but he failed to become a regular member of the first team.
After Newcastle United beat Arsenal 7-0, Herbert Chapman called a player conference. According to Tom Whittaker, the Arsenal trainer, Charlie Buchan suggested: "Why not have a defensive centre-half, or third full-back, to block the gap down the middle?" Buchan added that one of the inside-forwards should drop back and become a link between defence and attack. This later became known as the "WM" formation.
Jack Butler was initially selected to play the centre-half role. However, he was soon replaced by Herbert Roberts, who was the reserve wing-half at the time. Cliff Bastin later pointed out that: "As an all-round player he may have had his failings, but he fitted in perfectly with the Arsenal scheme of things." Roberts became known as the "stopper" or the "policeman" and rarely moved upfield. Tom Whittaker added: "Roberts's genius came from the fact that he was intelligent, and even more important, that he did what he was told."
Herbert Chapman gradually adapted the "WM" formation. He used his full-backs to mark the wingers (that job had previously been done by the wing-halves). He also developed what became known as the counter-attacking game. This relied on the passing ability of Alex James and goalscoring forwards like David Jack, Jimmy Brain, Joe Hume, Cliff Bastin, and Jack Lambert. Chapman also built up a good defence that included players such as Roberts, Bob John, Eddie Hapgood, Alf Baker, Tom Parker and George Male.
Success was not immediate and Arsenal finished in 14th place in the 1929-30 season. They did much better in the FA Cup. Arsenal beat Birmingham City (1-0), Middlesbrough (2-0), West Ham United (3-0) and Hull City (1-0) to reach the final against Chapman's old club, Huddersfield Town. Unfortunately Roberts got injured and missed the final that Arsenal won by 2-0 with goals from Alex James and Jack Lambert.
The following season Arsenal won their first ever First Division Championship with a record 66 points. The Gunners only lost four games that season. Roberts only missed two league games that season. Jack Lambert was top-scorer with 38 goals. Other important players in the team included Frank Moss, Alex James, David Jack, Cliff Bastin, Joe Hume, Eddie Hapgood, Bob John, Jimmy Brain, Tom Parker, Alf Baker and George Male.
Jeff Harris argues in his book, Arsenal Who's Who: "Off the field Herbie was a gentleman, shy and unassuming, on the field he was known as Policeman Roberts whose main aim was to blot out and stop the opponents' centre-forward and these policies made him into one of the most unpopular players the length and breadth of the country. Whether it be at Portsmouth or Sunderland the unruffled red haired Roberts was abused and barracked when ever he played away."
Roberts won his first and only international cap for England against Scotland on 28th March 1931. The England team that day also included Dixie Dean, Gordon Hodgson and Sammy Crooks. England lost the game 2-0 and Roberts never played for his country again.
Alex James, who now played the link role, was injured for a large part of the 1931-32 season and this was a major factor in Arsenal losing the title by two points to Everton. James was back in the 1932-33 season. Arsenal won the First Division by four points that season. Cliff Bastin, the team's left-winger, was top scorer with 33 goals. Joe Hume, the right-winger, scored 20 goals. Roberts played in 36 games that season.
Roberts played in 30 games when Arsenal won the league championship in the 1933-34 season. However, a serious knee injury, that needed a cartilage operation, put Ted Drake out of action for ten weeks in the following season. Arsenal missed his goals and only finished in 6th place behind Sunderland. Arsenal did much better in the FA Cup that season. Arsenal beat Liverpool (2-0), Newcastle United (3-0), Barnsley (4-1) and Grimsby Town (1-0) to reach the final against Sheffield United. Drake, who was not fully fit, scored the only goal of the game and Roberts had won his first cup winners' medal.
Roberts struggled with injuries all his career and was forced to retire from the game at the end of the 1937-38 season. He had played in 333 league and cup games for Arsenal. A appointed Roberts as trainer to the reserve team.
On the outbreak of the Second World War Roberts became a lieutenant in the Royal Fusilliers. He died of erysipelas on 19th June 1944.