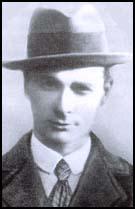 John (Jack) Butler was born in Colombo, Ceylon (Sri Lanka) on 14th August 1894. He played local football before joining Woolwich Arsenal in March 1914.
During the First World War he served with the British Army on the Western Front and did not make his league debut against Bolton Wanderers on 15th November 1919. That season he played in 21 league games.
At that time Leslie Knighton was the manager of Woolwich Arsenal. However, Knighton was just a figurehead and Henry Norris took all the major decisions. For example, Norris told Knighton he could not spend more than £1,000 on anyone player. Nor was he allowed to sign anyone under 5 foot 8 inches or 11 stone. Knighton was also ordered to abandon the Arsenal scouting system.
Understandably, the club enjoyed no success under Knighton's managership. Although he did manage to buy some excellent players such as Alf Baker, Bob John and Jimmy Brain. Arsenal's best league position was 9th in 1921. In the FA Cup Arsenal only got beyond the second round once, in 1922, when they lost to Preston North End in the quarter finals after a replay.
Butler continued to play well in this struggling side and on December 1924 he won his first and only international cap for England against Belgium. England won the game 4-0.
Henry Norris sacked Leslie Knighton at the end of the 1924-25 season. In the summer of 1925 Herbert Chapman, the highly successful manager of Huddersfield Town, was persuaded to join Arsenal. Whereas Huddersfield had won the championship, Arsenal had narrowly escaped relegation by finishing in 20th position.
At that time most teams played in the 2-3-5 formation. This system dominated football until 1925 when the Football Association decided to change the offside rule. The change reduced the number of opposition players that an attacker needed between himself and the goal-line from three to two. Charlie Buchan suggested to Herbert Chapman, that the team should exploit this change in the law to create a new playing formation. At that time the centre-half played a much more attacking role. Buchan argued that the club should now have a more defence-minded player in that position and that he, rather than the two full-backs, should take responsibility for the offside trap. Buchan added that the full-backs should play just in front of the centre-half whereas one of the inside-forwards should act as a link between attack and defence. The formation was therefore changed from 2-3-5 to 3-3-4.
Herbert Chapman did not accept Buchan's suggestion at first. However, after Newcastle United beat Arsenal 7-0, Chapman called a player conference. According to Tom Whittaker, Buchan suggested: "Why not have a defensive centre-half, or third full-back, to block the gap down the middle?" Buchan added that one of the inside-forwards should drop back and become a link between defence and attack. This later became known as the "WM" formation.
Jack Butler was initially selected to play the centre-half role. In the 1925-26 season he played in 41 league games. Arsenal finished in second-place to Chapman's old club, Huddersfield Town. Top scorer was Jimmy Brain who established a new club record with 33 goals.
Henry Norris refused to allow Herbert Chapman to spend much money to strengthen his team and in the 1926-27 season Arsenal finished in 11th position. However, they did enjoy a good run in the FA Cup. They beat Port Vale (0-1), Liverpool (2-0), Wolverhampton Wanderers (1-0) and Southampton (2-1) to reach the final at Wembley against Cardiff City. Arsenal lost the game 1-0.
Butler lost his place in the team to Herbie Roberts and in June 1930 he was transferred to Torquay United for £1,000. He had scored 7 goals in 267 games for Arsenal. After playing 50 games for his new club he became a football coach in Belgium.
In 1940 Butler became trainer at Leicester City. He also managed Torquay United (1946-47), Crystal Palace (1947-49) and Colchester United (1953-55).
Jack Butler died on 5th January 1961.