Sicily in the Second World War
Sicily is an island in the Mediterranean Sea, south-west of Italy. During the early stages of the Second World War the island was under the control of Benito Mussolini and his fascist government.
At the Casablanca Conference held in January 1943, Winston Churchill and Franklin D. Roosevelt decided to launch an invasion of Sicily. It was hoped that if the island was taken Italy might withdraw from the war. It was also argued that a successful invasion would force Adolf Hitler to send troops from the Eastern Front and help to relieve pressure on the Red Army in the Soviet Union.
The operation was placed under the supreme command of General Dwight D. Eisenhower. General Harold Alexander was commander of ground operations and his 15th Army Group included General George Patton (US 7th Army) and General Bernard Montgomery (8th Army). Admiral Andrew Cunningham was in charge of naval operations and Air Marshal Arthur Tedder was air commander.
On 10th July 1943, the 8th Army landed at five points on the south-eastern tip of the island and the US 7th Army at three beaches to the west of the British forces. The Allied troops met little opposition and Patton and his troops quickly took Gela, Licata and Vittoria. The British landings were also unopposed and Syracuse was taken on the the same day. This was followed by Palazzolo (11th July), Augusta (13th July) and Vizzini (14th July), whereas the US troops took the Biscani airfield and Niscemi (14th July).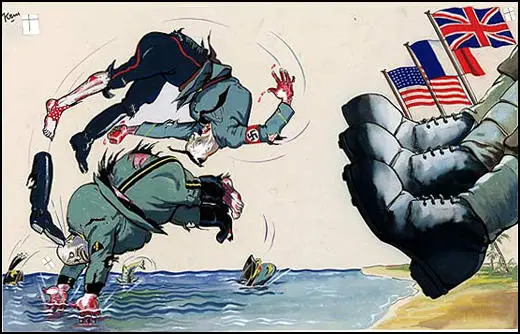 General George Patton now moved to the west of the island and General Omar Bradley headed north and the German Army was forced to retreat to behind the Simeto River. Patton took Palermo on 22nd July cutting off 50,000 Italian troops in the west of the island. Patton now turned east along the northern coast of the island towards the port of Messina.
Meanwhile General Bernard Montgomery and the 8th Army were being held up by German forces under Field Marshal Albrecht Kesselring. The Allies carried out several amphibious assaults attempted to cut off the Germans but they were unable to stop the evacuation across the Messina Straits to the Italian mainland. This included 40,000 German and 60,000 Italian troops, as well as 10,000 German vehicles and 47 tanks.
On 17th August 1943, General George Patton and his troops marched into Messina. The capture of the island made it possible to clear the way for Allied shipping in the Mediterranean. It also helped to undermine the power of Benito Mussolini and Victor Emmanuel III forced him to resign.