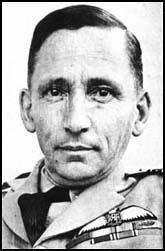 Arthur Tedder, the son of a civil servant, was born in Glenguin, Scotland, on July, 1890. Educated at Magdalene College, Cambridge, he won the Prince Consort Prize for History in 1913.
A member of the Special Reserve of the Dorset Regiment, he joined the Royal Flying Corps in 1916. After carrying out bombing and reconnaissance missions he was given command of 70 Squadron.
Tedder joined the Royal Air Force after the war and in 1929 joined the RAF Staff College at Cranston. Other posts include head of the Air Armament School (1934-36), Director of training at the Air Ministry (1936-38) and Air Officer Commander in Singapore (1936-38).
Promoted to vice marshall Tedder was appointed director general of Research and Development in the Air Ministry in 1938. He held this post until he became air commander in the Middle East in 1940 and played an important role in the defeat of Erwin Rommel in the Desert War.
After the successful conquest of Tunisia and Sicily he was appointed as deputy Supreme Allied Commander under General Dwight Eisenhower. The two men worked closely together in planning the D-Day landings in the summer of 1944. Tedder was responsible for providing tactical air support and was a strong advocate of destroying Germany's communication system during the invasion.
Tedder's views brought him into conflict with Arthur Harris, Trafford Leigh-Mallory and Carl Spaatz. The British prime minister, Winston Churchill, who considered Tedder to be too much under the influence of the Americans, also had doubts about the wisdom of carrying out heavy bombing raids on France before the invasion.
In January 1945 Tedder met Joseph Stalin to discuss the war against Germany and on 8th May 1945 he led the Allied delegation to Berlin that accepted the surrender of the government of Nazi Germany. Tedder became Chief of the Air Staff in 1946.
After his retirement from the Royal Air Force in 1950 Tedder, now the Ist Baron of Glenquin, was chairman of the British Joint Services Commission in Washington before becoming Chancellor of Cambridge University. Arthur Tedder, who published his memoirs With Prejudice in 1966, died in Surrey on 3rd June, 1967.