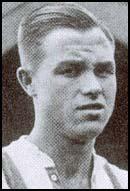 Frederick (Freddie) Steele was born in Hanley on 6th May 1916. A talented footballer he joined Stoke City in 1931 and signed as a professional in August 1933. He made his debut against Huddersfield Town in December 1934 and scored his first goal later that month against West Bromwich Albion.
Steele joined a team that included Stanley Matthews. The two men developed a great partnership with Matthews supplying the passes for many of his goals. Matthews later stated: "Whenever the ball came to him, the reporters in the press box sharpened their pencils in anticipation. In the penalty box he was lethal, clinical and merciless."
Steele won his first international cap for England against Wales on 17th October, 1936. England lost the game 2-1. Steele retained his place in the side and scored in the 3-1 victory over Northern Ireland. The England team that season included Sam Barkas, Cliff Bastin, Jackie Bray, Cliff Britton, Raich Carter, Sammy Crooks, George Holdcroft, George Male, Stanley Matthews, Tom Smalley, Bert Sproston, Ray Westwood, Vic Woodley, Fred Worrall and Alf Young.
In the 1936-37 season Steele scored 33 league goals, a club record. He also retained his place in the England team. On 14th May, 1937, Steele scored two goals in the 6-0 victory over Norway. In the next match he scored a hat-trick against Sweden (4-0) and two more against Finland (8-0). Steele had now scored 8 goals in 6 games for his country. However, he then suffered a serious knee injury that brought an end to his international career.
The outbreak of the Second World War interrupted his football career. He returned to Stoke City and had scored 140 goals in 224 league games before joining Mansfield Town as player-manager in June 1949. Although he was past his best he still managed to score 39 goals in 53 games. In the 1951-52 season he was player-manager for Port Vale.
Freddie Steele died on 23rd April 1976.