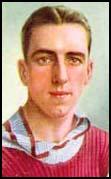 Frank Broome was born in Berkheamstead on 11th June 1915. He played local football for Boxworth United and Berkhamstead Town before joining Aston Villa in November 1934.
Broome, a small, forceful winger, made his debut in the 1934-35 season. However, he did not obtain a regular place in the side until the 1936-37 season when he scored 28 goals in 38 games. He was also top scorer in the following season when Aston Villa won the Second Division league title.
According to Tony Matthews, the author of Who's Who of Aston Villa, Broome was "a terrific marksman, speedy and extremely dangerous inside the penalty area... who was adept at switching positions during a game and often caused defenders all sorts of trouble."
In May 1938 Broome was selected for the England tour of Europe. The first match was against Germany in Berlin. Adolf Hitler wanted to make use of this game as propaganda for his Nazi government. While the England players were getting changed an Football Association official went into their dressing-room and told them that they had to give the raised arm Nazi salute during the playing of the German national anthem. As Matthews later recalled: "The dressing room erupted. There was bedlam. All the England players were livid and totally opposed to this, myself included. Everyone was shouting at once. Eddie Hapgood, normally a respectful and devoted captain, wagged his finger at the official and told him what he could do with the Nazi salute, which involved putting it where the sun doesn't shine."
The FA official left only to return some minutes later saying he had a direct order from Sir Neville Henderson the British Ambassador in Berlin. The players were told that the political situation between Britain and Germany was now so sensitive that it needed "only a spark to set Europe alight". As a result the England team reluctantly agreed to give the Nazi salute.
The game was watched by 110,000 people as well as senior government figures such as Herman Goering and Joseph Goebbels. Broome scored one of the goals in England's 6-3 victory. The England team that day also included Eddie Hapgood, Cliff Bastin, Len Goulden, Stanley Matthews, Bert Sproston, Vic Woodley and Alf Young. England won the game 6-3.
Later that month Broome played in the games against Switzerland (1-2) and France (4-2). Broome scored against France and he scored a third goal in a game against Yugoslavia on 18th May 1939. in his autobiography, Stanley Matthews described how Eddie Hapgood was injured during the game and at a time when substitutes were not allowed, Broome was forced to play at full-back. "Yugoslavia took a first-half lead but just after half-time, Frank Broome made a great overlapping run on our left and cut in to score a great equaliser."
On Friday, 1st September, 1939, Adolf Hitler ordered the invasion of Poland. On Sunday 3rd September Neville Chamberlain declared war on Germany. The government immediately imposed a ban on the assembly of crowds and as a result the Football League competition was brought to an end.
On 14th September, the government gave permission for football clubs to play friendly matches. In the interests of public safety, the number of spectators allowed to see these games was limited to 8,000. These arrangements were later revised, and clubs were allowed gates of 15,000 from tickets purchased on the day of the game through the turnstiles. The government imposed a fifty mile travelling limit and the Football League divided all the clubs into seven regional areas where games could take place.
During the Second World War Broome guested for Birmingham City, Charlton Athletic, Wolverhampton Wanderers, Chesterfield, Nottingham Forest and Notts County.
Broome, who had scored 78 goals in 136 games for Aston Villa was sold to Derby County in 1946. Broome developed a great partnership with Raich Carter and Peter Doherty and in 1946 the club reached the final of the FA Cup. Derby beat Charlton Athletic 4-1 in the final at Wembley.
After scoring 35 goals in 105 games for Derby County Broome moved to Brentford in 1953. The following season he played for Crewe Alexandra.
Broome managed several football clubs including Notts County (1955-57), Exeter City (1958-60 & 1967-69) and Southend United (1960-61) before coaching in Australia and the Middle East.
Frank Broome died in a nursing home just outside of Exeter on 10th September 1994.