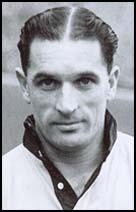 John (Johnny) Hancocks was born Oakengates on 30th April 1919. A talented footballer he joined Walsall in August 1938. Despite the fact he was only 5 feet 4 inches tall, he had a good first season scoring nine goals in 30 games.
His football career was interupted by the Second World War. He joined the British Army in 1940 and like many professional footballers became a physical training instructor.
In May 1946 he was signed by Ted Vizard, the manager of Wolverhampton Wanderers for a fee of £4,000. He made his league debut on 11th May 1946 against Arsenal. Wolves finished in third place in the 1946-47 season. The following season Hancocks was in great form finishing as joint top scorer with Jesse Pye with 16 goals.
Ted Vizard was replaced by his assistant Stan Cullis in June 1948. Hancocks continued in good form and he won his first international cap for England against Switzerland on 2nd December, 1948. Hancocks scored two goals in the 6-0 victory. However, he found himself in competition with Stanley Matthews and Tom Finney for the wing position and only played in two more games for his country: Wales (4-1) and Yugoslavia (2-2).
In 1949 Stan Cullis led Wolves to the FA Cup final against Leicester City. The team for the final included Hancocks, Sammy Smyth, Jesse Pye, Jimmy Dunn, Jimmy Mullen, Billy Crook, Roy Pritchard, Billy Wright, Bert Williams, Bill Shorthouse and Terry Springthorpe. Wolves won the game 3-1 with Pye scoring two goals in the first-half and Smythe netting another in the 68th minute.
In the 1952-53 season Wolves finished in 3rd place in the First Division. Peter Broadbent formed a great partnership with Hancocks. As the manager, Stan Cullis, pointed out in his autobiography, All For the Wolves (1960): "We often used him (Broadbent) as an advanced winger lying on the touchline twenty yards or more ahead of Hancocks. When the ball came out of defence to Hancocks, he was able to chip it accurately to Broadbent who was frequently clear on his own. This stratagem, designed to make the fullest use of the best qualities of both players, was also extremely successful, for the full-back marking Hancocks was caught between two men and played out of the game."
Wolves won the First Division championship in the 1953-54 season with four more points than their nearest challenger, West Bromwich Albion. They scored an impressive 96 goals. Hancocks was the top scorer with 25 goals.
In the 1954-55 season lost the services of Roy Swinbourne who was injured early in the season. Despite the goals of Johnny Hancocks and Dennis Wilshaw (20) Wolves could only finish second to Chelsea.
After Stan Cullis signed Harry Hooper from West Ham United in 1956 Hancocks lost his place in the side. In 1957 he became player/manager of non-league Wellington Town. He left the club in 1959 and played for a season with Cambridge United.
Johnny Hancocks worked for Maddock & Sons in Oakengates, until taking retirement on his 60th birthday in 1979. He died on 19th February 1994.