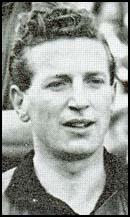 Samuel (Sammy) Smyth was born in Belfast on 25th February 1925. An inside-forward, he played for Linfield and Dunela before being signed by Ted Vizard, the manager of Wolverhampton Wanderers in July 1947 for a fee of £1,100. He joined a team that included Johnny Hancocks, Dennis Westcott, Jesse Pye, Jimmy Dunn, Jimmy Mullen, Billy Crook, Roy Pritchard, Billy Wright, Bert Williams, Bill Shorthouse and Terry Springthorpe.
Despite taking Wolves to third place in the 1946-47 season Ted Vizard was replaced by his assistant Stan Cullis in June 1948. The following year Cullis led Wolves to the FA Cup final against Leicester City. Wolves won the game 3-1 with Jesse Pye scoring two goals in the first-half and Smyth netting another in the 68th minute.
The following season Wolves finished in 2nd place in the First Division. However, Smyth was sold to Stoke City in September 1951 for a fee of £25,000. He had scored 43 goals in 116 cup and league appearances for Wolves. Smyth only stayed with his new club for one season. In January 1951 he was sold to Liverpool for £12,000.
Smyth made his debut for his new club against Stoke City in January 1953. The following month he scored the first of his 20 goals for the club against Middlesbrough. He was sold to Bangor for £2,000 in January 1955. He retired from football at the end of the 1954-55 season.
Smyth returned to Belfast where he worked as a bookmaker. Later he opened his own sports shop business.