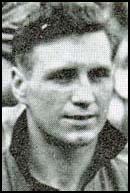 James Mullen was born in Newcastle-on-Tyne on 6th January 1923. He played for England Schoolboys before being signed by Major Frank Buckley, the manager of Wolverhampton Wanderers.
He was just 16 years and 43 days old when he made his debut for Wolves in their 4-1 win over Leeds United on the 18th February 1939. An outside-left he joined a team that included Stan Cullis, Bill Morris, Dennis Westcott, Alex Scott, Tom Galley, Dicky Dorsett, Bill Parker, Joe Gardiner, Billy Wright, Joe Rooney and Teddy Maguire.
In the 1938-39 season Wolves finished second to Everton. The centre-forward Dennis Westcott scored 43 goals in 43 appearances. His fellow striker, Dicky Dorsett managed 26 goals that season. The captain of the side, Stan Cullis, was generally acknowledged as the best centre-half in the Football League.
The outbreak of the Second World War in 1939 brought an end to the Football League. The government imposed a fifty mile travelling limit on all football teams and the Football League divided all the clubs into seven regional areas where games could take place. Wolves joined the Midland League with West Bromwich Albion, Birmingham City, Coventry City, Luton Town, Northampton Town, Leicester City and Walsall. Wolves won the 1939-40 championship. Mullen scored five goals in 31 games that season. By the end of the war he had managed 27 goals in 87 appearances.
Major Frank Buckley resigned as manager of Wolves on 8th February 1944. After receiving over a hundred applications the board appointed Ted Vizard as the new manager. Vizard appointed Billy Wright as captain of Wolves when Stan Cullis was forced to retire from football in 1946.
Mullen won his first international cap for England against Scotland on 12th April 1947. The game was drawn 1-1. The England team included Raich Carter, Neil Franklin, George Hardwick, Harry Johnston, Tommy Lawton, Wilf Mannion, Laurie Scott, Stanley Matthews, Billy Wright and Frank Swift. The problem for Mullen was that he was competing for the place held by Tom Finney, one of the best footballers playing at that time.
Despite taking Wolves to third place in the 1946-47 season Ted Vizard was replaced by his assistant Stan Cullis in June 1948. The following year Cullis led Wolves to the FA Cup final against Leicester City. The team for the final included Mullen, Johnny Hancocks, Sammy Smythe, Jesse Pye, Jimmy Dunn, Jimmy Mullen, Billy Crook, Roy Pritchard, Billy Wright, Bert Williams, Bill Shorthouse and Terry Springthorpe. Wolves won the game 3-1 with Pye scoring two goals in the first-half and Smythe netting a third in the 68th minute.
The following season Wolves finished in 2nd place in the First Division. Wolves finished 3rd in 1952-53 and won the title in 1953-54 season.
Mullen won the last of his international caps for England against Switzerland on 20th June, 1954. He scored one of the goals in the 2-0 victory. This gave him a total of 6 goals in 12 games.
Mullen remained one of the stars of the Wolves team that won the First Division title in 1957-58 and 1958-59 seasons. Mullen retired from the game after scoring 112 goals in 486 league and cup appearances.
Jimmy Mullen died in 1987.
Before going to bed I took a walk around Wolverhampton and met Peter Broadbent, the Wolves and England inside-right, who told me I was going to "dig" with him at the house of Mrs. Long in Chester Street, Wolverhampton. "She'll look after you like a mother," was Peter's comforting tip, "and, don't forget, if I can give you any help never hesitate to ask."

The following morning Neal and I had to report to Joe Gardiner, the Wolves trainer, and George Poyser, the club coach, two men of great experience; kind-hearted fellows whose lifetime in the game has given them a human approach to young footballers which I know from experience is a most wonderful thing.

After reporting at Molineux the first thing the club did was to fit me out with a track-suit, training shoes, and spikes. Then trainer Gardiner said: "Now, my lad, let's have a look at the other chaps," and led me through the tunnel on to the pitch. As I followed him out on to the running track, that lovable character Jimmy Mullen was trotting past. "Oh, Jimmy," said Gardiner, "I'd like you to meet Ron Flowers, one of our new players. Will you please look after him and show him around the place?"

"Of course," grinned Jimmy, and turning to me added: "I was once like you and appreciate just how you feel at this moment. Remember, however, at Molineux you've joined a grand club and all the fellows are friends out to help one another."

Mullen, who like Billy Wright has given Wolves such grand and loyal service, quickly made me feel at home. He took a personal interest in me; wanted to know from what part of the country I hailed; what my interests were apart from football. Jimmy Mullen, in brief, became my first real link with Wolverhampton Wanderers, and I realize now that I could never have wished for a better man to be my first friend among the players.