The Encylopedia of British Football
Bill Morris
William (Bill) Morris was born in Handsworth on 26th March, 1913. He played football for Halesowen Town before before being signed by Major Frank Buckley, the manager of Wolverhampton Wanderers, in May 1933 for £100. Morris made his debut against West Bromwich Albion on 17th February 17, 1934. He played in that game as centre-forward but it was as a centre-half that he gained a regular place in the 1935-36 season.
He was dropped the following season and he eventually recalled as a right-back. He joined a team that included Stan Cullis, Gordon Clayton, Bill Morris, Dennis Westcott, George Ashall, Alex Scott, Jack Taylor, Tom Galley, Dicky Dorsett, Bill Parker, Bryn Jones, Joe Gardiner and Teddy Maguire.
In the 1937-38 season Wolves finished second to the mighty Arsenal in the First Division. The following season the club finished second to Everton. The centre-forward Dennis Westcott scored 43 goals in 43 appearances. His fellow striker, Dicky Dorsett managed 26 goals that season.
Wolves also enjoyed a good run in the FA Cup and beat Leicester City (5-1), Liverpool (4-1), Everton (2-0), Grimsby Town (5-0) to reach the final against Portsmouth at Wembley. Wolves lost the final 4-1 with Dicky Dorsett scoring their only goal. Major Buckley's Wolves became the first team in the history of English football to be runners-up in the sport's two major competitions in the same year.
Morris won his first international cap for England against Northern Ireland on 16th November, 1938. England won 7-0. Morris kept his place in the team for the games against Scotland (2-1) and Romania (2-0). The England team that season included Frank Broome, Wilf Copping, Stan Cullis, Len Goulden, Willie Hall, Eddie Hapgood, Tommy Lawton, Stanley Matthews, George Male, Joe Mercer, Don Welsh and Vic Woodley.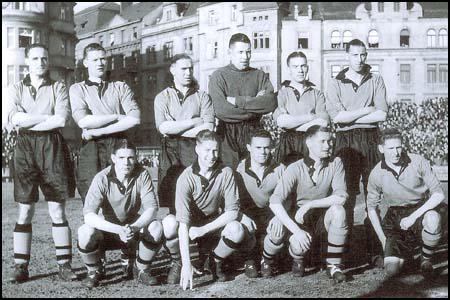 The outbreak of the Second World War in 1939 brought an end to the Football League. The government imposed a fifty mile travelling limit on all football teams and the Football League divided all the clubs into seven regional areas where games could take place. Wolves joined the Midland League with West Bromwich Albion, Birmingham City, Coventry City, Luton Town, Northampton Town, Leicester City and Walsall. Wolves won the 1939-40 championship.
Morris found it difficult to get back in the first team after the war and after playing 178 games for the club, he joined Dudley Town in 1947, where he played as centre-forward for two years.
Bill Morris died in 1995.