The Encylopedia of British Football
Jack Taylor
John (Jack) Taylor was born in Barnsley on 15th February, 1914. A full-back, he played for Worsborough Bridge before being signed by Major Frank Buckley, the manager of Wolverhampton Wanderers in 1935. He joined a team that included Stan Cullis, Gordon Clayton, Bill Morris, Dennis Westcott, George Ashall, Alex Scott, Tom Galley, Dicky Dorsett, Bill Parker, Bryn Jones, Joe Gardiner and Teddy Maguire.
In the 1937-38 season Wolves finished second to the mighty Arsenal in the First Division. Dennis Westcott finished the season as top scorer with 22 goals in 28 appearances.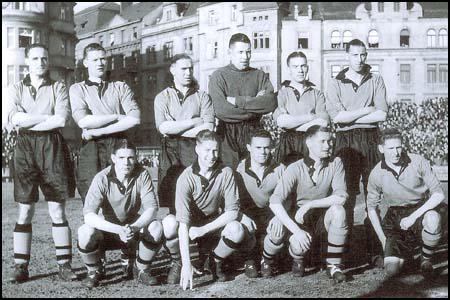 After playing 79 games for Wolves Taylor joined Norwich City. His career was interrupted by the Second World War. He returned to Norwich and had played 53 games for the club before moving to Hull City in 1947. He played 72 league games for his new club before joining Weymouth in 1949.
Jack Taylor died in 1978.