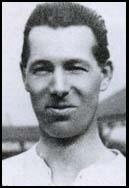 Edward (Ted) Vizard was born in Cogan on 7th June 1889. He played rugby for Penarth and football for Barry Town before joining Bolton Wanderers in September, 1910. He made his Football League debut later that month against Gainsborough Trinity.
Vizard, who played at outside-left, was an immediate success and in January 1911 he won his first international cap for Wales.
During the First World War Vizard served in the Royal Flying Corps and guested with Joe Smith for Chelsea when based in London.
After the war, Charles Foweraker, the Bolton Wanderers manager, built a team that included Joe Smith, Billy Jennings, Jimmy Seddon, John Reid Smith, David Jack, Billy Butler, Dick Pym, Alex Finney and Bob Haworth. The team beat West Ham United 2-0 to win the 1923 FA Cup Final.
Vizard was not a prolific scorer but he did net 13 goals in the 1925-26 season. Jimmy Ruffell later recalled: "Ted Vizard was very talented. He was a bit like George Best, although he made goals rather than scored them. He was very tricky. He could move from a walk into a sprint like lightning."
Vizard was a member of the Bolton Wanderers team that beat Manchester City in the 1926 FA Cup Final. David Jack scored the only goal of the game in the 76th minute. Vizard won the last of his 22 international caps in October 1926, when he was 37 years old.
On 21st March 1931 Vizard played the last of his 512 league and cup games for Bolton Wanderers. During his time at the club he scored 70 goals.
Vizard later managed Swindon Town (1933-38) and Queen's Park Rangers (1938-39). In April 1944 he replaced Frank Buckley as manager of Wolverhampton Wanderers. Despite taking the club to third place in the 1946-47 season he was replaced by his assistant Stan Cullis in 1948.
Ted Vizard, who was later a publican at the Tattenhall Hotel, died in Wolverhampton on 25th December 1973.