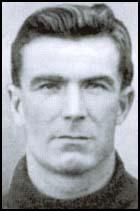 Richard (Dick) Pym was born in Topsham on 2nd February 1893. He worked in the fishing industry while playing local football as a goalkeeper. Pym was signed by Exeter City in 1911. He played 186 consecutive games in the Southern League for his club.
In 1916 Pym joined the Devonshire Regiment and during the First World War he served as a Physical Training Instructor.
After the war he returned to play for Exeter City. In July 1921, Charles Foweraker, the manager of Bolton Wanderers, paid £5,000 for his services. At the time, this was a record fee for a goalkeeper. He joined a team that included Joe Smith, Billy Jennings, Jimmy Seddon, John Reid Smith, David Jack, Billy Butler, Ted Vizard, Alex Finney and Bob Haworth.
Bolton Wanderers beat West Ham United 2-0 to win the 1923 FA Cup Final. The goals were scored by David Jack and Joe Smith.
Pym won his first international cap for England against Wales on 28th February 1925. England won the game 2-1. The following month he played in the 2-0 victory over Scotland.
Pym was also a member of the Bolton Wanderers team that beat Manchester City in the 1926 FA Cup Final. David Jack scored the only goal of the game in the 76th minute. Later that season he won his third and last international cap for England against Wales on 1st March 1926.
In 1929 Pym won his third cup-winners medal when Bolton beat Portsmouth 2-0. The goals were scored by Billy Butler and Harold Blackmore. Pym therefore has a record of keeping a clean sheet in all three appearances in a FA Cup final.
Pym played his last of his 336 games for Bolton Wanderers in 1930. After retiring from football he returned to the fishing industry.
Dick Pym died on 16th September 1988. Aged 95 he currently holds the record for the longest-lived England footballer.